NYC Marathon Live Stream: How to Watch Runners Conquer 26.2 Miles
For those who prefer food to fitness, live streams make it possible to enjoy the TCS New York City Marathon from the comfort of the couch.
On Sunday, tens of thousands of people will lace up their sneakers and put one foot in front of the other until they cover the 26.2 miles to the finish line of the annual New York City Marathon. As the runners make their way through all five boroughs, people will line the streets to cheer them on.
Along with spectators who want to see the marathon in person, thousands of people will watch the runners race to the finish line from their televisions, phones and tablets.
There are a number of ways for people to tune in, depending on their location. Those who live in the New York tri-state area can watch WABC-TV from 9 a.m. until 2 p.m. EST. Live streaming will also be available on the ABC mobile application and on ABC7NY.com.
People who lived outside the tri-state area can also watch the marathon live on ESPN. Coverage will begin at 9 a.m. and continue until noon on ESPN2. Footage will also be available on the ESPN app, which can be downloaded on smartphones, tablets and streaming devices, such as smart televisions. To access the feed on the mobile application, viewers will need valid login credentials for a TV provider. After 12 p.m., coverage will continue on ESPN 3 and the mobile application until 2 p.m.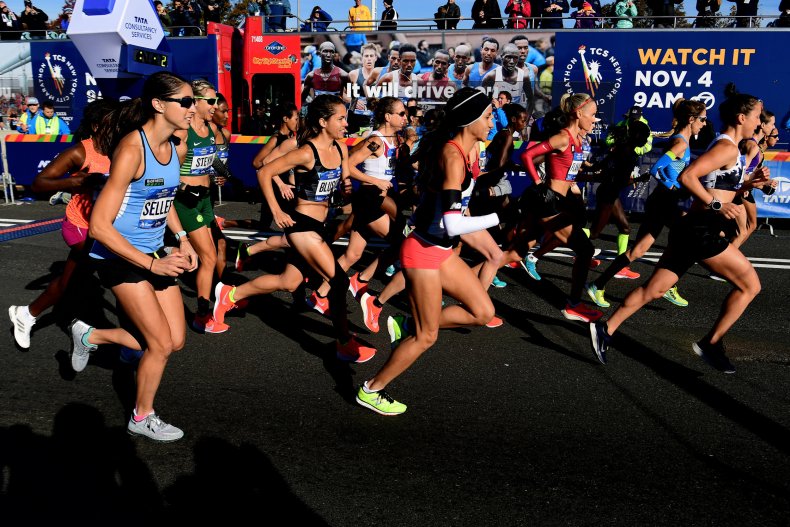 Those who don't have an ESPN subscription can catch footage from the finish line for free on Facebook from 2 to 4 p.m. and then the Final Finishers Celebration from 8 to 10 p.m.
To accommodate the estimated 50,000 runners, the NYC Marathon has staggered start times. The men's professional wheelchair division will begin at 8:30 a.m., followed by the women's professional wheelchair division, the fast handcycle category, slow handcycle and select ambulatory athletes with disabilities, and professional women.
Nonprofessional participants were divided up into four waves based on the estimated finish and pace per mile time that they put on their application. The first wave will start at 9:40 a.m., and the last wave will start at 11 a.m.
Sweep buses will take off after the final wave starts and move along the course at a roughly 15 minutes per mile pace. The buses are tasked with transporting participants who want to drop out of the race to the post-finish area. After the street bus passes, the roads are reopened to traffic and runners are urged to move to the sidewalks. The official end time for the marathon is 7:25 p.m., giving people in the last wave more than eight hours to finish.