NYC Mayor Bill de Blasio Blasted For Being On Campaign Trail While Parts Of The City Experienced A Blackout
New York City Mayor Bill de Blasio took some heat on social media Saturday night as parts of the city experienced a blackout that lasted for several hours.
According to the New York City Police Department, a manhole fire sparked the power outage that began at approximately 6:55 p.m. local time and engulfed much of Midtown Manhattan and the Upper West Side. ConEdison, the company that supplies power to New York City and Westchester County, said that over 42,000 customers were without power as a result of the outage, but the company expected to have all power restored by midnight.
De Blasio, who announced his 2020 Democratic campaign for president earlier this year, was in Iowa as the time out the outage.
Speaking on camera to CNN from Iowa, de Blasio stressed that the outage was in a limited portion of the city and that power outages of this scope are a rare thing.
"I have to tell you, blackouts have become rare in New York City. I'm hopeful again this is something that will be a limited duration, but no, we used to have a fair number of them. And lately, certainly in the six years I've been mayor, they've been rare in the scheme of things," de Blasio told CNN anchor Ana Cabrera.
When questioned about his concerns involving the situation, de Blasio said his initial concern had been if there was any foul play involving the outage, though it was later determined that the blackout was a mechanic issue. The mayor also listed New Yorkers who needed help after being stuck in elevators and on subways, and for the city to work with ConEd to restore power.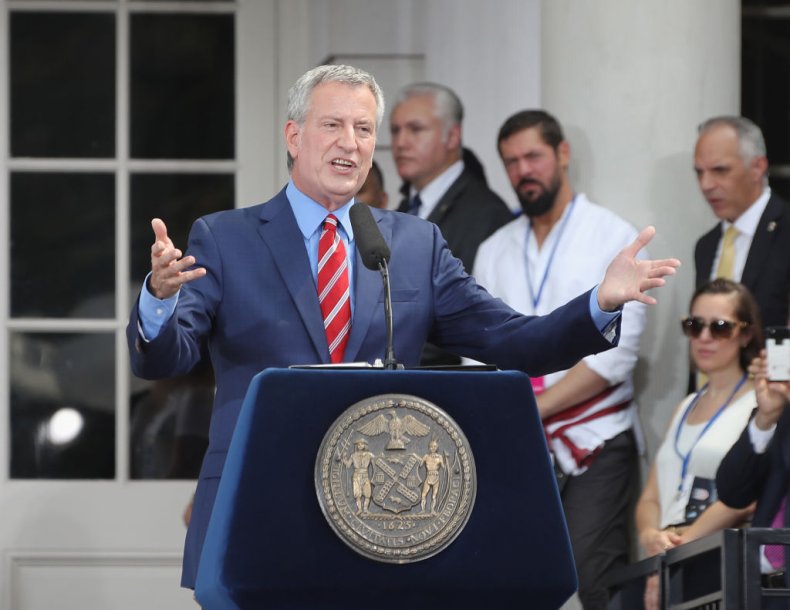 Cabrera also asked if de Blasio had planned to return to the city, with the mayor saying he would decide within the hour depending on the information relayed to him from city officials. Later, CNN reported that de Blasio had chosen to return to New York City.
Even so, some Twitter users responded to de Blasio's tweets from his NYC Mayor account to blast him for being absent.
"Please stay in Iowa. Your lack of leadership is mind bending," user BklynDano wrote to the mayor.
"But what we New Yorkers really want to know is how are things in Iowa? C'mon, Bill. Don't leave us in the dark!," user @LukeWatsonNYC said.
"Glad to hear Bill is concerned for NYC while not being in NYC," user @MattRoxo added.
New York Gov. Andrew Cuomo also appeared to weigh in on de Blasio's absence, when Cabrera asked how important it was that he be in New York City during a major situation such as the power outage.
"Mayors are important. And situations like this come up, you know. And you have to be on-site, I believe that. I'm governor of New York, I have been for eight years, I can count the number of times I leave the state basically on my fingers. You know, job one is when the situation like this happens, these situations happen more and more frequently - we have tornadoes, we have storms, we have super storms; all sorts of natural disasters or emergencies come up all the time."
"So, I think it's important to be in a place where you can always respond, but look, everybody makes their own political judgment, and I'm not going to second-guess anyone either. I do my job the way I think I should do my job, and I leave it to others to do the same," Cuomo continued.
De Blasio is considered a long shot for the 2020 Democratic nomination, and has regularly garnered less than 1 percent in many polls.