NYC Mayor Bill de Blasio Faces Criticism After Promising to Throw Ticker Tape Parade for Health Care Workers When City Reopens
New York City Mayor Bill de Blasio has received online criticism shortly after announcing his intention to throw a ticker-tape parade for the city's healthcare workers after the pandemic subsides.
While de Blasio intends the parade as a celebration of the city's revitalization, critics worry that a large scale gathering could risk a new coronavirus outbreak or that city funds could be better used to address more pressing socio-economic needs following the epidemic.
Striking a hopeful note during his comments, de Blasio reassured New York City residents, "The day is coming when we will overcome this disease."
"When that day comes that we can restart the vibrant, beautiful life of this city again, the first thing we will do is we will have a ticker-tape parade down the Canyon of Heroes for our health care workers and our first responders," de Blasio said. "We will honor those who saved us."
The Canyon of Heroes is the name for the 1.4 mile stretch along Broadway Avenue connecting Battery Park on Manhattan's southern tip to City Hall. Its name derives from the military generals honored along the route after the conclusion of World War II.
"I think this will be the greatest of all the parades," de Blasio continued, "because this one with speak to the rebirth of New York City. This one will speak to the heroism that is intrinsic to who we are as New Yorkers, to our values, to our compassion, to our strength, our resiliency."
However, critics of the parade aren't so sure.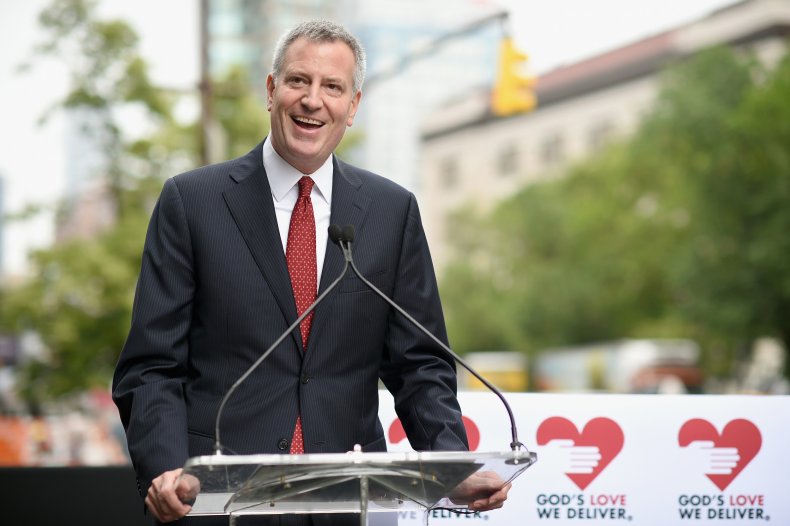 Right now, New York City is the national hotspot of the epidemic with 139,385 confirmed coronavirus cases and 10,657 deaths—the highest number of both in the nation so far.
"In November 1918, San Francisco celebrated the end of the Spanish Flu. The flu came back in January, nearly doubling the death toll. If Bill de Blasio stages a parade in 2020, he will kill people," Journalist and NYU professor Ross Barkan tweeted.
"the de blasio parade thing points to such a massive underlying issue in contemporary city governance, where politicians obsess over symbolic acts like parades that get fawning media coverage (how could you hate a PARADE for X?) instead of addressing core problems," Political reporter Joe Gabriel Simonson tweeted.
"Highlights from Mayor de Blasio:
Early March: go out to restaurants, act like everything is normal
Early April: I didn't know the disease could be transmitted by asymptotic people
Mid April: we're gonna have a parade when we reopen... basically guaranteeing a second outbreak," wrote author Ryan James Girdusky.
"De Blasio's parade announcement really is just one more but of proof that the USWNT World Cup parade should stand as our last perfect expression of American joy," tweeted journalist Meredith Clark.
"Someone from the mayor's staff is now in my mentions taking issue with the thread, but here's de Blasio's quote, as reported in the NY Post: 'When that day comes that we can restart the vibrant beautiful life of this city the first thing we will do is have a ticker-tape parade,' tweeted historian Angus Johnston. "The most generous possible reading of that quote is that de Blasio is saying that 'the vibrant beautiful life of this city' will not return until the day that we start holding parades again. And that's bullshit. The life of a city like New York is not measured in parades."
The 2015 ticker-tape parade for the U.S. Women's National Soccer team cost the city $2 million, according to The Wall Street Journal.
Newsweek reached out to Mayor de Blasio's office for comment. The office had not responded by the time of publication.
De Blasio's announcement comes a day after he announced the cancellation of the city's other nonessential events through June including the LGBT Pride, Puerto Rican Day and Salute to Israel parades.