NYC Mayor Bill de Blasio Polling Lower Than Candidates Who Have Dropped Out of 2020 Race
New York City Mayor Bill de Blasio has stayed committed to running for president in 2020 as a Democratic candidate. He's part of a field once so humongous it needed two separate nights for debates.
The good news for de Blasio is the field has shrunk significantly as several candidates have dropped from the race. The bad news? Even in recent polls, the NYC mayor trails some of those dropouts.
Mayor de Blasio does not show up in most top 10 polls of Democratic candidates, but one former candidate who made a splash on the scene still registers, and that is New York Sen. Kirsten Gillibrand, who dropped out of the race on Aug. 28.
This poll shown in a Political Polls tweet shows Gillibrand getting 1 percent of the Democratic vote despite not being in the race. Mayor de Blasio's name, as well as Rep. Tulsi Gabbard from Hawaii, are the two most prominent names not in the top 10.
Gabbard is at least among the top 13 Democratic candidates in several recent polls compiled by realclearpolitics.com. The only one that sees de Blasio crack the top 13 is a CBS News poll that asked Nevada voters who they would most likely vote for in the Democratic primary — de Blasio is 11th with 1 percent of the vote.
Former Vice President Joe Biden leads almost every one of those polls, with Sens. Bernie Sanders and Elizabeth Warren jockeying for second and third place in just about every poll.
Bill de Blasio has been the mayor of the largest city in the country since 2014. He said on Friday that despite his low polling numbers, he still believes he can make a run to win the Democratic primary in 2020.
"There's still time on the clock," de Blasio said Friday in this New York Daily News report.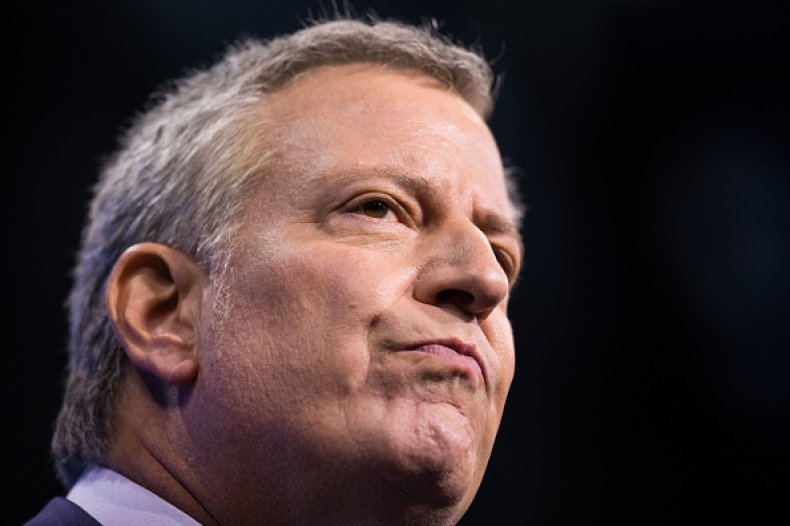 De Blasio's presidential website lists a variety of accomplishments in his political career, including:
Creating 122,000 affordable homes for more than a quarter million New Yorkers
Adding 500,000 jobs in his city
Ended "stop and frisk" in NYC
Guaranteed universal health care for all New Yorkers
Made improvements in mental health
Limited cooperation with ICE
Enacted retrofit mandates for NYC buildings as part of his city's Green New Deal
The mayor has until midnight on October 1 to meet the requirements to participate in next month's presidential debates. He did not participate in the third round of debates Thursday night in Houston.
Candidates must garner at least 2 percent in national polls — or early state polls — and their campaigns have unique donor requirements, which include 400 individual donors, per state, in at least 20 different states.
NYC Mayor Bill de Blasio Polling Lower Than Candidates Who Have Dropped Out of 2020 Race | Politics