Mayor Bill de Blasio didn't mince words Thursday when it came to his thoughts on one of New York City's former leaders, Rudy Giuliani.
"You know, it's a sad thing to have to say about a predecessor. But Rudy Giuliani has just come unhinged in every sense," de Blasio said during an appearance on MSNBC's Morning Joe.
The current New York City mayor further said of Giuliani: "He attached himself to Donald Trump, but then went even farther and decided to be one of the most extreme voices in the Trump world. And his regard for the law, he left way back on the road."
Giuliani served as New York City mayor from 1994 to 2001, during which he gained national recognition as mayor for leading the city in the aftermath of the September 11 terrorist attacks. Before being elected mayor, Giuliani was the U.S. Attorney for the Southern District of New York.
He later became former President Trump's personal lawyer. After the 2020 election, Giuliani helped spearhead baseless lawsuits alleging widespread voter fraud.
"He went from someone that once upon a time, as a U.S. Attorney, we thought was an example of upholding the law to now someone who has just no respect for the law whatsoever," de Blasio said, adding that the latest scandal "does not surprise me one bit."
Giuliani made headlines this week when the FBI raided his apartment on the Upper East Side of Manhattan. Investigators seized cellphones, computers and other electronics.
The search warrant was part of a probe into Giuliani's activities involving Ukraine. Robert Costello, his attorney, in a statement criticized the Department of Justice and said Giuliani has denied wrongdoing.
"It is outrageous that the Trump Derangement Syndrome has gone so far that hatred has driven this unjustified and unethical attack on the United States Attorney and Mayor who did more to reduce crime than virtually any other in American history," the statement read.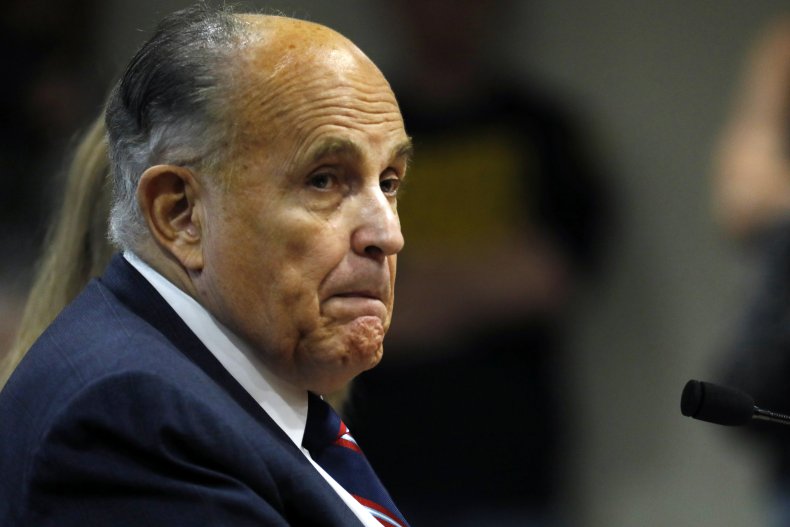 President Joe Biden said he was unaware that Wednesday's raid was going to take place, telling reporters that he had "no idea" of the operation.
"I made a pledge: I would not interfere in any way, order, or try to stop any investigation the Justice Department had—no way," Biden said. "I learned about that last night when the rest of the world learned about it, my word."
Trump on Thursday criticized the FBI for raiding the apartment of a "great patriot."
"It's, like, so unfair and such a double — it's like a double standard like I don't think anybody's ever seen before," Trump told Fox Business host Maria Bartiromo in an interview.
Newsweek reached out to Giuliani's lawyer for additional comment, but did not receive a response before publication.