New York City Mayor Bill de Blasio warned on Monday that America's largest metropolis could be headed for a total lockdown in the coming weeks because of the spike in coronavirus infections and decreasing hospital capacity.
Last week, New York's leaders announced that the city would once again halt indoor dining on Monday—which was operating at 25 percent capacity—as the pandemic has once again surged locally. Speaking to CNN on Monday morning, De Blasio discussed that decision and said further restrictions will likely be implemented.
"You're talking about the potential, and again I'm quoting from Governor [Andrew] Cuomo and I think he's right, there's a potential of having to do a full pause—a full shutdown in the coming weeks, because we can't let this kind of momentum go," de Blasio said. The mayor pointed out that New York City was initially the "epicenter" of the outbreak in the U.S.
"We fought back. We became one of the safest places in the country. We opened our schools when most intercities didn't. We've kept our schools safe. But now we're seeing the kind of level of infection that we haven't seen since May, and we have got to stop that momentum or else our hospital system will be threatened," the mayor explained.
Newsweek reached out to Cuomo's and de Blasio's press offices for further comment, but they did not respond in time for publication. Last Monday, Cuomo issued a similar warning, as de Blasio pointed out to CNN.
"If our hospital capacity becomes critical, we're going to close down that region, period," Cuomo said, outlining "New York Pause" metrics. These "pause" restrictions would require all nonessential business to shutter and all nonessential gatherings to be canceled.
"It's a little complicated, but if your seven-day average says that, if it were to continue for three weeks, you're going to hit 90 percent of your hospital capacity, close down," the New York governor explained.
"If you are at a rate that is going to overwhelm your hospitals, you must shut down. Not just indoor dining. Shut down. Only essential businesses," Cuomo said.
New York state, and in particular New York City, were initially the hardest hit part of the country in the spring. The state continues to have the highest number of deaths—nearly 35,200 as of Monday morning—of any state, although daily infections and deaths dropped to some of the lowest levels in the nation during the summer and early fall.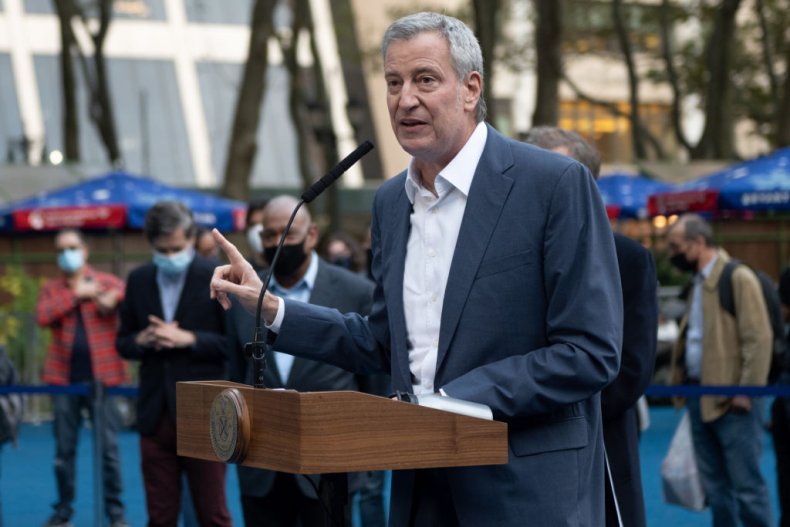 But the virus has surged in New York City over the past several weeks. During the past seven days, the city saw an average of more than 3,500 new infections per day. New daily deaths have ticked upward, although they remain relatively low compared with other states. The seven-day average of deaths in the city stands at 24 per day.
Meanwhile, on Monday morning New York City began vaccinating health care workers with the Pfizer/BioNTech vaccine, which received emergency authorization from the Food and Drug Administration over the weekend. Sandra Lindsay, an intensive care nurse at Long Island Jewish Medical Center in Queens, became the first person in the city to be vaccinated, at around 9:20 a.m.