NYC Mayor de Blasio Announces Schools Will Be Closed for the Rest of Academic Year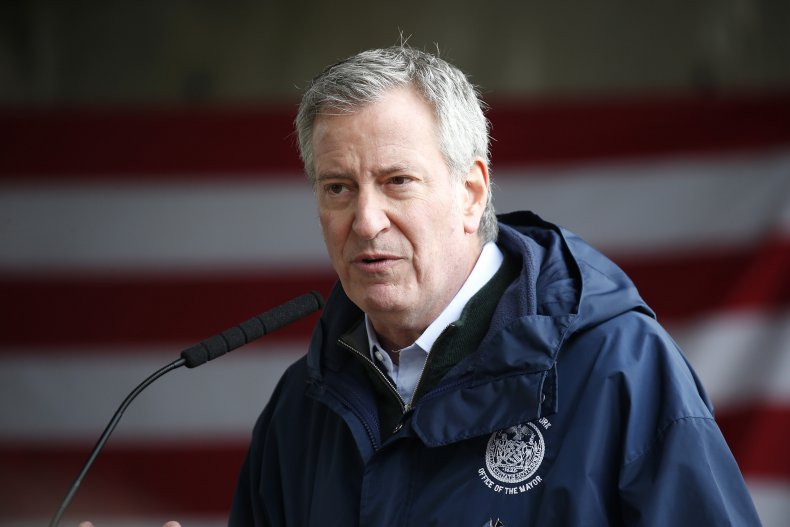 New York City Mayor Bill de Blasio announced Saturday morning that schools will be closed for the rest of the academic year.
"After very careful consideration, I announce today that New York City public schools will remain closed for the remainder of this school year. There is nothing easy about this decision," de Blasio said during a coronavirus press briefing.
The mayor originally had schools set to open up on April 20, after spring break. New York Governor Andrew Cuomo then said schools would be remained closed until April 29. The New York City school year typically ends at the end of June. Schools will continue to educate children through distance learning, which de Blasio said has been successful thus far.
The mayor said that opening schools this academic school year would not be realistic anyhow as a lot of "lead time" would be needed for schools to get ready to receive children. That would mean children would only be back to school for a few weeks, which he said "would not add that much to their lives academically."
"The risk did not outweigh the reward...There was not a clear reason of what we would gain to help our kids, but the challenges and the problems were very, very clear," de Blasio said.
The mayor lamented the fact that his administration's "goal for making our schools better for all our kids" will be put on pause, especially because of the negative effect closing schools will have on children who already deal with the "inequality that were so clear in the school system," though it is the "right thing to do."
"It clearly will help us save lives because it will help us to guarantee that the strategies that have been working – the shelter in place, the social distancing, and all the focused strategies that are finally beginning to bear fruit – they need the time to continue to be effective," de Blasio said.
The mayor said he does not want a resurgence in which the virus comes back at a worse rate than before, and that the city has to be cautious as they work to continue to slow the spread by avoiding "jumping to soon and regretting it later." De Blasio said Dr. Anthony Fauci, the director of the National Institute of Allergy and Infectious Diseases, agreed with this sentiment.
"He appreciated the sense of being cautious and careful, because the most important mission for all of us in New York City, and all of us in this country, is to end this crisis," de Blasio said.
Governor Andrew Cuomo called the mayor's decision to shut down schools for the remainder of the academic year "his opinion" and said he could not make that decision "without coordinating that decision with the whole metropolitan region."
"I understand the mayor's position...and we may do that, but we're going to coordinated sense with the other localities. It makes no sense for one locality to take an action that's not coordinated with the others," Cuomo said on de Blasio's decision.
Freddi Goldstein, the mayor's press secratary, told 1010 WINS in an an email response to Cuomo's comments that "the Governor's reaction to us keeping schools closed is reminiscent of how he reacted when the Mayor called for a shelter in place."
"We were right then and we're right now," Goldstein stated.
Updated 2:18 PM ET