NYC Mayor de Blasio Scolds Bar Owner Accused of Hitting N.Y. Deputy with Car: 'His Actions Are Extraordinarily Disturbing'
New York City Mayor Bill de Blasio criticized a Staten Island bar owner on Monday after he allegedly drove into a deputy while fleeing arrest over violating COVID-19 restrictions.
"I think his actions are extraordinarily disturbing. I think they're disgusting," de Blasio said during a Monday coronavirus briefing. "There is no excuse for doing something that might threaten the life of a law enforcement officer."
The co-owner of Mac's Public House, Danny Presti, was arrested Sunday for reopening the bar and then allegedly hitting a sheriff's deputy "intentionally and with depraved indifference to human life," while fleeing the scene in his car, according to criminal complaint charges, obtained by The New York Post.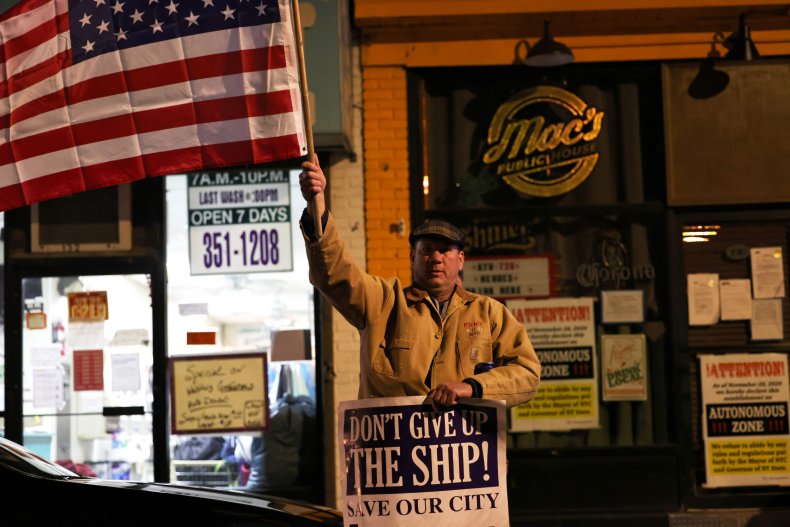 The New York City Sheriff's Office said deputies tried to take Presti into custody just after midnight after observing customers entering the bar through an empty commercial space next door, according to NBC News. The bar had recently been ordered closed and lost its liquor license over breaking COVID-19 rules.
The Sheriff's Office noted that, upon deputies identifying themselves, Presti fled the bar on foot, reached his car, drove into 30-year-old New York City Sheriff sergeant Kenneth Matos and then continued driving with the injured deputy hanging onto the hood of the car for nearly 300 feet, according to The Post.
Deputies were able to stop Presti's car and took him into custody. The injured deputy was admitted to the hospital where doctors determined both of his legs were broken in the encounter.
Presti was charged with 10 violations, including third-degree assault with intent to cause physical injury, menacing, reckless driving, resisting arrest and unlawfully fleeing a police officer. However, Presti was released without bail later on Sunday.
"I'm sure this guy would say he's all in favor of law and order," de Blasio said Monday, referring to Presti. "He's making a big deal about what's happened with his bar, well guess what, law and order means when the state of New York says your bar needs to be closed, the bar needs to be closed to protect the health and safety. No excuses."
de Blasio continued: "When you violate the law there will be consequences. If you take an action against a law enforcement officer, there will be even more consequences."
The New York City mayor concluded that Presti "needs to suffer the appropriate consequences for what he did."
New York Governor Andrew Cuomo also scolded Presti on Monday.
"You don't attack the NYPD. You don't do it. They put their life on the line," Cuomo said during his briefing, reported by local television station ABC7. "What signal are you sending, when you glamorize that type of behavior? Yeah, that's right, run over the police. What? Who says that?"
The Mayor's Office didn't respond to Newsweek's request for comment in time for publication.