NYC Mayor De Blasio Vows to Stop Trump's 'Brazenly Unconstitutional' Effort to Send in Federal Agents
New York City Mayor Bill de Blasio did not mince words criticizing President Donald Trump's threat to send federal agents to deal with crime in the nation's largest metropolis.
"What is he using them for? For crowd control, for repressing the right of people to protest. For a political stunt, obviously," de Blasio said during a Thursday morning interview with CNN. "We're not going to allow that."
"What Donald Trump is doing is just exasperating the tensions and the divisions, and I actually think it will backfire on him," the mayor said.
"That will backfire in every way. It has to be stopped. And if those federal troops show up on the streets of New York City, we'll be in court and we'll stop them, because it's brazenly unconstitutional," he said.
Trump has expanded a Justice Department program dubbed "Operation Legend" from Kansas City, Missouri, to target Chicago and Albuquerque, New Mexico.
"Today I'm announcing a surge of federal law enforcement into American communities plagued by violent crime," the president said at a Wednesday press conference. "We'll work every single day to restore public safety."
Trump has suggested that federal agents could be sent to New York City as well. "In New York City, over 300 people were shot in the last month alone. A 277—at least—percent increase over the same period of a year ago," he said Wednesday, announcing the operation's expansion.
On Monday, the president told reporters, "We're not going to let New York and Chicago and Philadelphia and Detroit and Baltimore and all of these—Oakland is a mess—we're not going to let this happen in our country."
Those cities, he added, are "all run by liberal Democrats."
A White House source told Newsweek on Wednesday that Trump is "not concerned" about the criticism. The president "is concerned with saving American lives and ending the heinous surge of violence occurring in America's cities," the source said.
Newsweek reached out to the Justice Department for comment but did not hear back in time for publication.
De Blasio's concerns about Trump's warning to New York City came as Democrats and some Republicans have strongly criticized actions taken by federal agents in Portland, Oregon, in recent days. Videos circulated on social media show protesters being detained by federal agents in unmarked vehicles.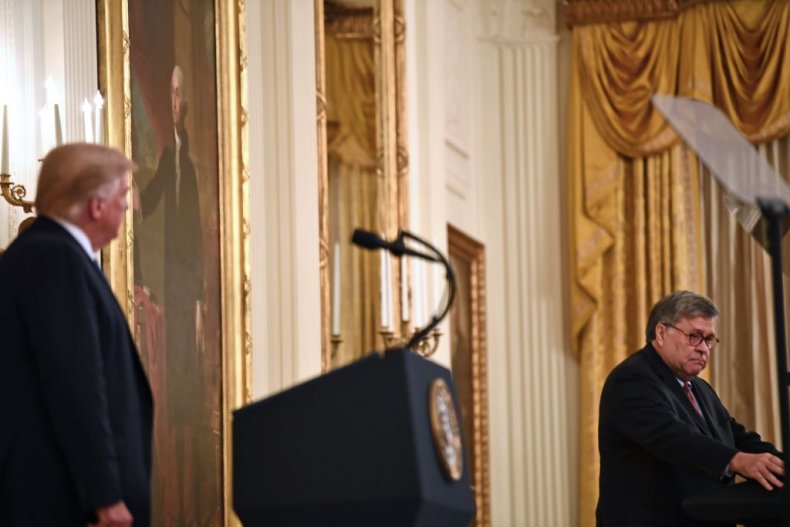 "We cannot give up liberty for security," GOP Senator Rand Paul of Kentucky tweeted Monday. "Local law enforcement can and should be handling these situations in our cities, but there is no place for federal troops or unidentified federal agents rounding people up at will."
But Attorney General William Barr insisted on Wednesday that Operation Legend would work closely with local law enforcement.
"We will be adding federal agents to the task forces—these are street agents, their investigators—who will be working to solve murders and to take down the violent gangs. And they'll be working shoulder to shoulder with our state and local colleagues," Barr said at the Wednesday press conference with the president.
"Federal agents work hand in glove with state and local [law enforcement] every day," he said.