NYC Mayor-Elect Eric Adams Latest to Accept Initial Salary in Bitcoin
New York City Mayor-elect Eric Adams has become the latest mayor to say that he plans to accept his paycheck in the world's most popular cryptocurrency, Bitcoin.
In a tweet on Thursday, Adams, who recently defeated Republican nominee Curtis Sliwa in the city's mayoral race, wrote, "In New York we always go big, so I'm going to take my first THREE paychecks in Bitcoin when I become mayor."
Adams continued, "NYC is going to be the center of the cryptocurrency industry and other fast-growing, innovative industries! Just wait!"
Adams tweet came in response to a similar tweet from Miami Mayor Francis Suarez, who also said he plans to accept this paycheck in Bitcoin. Cryptocurrency investor Anthony Pompliano recently tweeted, "It is time. Who is going to be the first American politician to accept their salary in bitcoin?"
Shortly after his tweet, Suarez responded by writing, "I'm going to take my next paycheck 100% in bitcoin...problem solved!" Suarez also tagged Mike Sarasti, Miami's innovation and tech director, asking if he could help.
Suarez also responded to Adams' tweet, writing, "Congrats on the election and I look forward to the friendly competition in making our respective cities a crypto capital!"
Adams also spoke about his interest in cryptocurrency during a recent interview with Bloomberg Radio, where he said he wanted to wager a "friendly competition" with Suarez over his cryptocurrency project, MiamiCoin.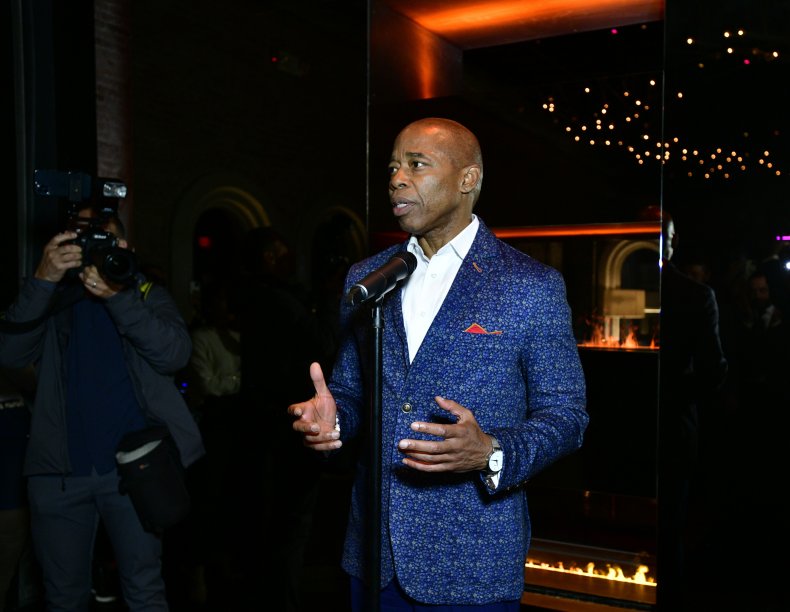 "He has a MiamiCoin that is doing very well—we're going to look in the direction to carry that out," Adams told Bloomberg Radio, adding that he wanted to "look at what's preventing the growth of Bitcoin and cryptocurrency in our city."
"We can't have a one-sided city where certain groups and areas are doing well," Adams said.
During an election party speech in June, Adams vowed to make New York City "the center of Bitcoins."
"We are going to be the center of all technology," he added.
In addition to launching MiamiCoin, in February, the city of Miami passed a resolution from Suarez that allows city workers to receive parts or all of their paychecks in Bitcoin.
"I want to thank the city of Miami commissioners for supporting my resolution, which directs the city manager, after analysis, to procure a vendor to be able to offer our employees to get a percentage of their salary in Bitcoin," Suarez said after the resolution passed.
Speaking to The Washington Post in September, Suarez said that he wants to turn Miami into a "cryptocurrency innovation hub."
Newsweek reached out to Adams for further comment.