NYC Mayor Fires Back at Trump Remarks About the City: Only Ghost Town Will Be 'Mar-a-Lago'
New York City Mayor Bill de Blasio shot back at President Donald Trump on Thursday after he said the city was "dying" during the final presidential debate, with the mayor labeling Trump's private Florida resort Mar-a-Lago as "the only 'ghost town.'"
".@realDonaldTrump, New Yorkers are bringing our city back stronger than ever. It's nothing short of heroic," de Blasio tweeted during the debate. "The only 'ghost town' will be Mar-a-Lago after you're forced into retirement on Election Day."
While the final debate between Trump and Democratic candidate Joe Biden felt less chaotic than the first, the president still found plenty of time to tout his administration's response to the COVID-19 pandemic, which has left more than 220,000 Americans dead.
Trump has long been critical of those he repeatedly refers to as "radical left Democrat" governors and mayors, with New York—where he resided for most of his life—being no exception. The president tweeted on September 8 that de Blasio and New York Governor Andrew Cuomo, both of whom are Democrats, were "destroying" the city by continuing to enforce coronavirus restrictions.
"New York City must stop the Shutdown now," Trump wrote. "The Governor & Mayor are destroying the place!"
The president echoed this criticism during Thursday's debate, appealing to voters to "go and look at what's happened to New York" in an effort to further his administration's strategy of swiftly reopening the country and its economy.
"It's a ghost town. And when you talk about plexiglass, these are restaurants that are dying. These are businesses with no money," he said. "Putting up plexiglass is unbelievably expensive."
Trump continued, lamenting about "what's happened to my wonderful city for so many years."
"I loved it, it was vibrant," he said. "It's dying, everyone's leaving New York."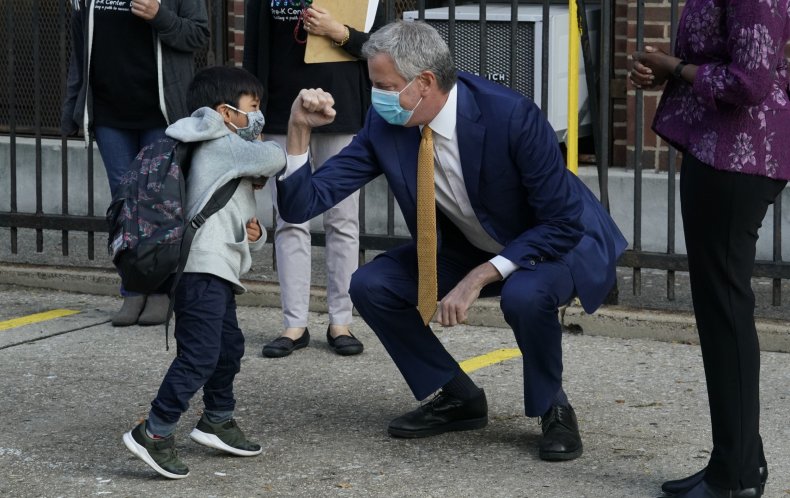 De Blasio, along with dozens of other New York residents and officials, went to Twitter to dispute the president's remarks, taking issue with both Trump's characterization of the city and his allegiance to it.
"NY is not your city, Mr. President," wrote Democrat Alessandra Biaggi, who represents the 34th District in the New York State Senate, which includes portions of Bronx and Westchester counties.
U.S. Rep. Nydia Velázquez, a Democrat who serves the state's 7th congressional district encompassing parts of Brooklyn, Manhattan and Queens, used the opportunity to voice her support of Biden.
".@realDonaldTrump doesn't love New York. He's celebrated our pain," she tweeted. "@JoeBiden will put our health first. He'll listen to scientists and doctors. He'll save lives. Vote!"
Mark Levine, a New York City council member, shared a video he recorded while walking through the city Thursday night, which featured a crowded, noisy street filled with outdoor diners and pedestrians.
Cuomo offered a blistering attack of the president while appearing on The Late Show With Stephen Colbert just after the debate ended. Colbert asked the governor if he wanted to respond to Trump's claims that "New York used to be vibrant, now it's dying," and that it's a "ghost town."
"Yeah, well then you must be a ghost, Stephen," Cuomo joked. "Look, it's nothing new. Trump hates New York. Feelings are probably mutual. We did the exact opposite that he has done on this COVID situation. He's lied to the nation abut it, and we did the exact opposite."
Cuomo went on to explain that the state "had the worst situation in the country, maybe on the globe," in terms of its battle with the virus. Nearly 24,000 people died in New York City alone. But the governor blamed Trump and his administration for their lack of response and transparency.
"We told the truth, we're honest, we acknowledged it, we were smart about it, we are united, we worked together, and we brought the rate down now to one of the lowest rates in the United States of America," Cuomo said. "New York has a lower infection rate than the White House."