NYC Mayor: Crime Down in 2014, 'Working Very Hard' to Resolve NYPD Work Slowdown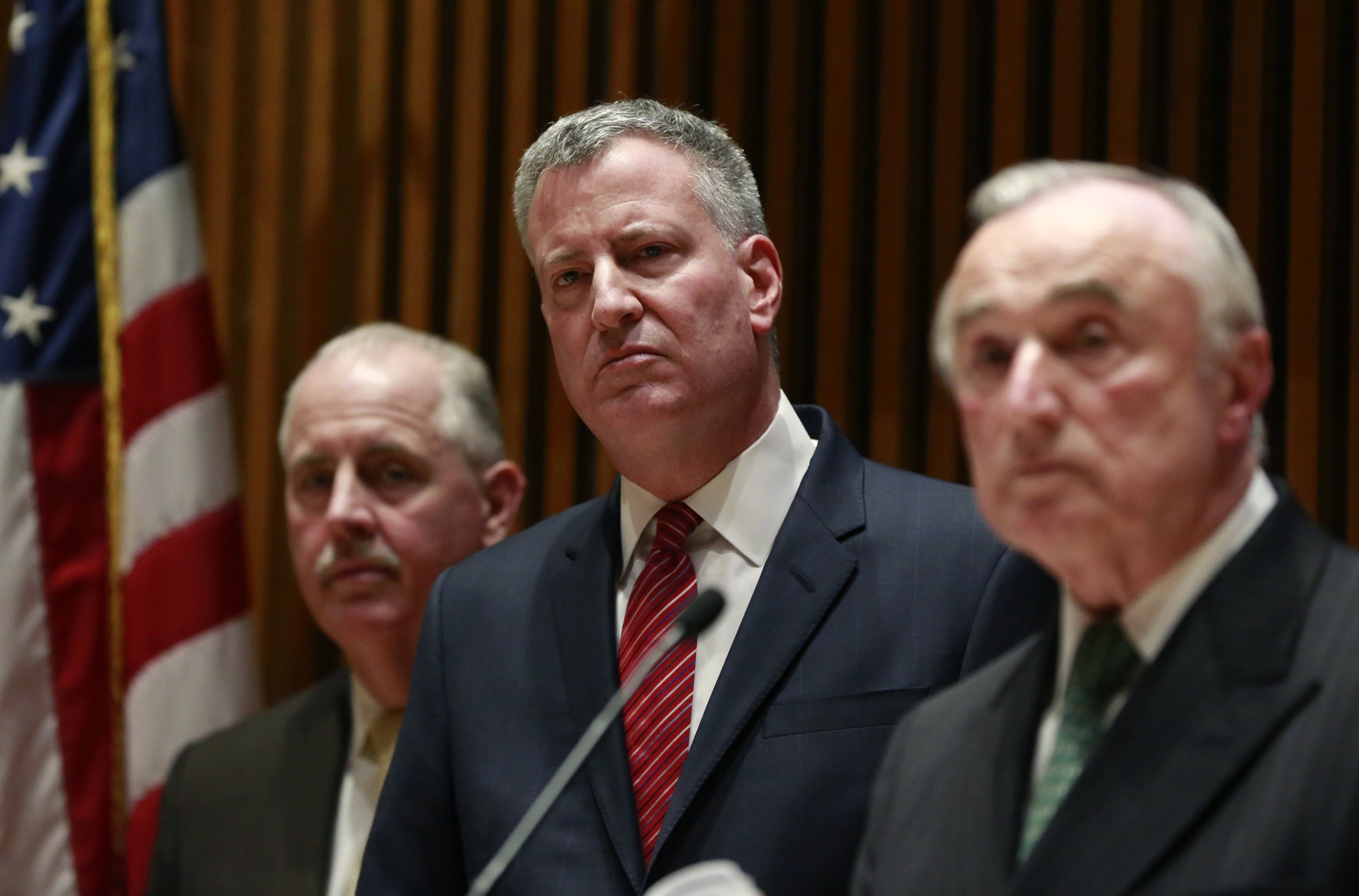 New York City Mayor Bill de Blasio and Police Commissioner Bill Bratton heaped praise on the city's Police Department Monday as they unveiled new statistics that show the crime rate dipped in 2014.
The announcement came at a tense time for the mayor, who is caught between a public angry about excessive police force and a department angry that the mayor hasn't been supportive enough in the wake of the fatal shootings of two officers last month.
The crime statistics exceeded expectations, the mayor and police commissioner said at a press briefing Monday. "People said it would be nearly impossible to repeat the achievements of 2013," a year in which the murder rate dropped almost 27 percent to a level not seen since the 1950s, de Blasio said. But the NYPD "did things that were previously unimaginable in terms of bringing down crime."
De Blasio also praised Bratton, whom he picked in 2014 to succeed Ray Kelly, former mayor Michael Bloomberg's pugnacious, and at times unpopular, commissioner. "I was certain when I chose him he would lead us to better places," de Blasio said of Bratton. "He has fulfilled that promise so clearly."
According to data compiled by the NYPD, major crime was down 4.6 percent in 2014, compared with the previous year, with the lowest number of homicides since the department began rigorously tracking crime statistics with its database, CompStat, in 1993. It was also a record year for robberies, with 2,600 fewer incidents taking place, compared with the previous year.
In the subways, major crime is down 15 percent year-over-year. "These are numbers that were once absolutely unimaginable," de Blasio said.
De Blasio and Bratton also addressed—for the first time—the NYPD's so-called "slowdown" in ticketing and arrests, now entering its second week. In what was first reported by the New York Post as a "virtual work stoppage," NYPD officers have written 90 percent fewer summonses and made half as many arrests for a second straight week, compared with 2013, The New York Times reports.
Police and union officials, meanwhile, deny that the slowdown is an organized labor action. "People are talking to each other," Edward D. Mullins, president of the Sergeants Benevolent Association, said on Sunday, according to the Times. "It became contagious."
"We're talking about the events of several days," de Blasio emphasized. "We're working very hard to get our arms around what's going on, if anything."
The apparent slowdown began almost immediately after the deaths of officers Rafael Ramos and Wenjian Liu, who were shot in Brooklyn by Ismaaiyl Brinsley on December 20. Patrick Lynch, president of the NYPD's largest police union, the Patrolmen's Benevolent Association, laid the blame for Ramos's and Liu's deaths squarely on the mayor. Immediately after their deaths, Lynch said, "There's blood on many hands.... That blood on the hands starts at City Hall in the Office of the Mayor."
"I don't share the perspective that the mayor had blood on his hands or that his actions contributed in any way to the deaths of those two officers," Bratton said at Monday's press conference.
Prior to the shootings, Brinsley allegedly said on social media that he wanted to avenge the deaths of Michael Brown and Eric Garner, two black men whose deaths at the hands of police sparked nationwide protests over the excessive use of police force.
On Monday Bratton also expressed displeasure regarding the NYPD officers who have turned their backs on the mayor as a sign of disrespect at recent public occasions: at Woodhull Hospital, where Ramos and Liu were taken after they were shot; at Liu's funeral on Sunday; and at Ramos's funeral December 27.
The back turning at the funerals occurred despite objections and requests from both de Blasio and Bratton. "What was the need in the middle of that ceremony to engage in a political action?" Bratton asked.
The deterioration in relations is also complicated by ongoing discussions over labor-related issues. While de Blasio has managed to finalize contracts for most of the city's union employees, talks with police unions have not yet produced agreement, with many arguing that officers are underpaid and working without contracts.