NYC Mayoral Candidates Yang and Garcia Form Unusual Alliance: 'You Don't Have to Pick'
New York City mayoral candidates Kathryn Garcia and Andrew Yang have formed an unusual alliance in the days leading up to the Tuesday Democratic primary.
The former presidential candidate and former sanitation commissioner campaigned together in Flushing, Queens and Chinatown, Manhattan over the weekend to urge constituents to support the other candidate with their second vote.
"You don't have to pick between Andrew Yang or Kathryn Garcia," Garcia said in Queens on Saturday. "You can vote for both of us."
One day later, the two leading candidates met with a warm hug in Chinatown's Kim Law Square ahead of a rally to encourage voter turnout. "New Yorkers know we need to come together," Yang said, as he urged his supporters to consider Garcia for their ranked-choice ballots.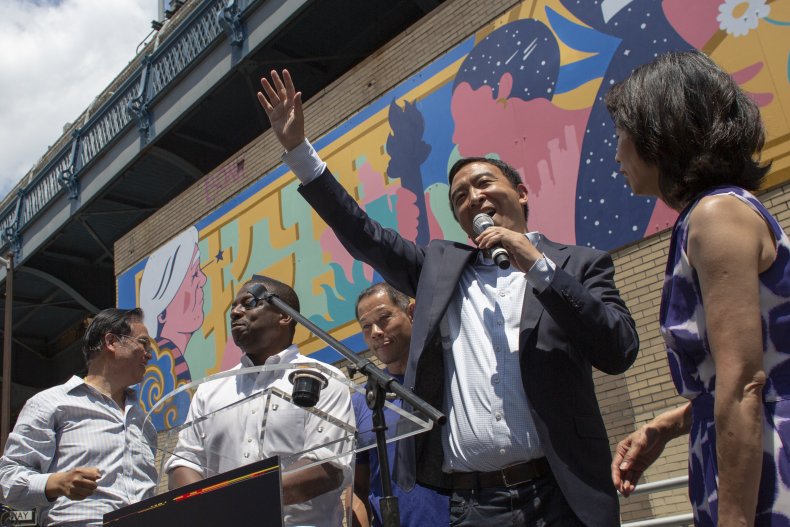 "Andrew Yang No. 1 and Kathryn Garcia No. 2. That's the way I want your ballots to look," he added. "Kathryn Garcia is a true public servant. For anyone listening to my voice right now, if you support me, you should rank Kathryn number two on your ballot."
Garcia has declined to return the favor and made clear that she's not endorsing Yang. "Let me be very clear, I'm not co-endorsing," she told a crowd in Manhattan's Stuy-Town on Saturday. "We are campaigning together. We are promoting ranked choice voting."
Recent polls show Brooklyn Borough President Eric Adams and activist Maya Wiley as the frontrunners of the race, with Garcia and Yang trailing behind. Garcia has surged to third place in polls since securing endorsements from prominent newspapers, including the New York Times and New York Daily News, while Yang's limited policy knowledge has caused him to lag behind to fourth place in recent weeks.
With a large number of New Yorkers indicating that they're still undecided, Yang and Garcia's decision to join forces indicates the complicated nature of the ranked-choice voting system and demonstrates how rivals can work together in an effort to defeat the frontrunners.
Adams lashed out at Garcia on Saturday, calling her "as big a fraud as Andrew Yang" and accusing her of "making a backroom deal to drown out Black and Brown voices in this election."
"They're saying that we can't trust a person of color to be the mayor of the City of New York where this city is overwhelmingly people of color," Adams reportedly alleged while speaking in the Bronx.
Newsweek reached out to Eric Adam's campaign for further comment. This story will be updated with any response.