NYC Mayoral Primary Updates: Voters Head to Polls to Rank Candidates
The polls are open for the New York City mayoral primary Tuesday.
New Yorkers will line up around the city to rank their choices for mayor, public advocate, comptroller, borough president and city council.
The city is rolling out a ranked-choice voting system for this election. Voters rate their top five choices in order of presence instead of choosing just one. This allows the city to avoid a runoff election because none of the 13 Democratic candidates are expected to reach the 50 percent threshold required to win the primary outright.
The leading Democratic mayoral candidates include Brooklyn Borough President Eric Adams, former New York City Sanitation Commissioner Kathryn Garcia, former presidential candidate Andrew Yang and civil rights lawyer Maya Wiley.
Wiley has emerged as the progressive candidate, gained support from many progressive lawmakers like Representative Alexandria Ocasio-Cortez (D-N.Y.) and Senator Elizabeth Warren (D-Mass.).
Former federal Housing Secretary Shaun Donovan, former Wall Street executive Raymond J. McGuire, former nonprofit executive Dianna Morales and City Comptroller Scott M. Stringer round out the top eight candidates who participated in the official Democratic debates.
Fernando Mateo, a restaurateur, and Curtis Sliwa, the founder of the Guardian Angels street patrol group, are the two Republican primary candidates.
Recent polls have Adams as the front-runner heading into voting Tuesday.
According to a survey from Ispos, 28 percent named Adams as their initial first choice for mayor, while 20 percent named Yang and 15 percent chose Garcia. In the seventh round in the ranked-choice simulation, the poll found Adams winning the race over Yang by 12 points.
A poll conducted by the New York Post and McLaughlin & Associates also found Adams as voters' top choice in ranked order, followed by Wiley, Garcia and Yang. When the poll combines voters' first and second choices for mayor, Adams led, with Garcia second, then Wiley and Yang.
The rise of crime, policing, affordable housing and public transportation are top issues in this race.
Polls are open from 6 a.m. to 9 p.m. Voters can visit the NYC Board of Elections website at findmypollsite.vote.nyc to find polling locations.
Election officials will likely not know the results when polls close tonight due to the complexities of the new rank-choice system and the greater use of absentee ballots.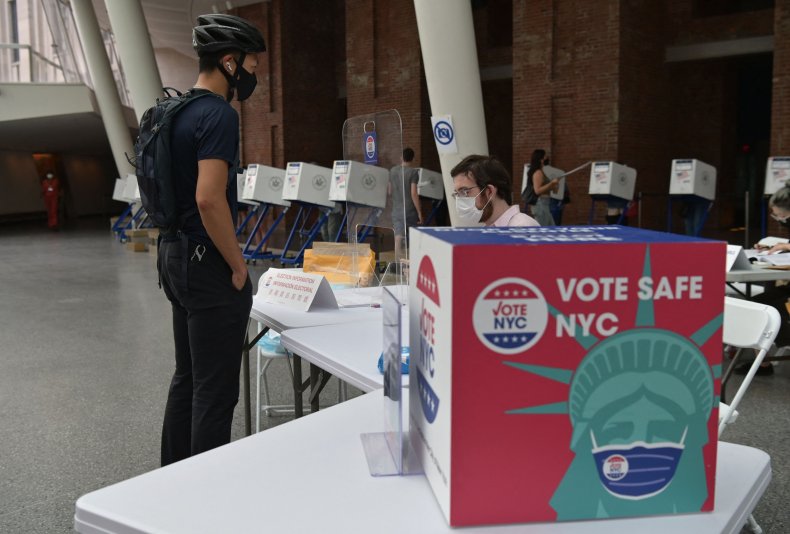 New Yorkers have mixed reactions to rank-choice voting
As a slight rain settles over New York City, voters are still getting to the polls to participate in the city's first rank-choice voting system in the primary election for mayor and other city offices.
New Yorkers voted to use rank-choice voting (RCV) in a 2019 referendum. Now, New Yorkers have different reactions to the new system.
Some people liked the new way to vote, as it gave them more choices and a greater say on who wins.
Others had mixed feelings.
Laurie Garret said voting at her precinct site went smooth.
Politico reporter Madina Toure said she noticed that people leaving a polling site in Jamaica are "sure of their first few picks and randomly picking for the rest" on their ballots.
Some people shared that voting was quick with virtually no lines.
However, the account MayorsRace2021 tweeted at the NYC Board of Elections suggesting that they add more privacy booths to make the rank-choice process quicker.
Crime and COVID are top issues on voters' minds
Former NYC City Council speakerChristine Quinn told CNN Tuesday that crime, police and COVID-19 will be the biggest issues on voters' minds this election day.
"I think the race is come down to the issue of crime and what people are going to do about it, but also how the police behave when they are fighting crime," Quinn said. "So we see both issues front and center, police abuse also a national issue and crime on the rise which, as you said, is a national issue."
Overall crime in the city rose 22 percent in the month of May compared with May 2020, according to data from the New York Police Department (NYPD) released earlier this month. Homicides in New York are up 53 percent over the last two years and shootings are up by more than 100 percent.
Candidates are divided on how they will address crime. Democrat Eric Adams, a former NYPD officer, wants to further support the police and put more officers on the streets. Republican candidate Curtis Silwa said he wants to "refund the police." Progressive Democrat Maya Wiley, on the other hand, is calling to divert fundings away from the police and invest in community-based programs to decrease crime.
"I think the third issue is the economy and the post-pandemic comeback and is the comeback going to be more inclusive of people of color and women than the economy in New York was prior to the pandemic," Quinn said.
Issues like investing in small businesses and expanding affordable housing are also top concerns for candidates.
De Blasio worries about low voter turnout
New York City Bill de Blasio would not reveal who he voted for to replace him but told CNN that he is worried about low voter turnout.
"I think this election has generated so little real, organic energy and obviously Covid has been pulling against it," de Blasio said. "By any normal measure, you'd think after last year, we'd be in a sort of permanent, high turnout reality, but I fear it's kind of come down."
Total turnout projections from the campaigns have tended to range from 750,000 to 1.1 million, according to CNN. De Blasio said that any figure "less than a million would worry me."
De Blasio said three main factors are likely responsible for low voter turnout Tuesday.
"The focus on Covid taking up so much of the energy, ranked-choice voting creating a certain amount of confusion, and the earlier primary — people really were used to September — I think all of it's thrown off the rhythm of things," he said.
De Blasio voted earlier Tuesday afternoon in Brookyln.
Mayor de Blasio encourages NYC residents to vote to "move the city forward"
At a press briefing this morning at city hall, New York City Mayor Bill de Blasio wished New Yorkers a "happy Election Day."
As COVID-19 restrictions in the city are lifted after 18 months of the pandemic, he said in this primary voters have the "opportunity to build a recovery for all of us."
"We've been working over last year and a half to overcome this crisis and move the city forward," de Blasio said. "Now the people decide on the future direction and how to build that recovery out."
He reminded voters to stay in line if they are still waiting to vote when polls close at 9:00 p.m. because "if you are in line by nine, the line is allowed to vote no matter how far it stretches."
De Blasio also told voters to rank five candidates on their ballot and not just to put the name of their first choice.
"Unless you literally cannot stand anyone else, don't do that," he said.
Finally, he said that it will take a while to get the final results and while we might know some information by tonight, "we won't know [who won] for sure for weeks."
The New York City Board of Elections will release the first choices of early and in-person votes on election night, this will not include absentee ballots. They will be counted on July 6.
The general election will be held in November. De Blasio is not running for re-election due to term limits.
NYC voters use rank-chose voting for first time
With the new rank-choice voting system, New York City voters will rank their top five candidates.
The ballots will then be counted in rounds. If no candidate reaches the 50 percent of first-choice votes in the first round, the candidate with the lowest number of votes will be eliminated and their vote will be redistributed based on their voters' second choices.
This process is then repeated until one candidate reaches the 50 percent threshold.
The New York City Board of Elections also tweeted out a reminder that the ballots are two-sided.
Read more about the candidates and the rank choice system here.
Candidates visit voters as polls open
As the polls opened bright and early at 6:00 a.m. Tuesday, several New York City Mayoral candidates visited voters and campaign volunteers before heading to the polls themselves.
Andrew Yang shares a video of him embracing voters in the Bronx.
"It's going to be a great day," he tweeted. "Let's go make history today!"
Maya Wiley rode off on a scooter to meet voters.
"It's a beautiful day to elect NYC's first Black Woman mayor," she said in an earlier tweet. "Let's reimagine what's possible for the city we love."
Katheryn Garcia visited her old stomping grounds at the city's sanitation department before meeting other voters.
"This beautiful city deserves a public servant with a track record of delivering for New Yorkers," she said in a tweet. "From Hurricane Sandy to delivering a million meals a day during COVID, I have fought for [New Yorkers] in every community. I don't just want the title of Mayor. I want to do the job."
Eric Adams walked through a group of supports chanting his name.
"This race may not be over, but our movement already won," he tweeted. "I grew up poor, I was arrested, I have a learning disability — and I'm running to be the next Mayor of the greatest city in the world. Ours is a New York story."