New York City residents reportedly flocked to area bars and beaches Saturday, as city officials and others expressed concern that "quarantine fatigue" and increasingly warmer weather is undermining coronavirus social distancing guidelines.
Hordes of the city's residents emerged from quarantine Saturday as temperatures pushed into the 70s and drew mask-wearing joggers, bikers and alcohol imbibers out of their months-long COVID-19 quarantine routines. Police regulated entrance to parts of Central Park and sidewalks outside of bars as law enforcement officers scattered throughout the city looked to quash social-distancing violations.
Photographs on social media over the weekend revealed swells of city residents drinking alcoholic beverages from to-go cups of outside bars and lounging on top of each other in city parks -- more often than not while failing to wear either masks or gloves.
"It's only going to get worse as we head into a hot New York City summer," City Council Member Mark Levine told The New York Post. The chair of the council's Health Committee, Levine expressed concern about a possible rebound in COVID-19 deaths, citing the recent behavior as a result of "quarantine fatigue."
Newsweek reached out to the offices of both Levine and Council Member Carlina Rivera, who represents parts of Manhattan, Sunday morning.
In the 24-hour period culminating in Saturday afternoon, one of the city's warmest days this year, at least 100 deaths were tied to COVID-19, according to New York coronavirus tracking data. By comparison, around 500 people died as a result of coronavirus durings its peak in mid-April.
"We're not going to tolerate people starting to congregate. It's as simple as that," New York City Mayor Bill de Blasio said during his Sunday press conference. "If we have to shut places down, we will."
On Friday, New York Governor Andrew Cuomo extended its coronavirus lockdown precautions through June 13. The city and state have been under quarantine orders since mid-March. The city is currently expanding its tracking and tracing efforts to "get New Yorkers tested" for COVID-19, according to Dr. Ted Long, who is leading the city's long-term response.
Other city residents see wide divides in how neighborhoods are being treated by police amid the coronavirus lockdown. Between March 17 and May 4, police arrested 40 people for social-distancing violations, according to New York Police Department records. The district attorney's office said 35 of these individuals were black, four were Hispanic and one was white.
"It's really hard to imagine police tolerating this in Harlem. In fact, I saw two cars come and scatter a (multiracial) group outside a bar last night. But those white people turned the Upper East Side into Bourbon Street," remarked CNN contributor Joan Walsh on social media Saturday, sharing a local news report about the gatherings.
Others said city residents are simply worn out from nearly two months of lockdown. "How are you going to drink with a mask on?" hairdresser Akeem ­Kelley told The Post Saturday while sipping a cocktail.
"People have been home for the last two months, they're tired and they want to get some fresh air," Brooklyn resident Scott Krivisky told NBC New York Saturday. "And they want to live their life. If you do the right thing protecting yourself you're going to have a wonderful, wonderful time."
Updated 3:33 PM ET.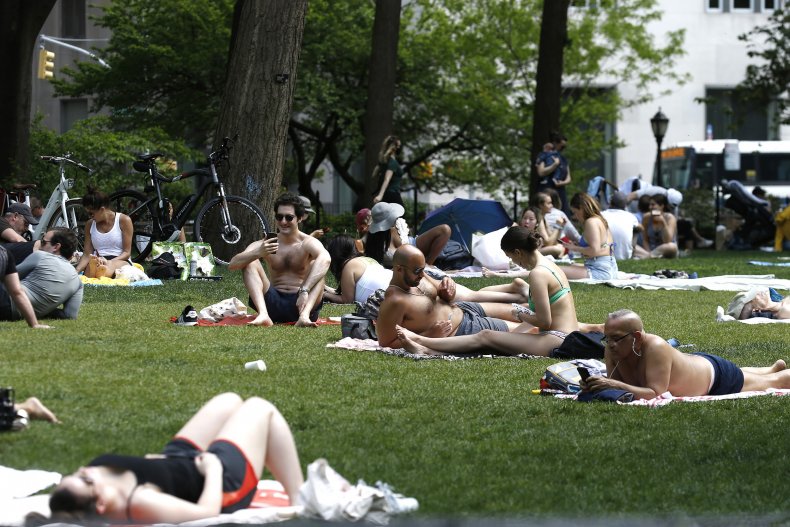 About the writer
Benjamin Fearnow is a reporter based out of Newsweek's New York City offices. He was previously at CBS and Mediaite after working as a news curator at Facebook. Fearnow has pieces published in The Atlantic as well as stories published about him in Wired and The New York Times. He attended the Columbia University School of Journalism after graduating from Indiana University-Bloomington. Email: b.fearnow @ newsweek [dot] com.