NYC Police Union Head Stands By Mayor Eric Adams After Racial Slur Surfaces
The head of the New York City police union stands by Mayor Eric Adams after a 2019 video of him using a racial slur for white people surfaced.
The video shows Adams, who is Black and a former police captain, speaking at a private event in Harlem on December 13, 2019, the New York Daily News first reported.
"Every day in the police department, I kicked those crackers' a**, man," Adams said in the video. "I was unbelievable in the police department with 100 Blacks in Law Enforcement.
Patrick J. Lynch, president of the Police Benevolent Association of the City of New York, the city's largest police union, released a statement Friday regarding the video and Adams later apologized after he was dragged into another controversy during his short tenure as mayor.
"Whenever a controversial video of a police officer surfaces online, we ask for fairness instead of a rush to outrage," Lynch said. "We will apply the same standard here.
"We have spoken with Mayor Adams about this video. We have spent far too many hours together in hospital emergency rooms these past few weeks, and we've worked together for decades before that. A few seconds of video will not define our relationship. We have a lot of work to do together to support our members on the streets," Lynch continued.
Adams commented on using the racial slur after he was asked about it in a Friday news conference, saying it was "inappropriate," and he will "definitely apologize."
"Clearly, it's a comment that should not be used and I apologize, not only to those who heard it, but to New Yorkers because they should expect more from me," Adams said.
Adams said that someone asked him a question using the slur and that he responded using it.
The new mayor was a police officer for over two decades before retiring from the New York Police Department as a captain in 2006, according to Politico. He took over as mayor on January 1, 2022.
Adams was a critic of the police department while working there, The Associated Press reported. He also co-founded 100 Blacks in Law Enforcement Who Care, an advocacy group pushing for criminal justice reform and opposing police brutality.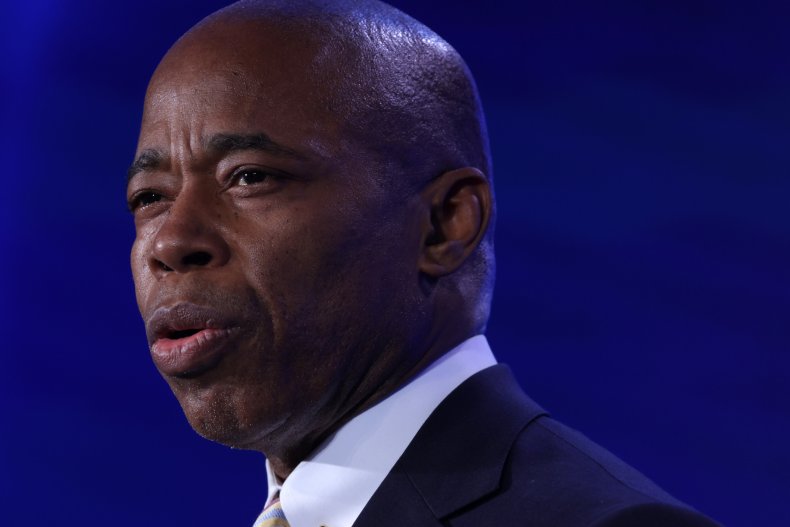 While Adams has only been in office for a little over a month, this is not the first time his comments have caused a stir.
During a press conference urging large businesses to return to in-person work to support smaller businesses on January 4, 2022, Adams said that "low-skilled workers," like cooks and dishwashers, don't possess the academic skills to "sit in the corner office," Newsweek reported.
Some criticized Adams for calling such workers "low-skilled," Newsweek reported.
The next day, Adams tweeted that he was a cook and dishwasher.
"If nobody came to my restaurant when I was in college, I wouldn't have been able to survive, Adams tweeted. "When you talk about closing down our city, you're talking about putting low-wage workers out of a job. I'm not letting that happen."
Adams also drew scrutiny when trying to hire his brother for a $210,000 city job to be the head of his security, CNN reported.