NYC Postpones 23K COVID Vaccine Appointments as Federal Supply Runs Out
As New York City races to expand access to coronavirus vaccinations, officials are grappling with a federal supply shortage that threatens to stall progress.
Roughly 23,000 people originally scheduled to receive their first vaccine doses later this week will no longer be able to do so, New York City Mayor Bill de Blasio confirmed during a Wednesday press conference. Their appointments are postponed until the city acquires the necessary resources from the state, in addition to the federal partners handling the immunization rollout.
"We've had to tell 23,000 New Yorkers who had an appointment this week that they will not be able to get that appointment for lack of supply," the mayor said.
New York City Council member Mark Levine, who chairs the council's health committee, confirmed that the health department will close its 15 vaccination hubs on Thursday and Friday as a result of the supply deficit.
New York City launched its vaccination effort last month, after initial doses began going to states through the White House's Operation Warp Speed program. Two-dose immunizations to protect against the respiratory disease—one developed by Pfizer and BioNTech and another developed by Moderna and the National Institutes of Health—were allocated nationwide after the Food and Drug Administration gave emergency use authorization to both vaccines.
At Wednesday's news conference, Dr. Dave Chokshi, commissioner of New York City's Department of Health and Mental Hygiene, cited a delayed shipment of Moderna's vaccine in explaining the need to postpone thousands of upcoming appointments. The city had anticipated receiving 103,400 doses of the vaccine, including first and second installments, on Tuesday. But distribution problems pushed those deliveries to Wednesday and Thursday.
"The information that we have is that Moderna, the manufacturer, they partner with a distributor from the federal government. And it's the distributor that conveyed the delay," Chokshi said.
Newsweek reached out to Moderna for comment but did not receive a reply in time for publication.
De Blasio noted that New York state's vaccine reserve, which contains approximately 65,000 doses, could be a valuable solution to filling the city's immunization gap.
"If we had the freedom to vaccinate, if we had those second doses free up, we could reach those 23,000 New Yorkers this week," he said. "We've got about 65,000 doses that we could put into play right away if we had that freedom."
In comments emailed to Newsweek Wednesday afternoon, a New York City official said that while the reserved vaccines were put aside as second doses for individuals who had already received a first installment, they could be administered as preliminary doses instead.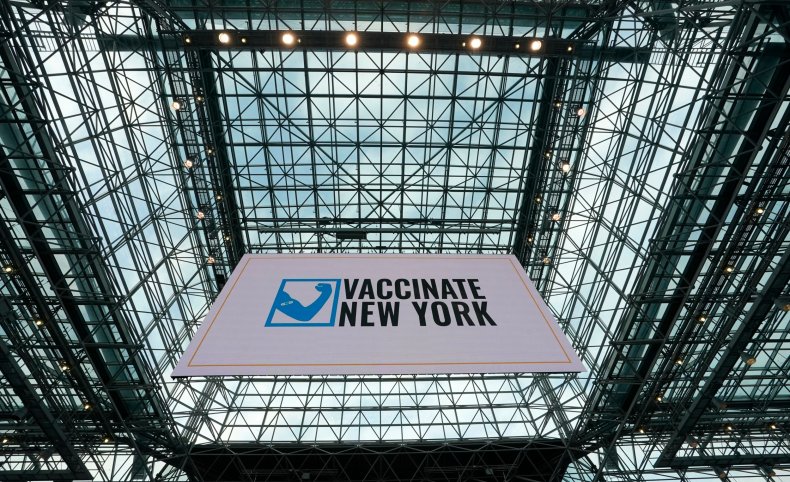 "We want to be able to use a tranche of 'uncommitted' second doses and administer them as first doses—meaning they're not the designated dose for a person who already received their first dose," the official said, adding, "Still, the only lasting solution is more supply."
As of Wednesday, New York City has administered vaccinations to almost 500,000 residents, according to de Blasio's calculations. After initially offering immunization doses to high-risk health care workers as well as residents and staff at long-term-care facilities, in accordance with recommendations from the U.S. Centers for Disease Control and Prevention, the city broadened its vaccine eligibility criteria earlier this month. Essential workers and individuals older than 65 are now included.
The 23,000 appointments previously set to take place on Thursday and Friday will be rescheduled "within the span of one week," according to Chokshi.
Newsweek reached out to New York Governor Andrew Cuomo's office and Moderna for comment but did not receive replies in time for publication.