NYC Prisoners Released Early Due to COVID-19 Concerns Were Re-Arrested, Police Say
New York City prisoners that were released early due to concerns over the novel coronavirus pandemic continue to be arrested and re-released, according to authorities Friday.
"We're continuing to see people get arrested over and over and let right back out. And it really defies common sense," Dermot Shea, commissioner of the New York City Police Department, said in an interview with NBC 4 News.
"If this was a business, the business would go bankrupt...You need to insert some common sense into how the criminal justice system works," Shea said.
About 2,500 prisoners were released early from the jail at Rikers Island due to concerns over the spread of the coronavirus among prisoners. Michael LiPetri, chief of crime control strategies for the NYPD, told NBC 4 News that at least 250 of those that were released have been arrested 450 times thus far, meaning some have been re-arrested more than once.
Jonathan Martinez, one of the prisoners released from Rikers, has already been arrested three times since his March 16 release, NBC 4 News reported. At the time, Martinez was being held on six charges, ranging from petty larceny to forced touching. He had previously been convicted on strangulation in 2014 for an incident involving his girlfriend.
Since his release, Martinez has been arrested for allegedly stealing a cell phone from a passenger in a parked car using a box cutter, stealing food and beverages from a Gourmet Garage and throwing a rock through a clothing and jewelry boutique. Every incident resulted in Martinez being released back into the public.
The Manhattan DA's office requested that Martinez be held after the alleged rock-throwing incident, but their request was denied. An attorney assigned to represent Martinez through the Legal Aid Society, told NBC News 4 that he was not released due to COVID-19, but because prosecutors were not prepared to move forward with his case. Redmond Haskins, a spokesperson for the Legal Aid Society, also told the tv station that prisoners were not released under the pandemic guidelines until later in March, after Martinez was released.
However, LiPetri disputed that information, telling NBC News 4, "The Police Department has worked with other City agencies and he is on the list of early releases due to COVID-19, along with hundreds of other individuals released that week."
Many are being released after re-offending as a direct consequence of New York's bail reform bill from 2019. Judges are no longer able to set bail for a long list of misdemeanors and felonies of a nonviolent nature, including "stalking, assault without serious injury, burglary, many drug offenses, and even some kinds of arson and robbery," according to a 2019 report by The New York Times. The bill was modified in April so that judges will be able to set bail for offenders accused of sex trafficking and grand larceny.
Newsweek reached out to the NYPD and the mayor's office to get comments on this issue, but they did not respond back in time for publication.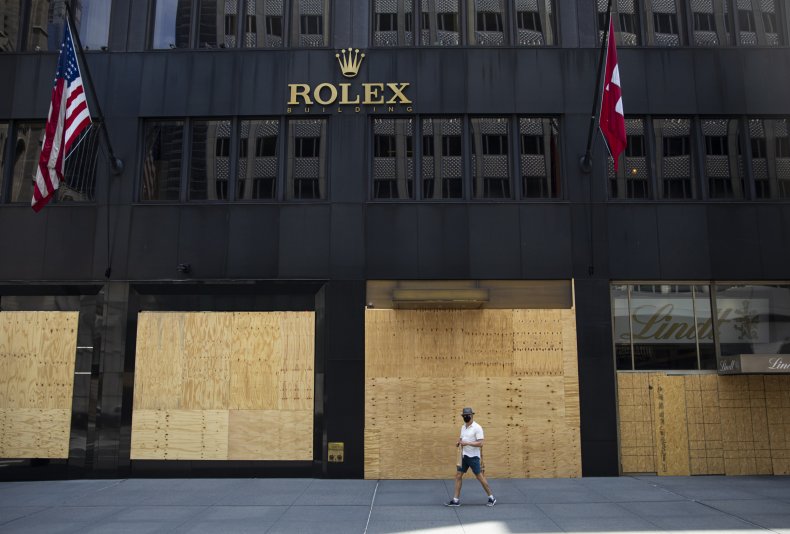 Correction, 06/15/20, 9:21 a.m.: This story has been updated to reflect that the Manhattan District Attorney's office did not implement the city's plan to release prisoners due to the COVID-19 pandemic. The story also has been updated to include comments from the Legal Aid Society, who dispute the reasoning for Martinez's release from Rikers.