NYC Says There's No Plan 'For Now' to Reinstate Mask Mandates Amid Rise in Delta Variant
There are no plans to reinstate mask mandates in New York City just yet, according to the city's health commissioner Dave Chokshi.
Appearing on CNN's New Day program on Friday, Chokshi said city officials will continue to monitor the data regarding the Delta variant of COVID-19—which is driving up case numbers across the country.
"What we do know is that when you're fully vaccinated, it does offer strong protection against particularly severe illness," Chokshi said. "But there are some cases where you will see particular places, like Los Angeles, that's going through a surge right now reinstate those mask mandates primarily to protect people who are unvaccinated."
Los Angeles County, the nation's most populous county, announced Thursday it was reinstating indoor mask requirements in public spaces starting this weekend. The order will require masking indoors regardless of vaccination status.
On Thursday, the county reported more than 1,500 cases of the virus—the highest total of new cases since mid-March, according to officials. The positivity rate is currently 3.7 percent. On June 15, the day the county reopened, the positivity rate was roughly 0.5 percent.
Chokshi said the Delta variant now makes up 69 percent of the virus cases being reported in New York City. While cases are on the rise, the health commissioner said the amount of hospitalizations and deaths are not.
"We have to continue following those indicators and figure out what additional steps may be needed in the weeks ahead," Chokshi said.
"But no mask mandates in New York for now?" CNN host John Berman asked the health commissioner.
"That's correct," Chokshi replied.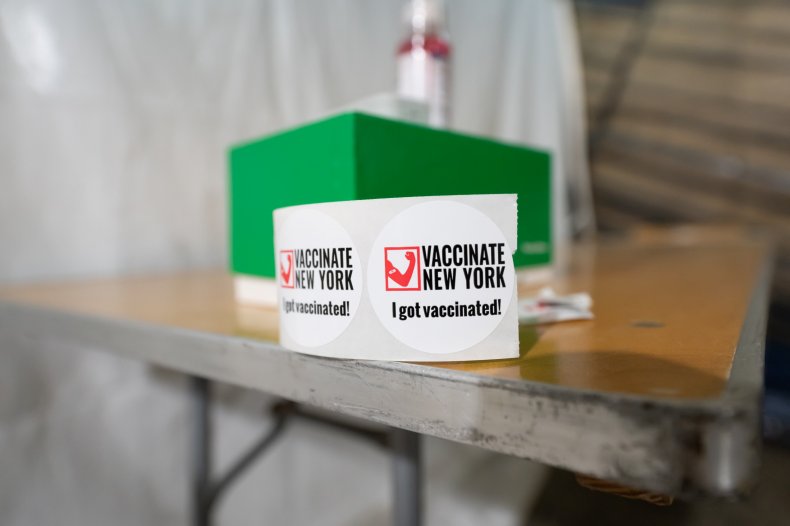 Delta, the COVID-19 variant that was first detected in India and is now in more than 100 countries, has dramatically increased its prevalence across the United States in recent weeks. The seven-day average of new cases has climbed to about 23,300 a day, nearly double the average from a week ago, according to data from Johns Hopkins University.
New York City's seven-day case average has surged 62 percent, according to new health department data released Friday.
Fifty-three percent of the city's residents are fully inoculated against the vaccine, and nearly 58 percent have received at least one dose.
Mayor Bill de Blasio earlier this week touted New York's vaccination program, highlighting a new study that found the rollout "literally changed the course of history, saved thousands of lives and stopped hundreds of thousands of COVID cases in their tracks."
The study, from Yale University, said the program saved more than 8,300 lives, averted more than 44,000 hospitalizations and prevented 250,000 cases amid the pandemic.
De Blasio also addressed the spread of the Delta variant and the importance of getting more New Yorkers vaccinated during a media availability on Wednesday.
"We know the challenge," the mayor said. "We understand the challenge of the Delta variant. We understand that challenge is particularly clear and sharp for unvaccinated people—that's where the problem is."