NYC Sees 45 Percent Increase in Vaccinations Following Mayor's Mandate, De Blasio Says
Vaccinations in New York City have gone up 45 percent since Mayor Bill de Blasio began implementing vaccine mandates for public employees and for a host of activities like indoor dining.
"Mandates work. They help keep people safe," de Blasio told CNN's New Day on Wednesday. "We put mandates in place about two months ago for public employees, for indoor dining and a variety of things, and since then we have seen a 45 percent increase in vaccinations—1.3 million more doses because we have mandates."
New York City's vaccine mandate for health care workers went into full effect on Monday and the effort to get more shots into arms seems to have worked.
De Blasio said as of Wednesday, 92 percent of New York City's public health system, which is the largest in the country, is vaccinated—a 7 percent increase from last week.
Now, the mayor is turning his efforts toward the city's education workforce. Under de Blasio's order, public school workers will have until 5 p.m. this Friday to get their first dose or risk losing their jobs.
De Blasio said on Friday and Saturday alone, 7,000 of the city's teachers and school employees got their vaccines in anticipation of the mandate. He added another 3,000 have been vaccinated in the past 24 hours "because people see the deadlines coming."
While there have been efforts to block the mandate and concerns over staff shortages, de Blasio said he is not worried about having enough teachers to fill New York City schools.
"We have a lot of substitute teaches, a lot of young people in particular who want to go into the teaching profession, who are ready, willing and able, who are vaccinated, who are going to take those roles immediately," he said.
"The bottom line is if you refuse and continue to refuse, then we can't have you with our kids. We gotta protect our kids," he added. "On Monday, we're going to have a school system of a million kids where every adult in the building is going to be vaccinated—with at least one dose. It's going to create an entirely safe environment."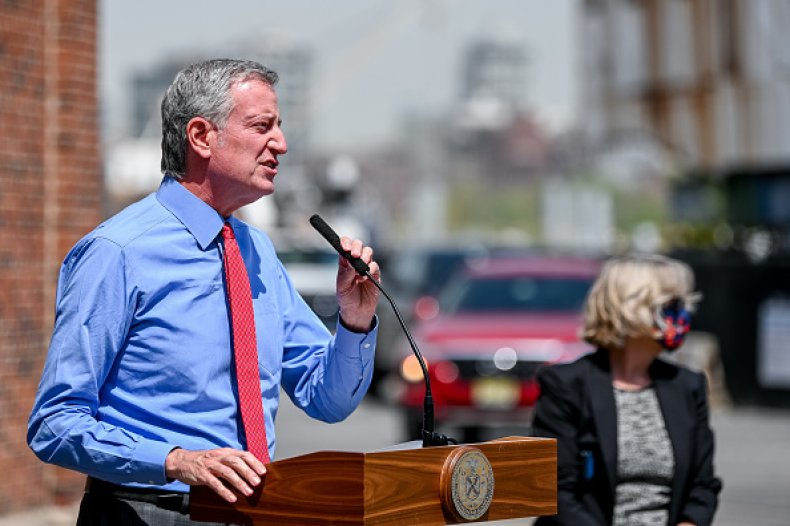 Since August 17, anyone over the age of 12 must show proof of vaccination in order to enter New York City's indoor establishments, including restaurants, bars, nightclubs, gyms, fitness classes, movie theaters, museums, concerts and sport stadiums among other venues.
De Blasio said 82 percent of New York City adults, as a whole, have at least one dose of a COVID-19 vaccine.
"The message to people is this: We have to keep each other safe. We gotta put the COVID era behind us. The mandates have worked," he said.
The mayor is encouraging others to begin implementing vaccine mandates, pointing to the success he has seen in the last two months.
The jump in New York City's vaccinations is also a hopeful sign that President Joe Biden's planned federal vaccination mandate for health care workers will raise national vaccination rates.
"Everybody out there, private sector, everyone should move to these mandates because they have been so strikingly effective," de Blasio said. "In the end, when it comes down to it [and] you have to choose how you're going to be able to keep that job, keep that paycheck, do the right thing, get vaccinated, the majority of people get vaccinated."
Airlines are one of the nation's largest private businesses that have implemented vaccine mandates and data show the requirements are effectively encouraging workers to get vaccinated.
Earlier this month, the chief health officer for Delta Air Lines said nearly 20 percent of its unvaccinated staff decided to get the vaccine two weeks after the company announced it would implement a $200 medical insurance surcharge for unvaccinated workers.
A week later, United Airlines CEO Scott Kirby announced that about 90 percent of the company's entire workforce has shown proof of vaccine to the airline.