At least 19 people have died, and dozens more have have been injured, in a fire in New York City that broke out in a Bronx apartment building on Sunday.
Local leaders said the fire is the city's worst in decades. The Associated Press reported Sunday afternoon that 19 people, including nine children, had been killed in the blaze.
Earlier in the day, fire officials said that more than 60 people had been injured in the fire, including 32 victims who sustained life-threatening injuries.
"This is going to be one of the worst fires we have witnessed here in modern times in the city of New York," Mayor Eric Adams said during a press briefing Sunday, according to NBC New York.
On Sunday afternoon, the fire department tweeted that approximately 200 firefighters were "operating on scene of a 5-alarm fire at 333 East 181 Street in the Bronx. There are currently 31 serious injuries to civilians."
Daniel Nigro, commissioner of the city's fire department, said he expects "numerous fatalities" following the fire, NBC New York reported. The commissioner said most of the victims of the fire are suffering from smoke inhalation.
"There were certainly people trapped in their apartments all through this building," Nigro said, according to the station. Several of the victims are children, Nigro said.
The fire started in a duplex apartment on the third floor of the 19-story high-rise, according to local news station WABC.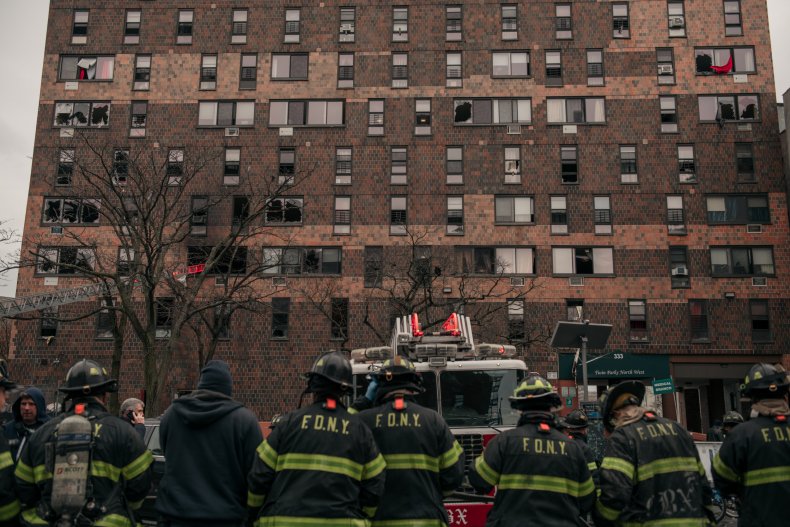 The fire commissioner said he doesn't believe the cause of the fire is suspicious, but it is currently being investigated.
New York Governor Kathy Hochul said Sunday that she is "horrified by the devastating fire in the Bronx today."
"My heart is with the loved ones of all those we've tragically lost, all of those impacted and with our heroic @FDNY firefighters. The entire State of New York stands with New York City," Hochul tweeted.
Cristal Diaz, a 27-year-old resident of the building's 15th floor, described escaping during the fire in an interview with the New York Post.
"I was drinking coffee in the living room and I started smelling smoke. We started putting water on towels and the bottom of the door. Everything was crazy," Diaz said. "We didn't know what to do. We looked out the windows and saw all the dead bodies they were taking with the blankets."
Local news outlets and fire officials hadn't reported any deaths from the fire as of Sunday afternoon around 2:30 p.m.
"I don't know of anyone died, but they were taking out a lot of unconscious people," one of the building's residents, Bella Ortiz, 42, told the newspaper.
It took firefighters about an hour to put out the blaze, the Post reported.
Newsweek reached out to the New York City Fire Department for details about the blaze, but did not receive a response before publication on Sunday afternoon.