NYC Shores Flooded With Whales And Experts Think They Know Why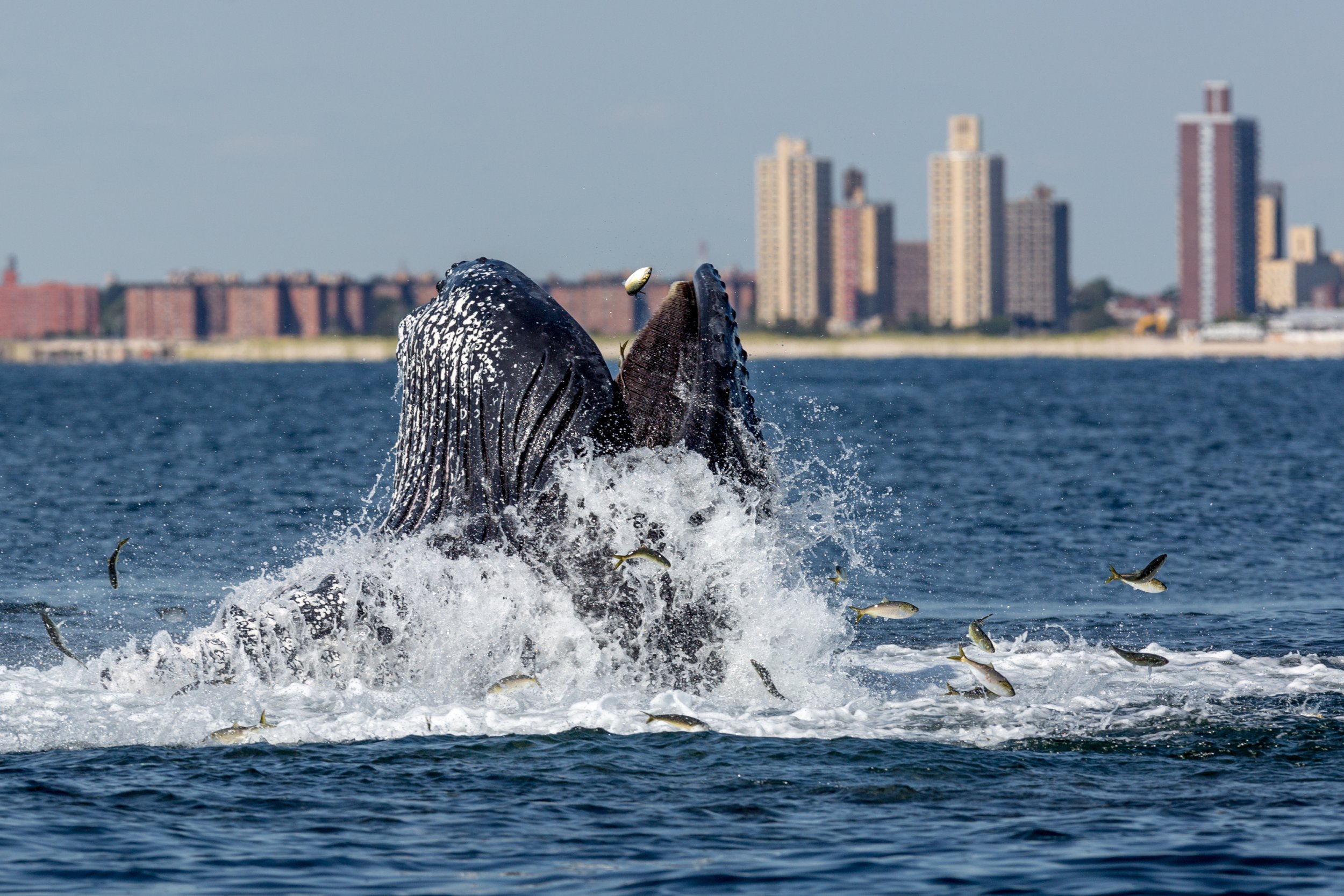 The number of whales spotted in the waters off New York City has increased by 540 percent in the last eight years, according to researchers.
In 2010, experts from non-profit Gotham Whale identified just five whales in local waters across the whole year. However, in 2018, the number of sightings jumped to a staggering 272, the vast majority being humpbacks, Patch reported.
The non-profit says that the recent spike in whale sightings is the result of several successful environmental policies—including the Clean Water Act, the Endangered Species Act and the Marine Mammal Protection Act—as well as a decrease in pollution in the Hudson River.
"So the Hudson River, instead of bringing out pollution to the areas we see whales—the lower estuary and the area right outside the mouth of the Hudson—it's bringing nutrients," Paul Sieswerda, founder of Gotham Whale, told Patch.
This increase in nutrients has led to an increase in algae which attracts a type of fish known as Menhaden that is a major source of food for humpbacks. In fact, Menhaden are eaten by so many different species that they have been described as the "most important fish in the sea," according to the Pew Charitable Trust's Mid-Atlantic Conservation Project.
Sieswerda said that the size of the humpback whales—which can grow up to 60 feet long—spotted by the non-proft was impressive.
"The sheer size alone is incredible," he said. "They're like buses, and to think that's a living animal and to think that is has the power and grace to completely jump out of the water when they breach is a spectacle that I think is unique to the animal kingdom."
Gotham Whale identifies individual humpbacks by looking at the underside of their fluke, or tail—which is unique to each animal, containing a variety of distinct patterns and colorizations.
Every time the non-profit spots a whale near New York City, it makes a note of the individual animal. Currently, their catalogue contains 110 individuals, one of which was named Jerry by Gotham's photographer Artie Raslich, a fan of the Grateful Dead.
Jerry—the whale which the team have the most information on—was first spotted on what would have been the birthday of the band's late guitarist Jerry Garcia, from a boat named after their song "Ship of Fools."
"There's no way we couldn't call him Jerry," said Sieswerda.