Viral Video Shows NYC Subway Riders Getting Into Yelling Match Over Race, Religion
Two subway riders in New York City were caught on video yelling at each other over race and religion.
The video, posted by commuter Chris French on Twitter, shows a black woman and a Jewish man screaming at each other during a rush-hour trip on a Bronx-bound 4 train on Thursday, according to The New York Daily News.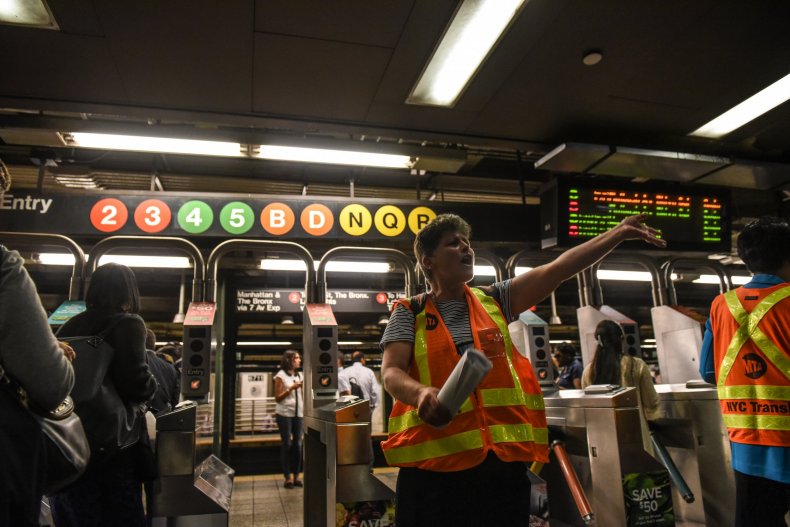 "You said I'm being racist, so you tell me who I'm being racist towards," the woman is heard shouting. "Because you're Jewish, and I said if a Jewish family got on here, somebody would have gotten up. That's not a racist statement! That is a factual statement!"
The man, who was wearing a yarmulke, replied, "Yes, it is racist."
"You need to learn the difference between race," the woman told the man. "Judaism is not a race. It is a religion."
The man was identified as 31-year-old Yossi Wolfe, a software engineer for The Wall Street Journal, according to Israeli national broadcaster Arutz Sheva. Wolfe claimed the incident began when another African-American woman and three small children got on the train, and no one gave up their seats for them.
"So this other lady started screaming at everyone around her, saying, 'Why are you guys not getting up? This lady's here with her three kids,'" Wolfe, who was standing, said. "And then she finally said, 'If it was a Jewish family, y'all would have gotten up!' At which point I said to her, 'Can we please not make this a racist thing?'"
Wolfe is heard telling the woman to "calm down," but the woman refused to back down. "No. I need to calm down because I'm schooling your a--?" she yelled back. "You guys think you're so f---ing smart, but I'm going to teach you a lesson on this f---ing train."
"No, 'you guys.' I'm a person and you're a person," Wolfe replied.
The woman goes on to claim that Jewish people treat black people "different in our community," and says that Jewish people refuse to rent to black people.
"Your people!" she yelled. "You said I was racist, so I'm addressing your people. You said I was a racist, right? Because I brought up Judaism, right? You wouldn't have called me racist if I said a Mexican family came on here, right? You wouldn't have called me a racist then, right?"
Wolfe calls the woman "hateful," to which she replies, "No, I am not hateful. Let me school you. Did I say Jews are dirty? Did I say they stink? And learn the difference between racism and prejudice-ism!"
Wolfe told the Israeli broadcaster that he felt the need to stand up against what he called an anti-Semitic attack. "To me, it just seems like a no-brainer, when someone is attacking your people, you have to do something about it," he said.
French did not immediately respond to Newsweek's request for comment. However, he wrote on Twitter that he did not expect his video to go as viral as it has.
"I myself have been called racist just for posting, which is weak, but no matter," he wrote. "I regret posting now, because everyone has run rampant with the 'angry black woman' narrative, and it's really disheartening."
The woman in the video has not been identified.