NYC Teachers Ask SCOTUS To Block de Blasio's Vaccine Mandate After Judge Sides With Mayor
A group of New York City public school teachers are asking for the U.S. Supreme Court to step in and block the city's vaccine mandate from going into effect at 5 p.m. on Friday.
An emergency petition filed on Thursday asks Justice Sonia Sotomayor, who is the circuit justice for New York, to block the mandate, claiming it violates their equal protection rights.
The petition states that Mayor Bill de Blasio's order "will force thousands of unvaccinated public-school employees to lose their jobs—while other municipal employees, including those who have significant contact with children, are allowed to opt-out of the vaccine mandate through weekly COVID-19 testing."
The latest legal challenge comes days after a federal judge sided with de Blasio and dissolved a temporary ban on the mandate for the nation's largest public school system.
On Monday evening, the 2nd U.S. Circuit Court of Appeals in Manhattan quashed last week's injunction and denied the original motion, paving the way for the city to enforce vaccinations among school staff beginning October 4.
In a statement sent to Newsweek, de Blasio's office said it was confident that the same ruling would come from the Supreme Court.
"Plaintiffs have no valid claims and have stated no basis for the Court's intervention. Courts have spoken," a spokesperson for the mayor's office wrote. "The Health Department has the authority to implement a mandate that is firmly grounded in science and the expertise of public health officials from across the nation."
Some teachers have already moved to respond to the looming deadline.
Last Friday and Saturday alone, 7,000 of the city's public school teachers and school employees received vaccines, according to de Blasio. As of Monday, 87 percent of the city's department of education personnel have received at least one dose of a COVID-19 vaccine.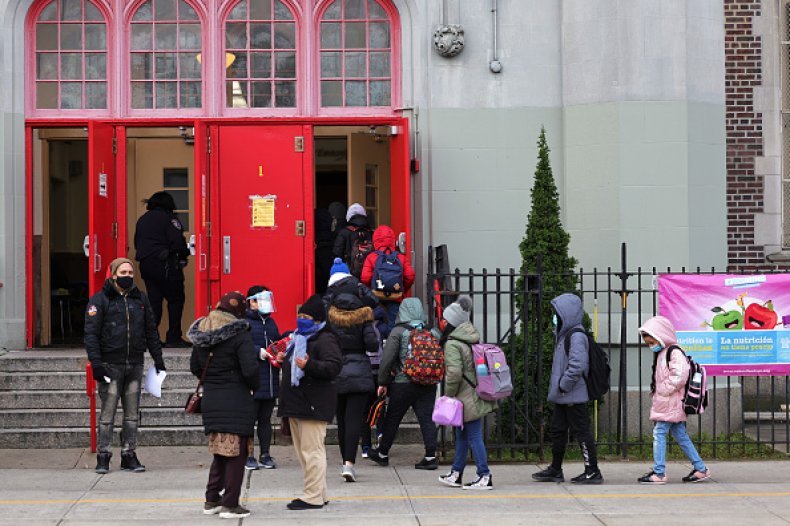 While teachers' unions have argued that the mandate could result in a shortage of as many as 10,000 teachers, the mayor has insisted that New York City has an abundance of vaccinated substitute teachers ready to fill their positions.
"We have a lot of substitute teaches, a lot of young people in particular who want to go into the teaching profession, who are ready, willing and able, who are vaccinated, who are going to take those roles immediately," de Blasio told CNN on Wednesday.
He said while the city would happily welcome back teachers who changed their minds on vaccines, should they get vaccinated after the order goes into effect, "the bottom line is if you refuse and continue to refuse, then we can't have you with our kids."
"On Monday, we're going to have a school system of a million kids where every adult in the building is going to be vaccinated—with at least one dose. It's going to create an entirely safe environment," the mayor said.
In Thursday's petition, unvaccinated teachers argued that they should be given the opportunity to undergo regular COVID-19 testing as an alternative to getting vaccinated, especially since a large number of teachers are already vaccinated.
"Social distancing, mask wearing, and testing may be sufficient to protect other municipal employees in different contexts, particularly because at least a portion of these employees are vaccinated," the petition reads.
De Blasio has insisted that vaccine mandates are one of the most effective ways of bringing up vaccination rates.
In the last week, vaccinations among New York City's healthcare workers increased from 85 percent to 92 percent after de Blasio's vaccine mandate for the city's health system went into effect this week.
"The message to people is this: We have to keep each other safe. We gotta put the COVID era behind us. The mandates have worked," de Blasio said.
Update 9/30/21 4:56 p.m. ET: This story was updated with comments from the mayor's office.