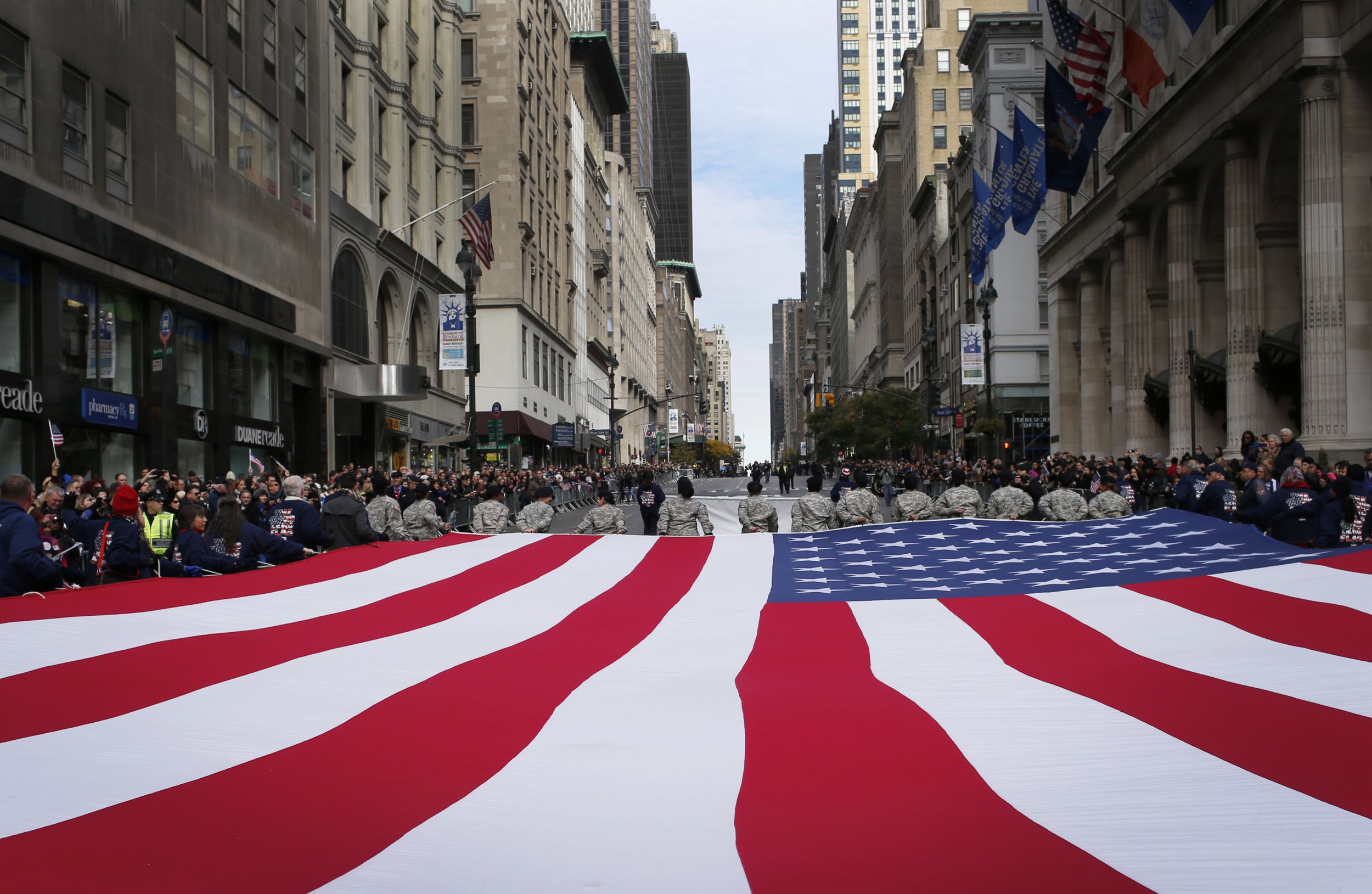 On Tuesday, the annual Veterans Day Parade in New York City, the largest in the country according to organizers, will honor the bicentennial of the United States national anthem with a theme drawn from its closing line: "Land of the Free, Home of the Brave."
Just over 200 years ago, Francis Scott Key awoke on September 14, 1814 to find that "the flag was still there," after the British bombardment of Fort McHenry during the Battle of Baltimore in the War of 1812. Inspired by this event, he penned "The Star Spangled Banner," which in 1931 would become America's national anthem.
The day's events begin at 10 a.m. with an opening ceremony at the Eternal Light Flagstaff monument at Fifth Avenue and 24th Street, near Madison Square Park. That ceremony "concludes with a wreath laying at 11 a.m. (The 11th hour of the 11th day of the 11th month)," according to the parade website.
The parade, which is put on by the United War Veterans Council, follows the ceremony, taking marchers from 26th Street to 52nd Street along Fifth Avenue. The organizers expect 600,000 spectators to turn out on Tuesday. The parade will be broadcast on FOX5 in New York and will be streaming online. A one-hour special will be broadcast around the country on Sunday, November 16.
The parade comes after a summer of events celebrating 200th birthday of "The Star-Spangled Banner." The original manuscript, owned by the Maryland Historical Society, traveled to the National Museum of American History to meet the original flag described in the song in June and July and to the Fort McHenry National Monument and Historic Shrine for the Star-Spangled Spectacular celebrations in September. President Barack Obama paid it a visit while the manuscript was there.
The War of 1812 "was a footnote as a war probably to most people, but the point is that there were some things that came out of that war that became great symbols and icons for America," says Burt Kummerow, president of the Maryland Historical Society The flag was one of those symbols.
"Francis Scott Key put it into words and put it into song," Kummerow tells Newsweek. "It went all across the country, it moved through the newspapers," he says. "I like to say it went viral."