NYC Trash Pile-Up Caused by Vaccine Mandate, Says Sanitation Union President
The head of the union representing New York City's sanitation workers blamed delays in garbage pick-ups on the city's vaccine mandate on Wednesday.
When asked by The New York Post about complaints from residents about larger-than-normal piles of trash being left for longer periods of time, Teamsters Local 831 President Harry Nespoli responded, "The mandate's going on."
"Look, you're going to have some spots in the city that they feel very strongly about this," he said.
Mayor Bill de Blasio vowed the issue would be addressed quickly during a Wednesday press briefing.
"There are some places where we're seeing that the totals just don't add up in terms of the trash being picked up," de Blasio said. "We're going to the union today to say this has to be addressed. This is something we are not going to let continue."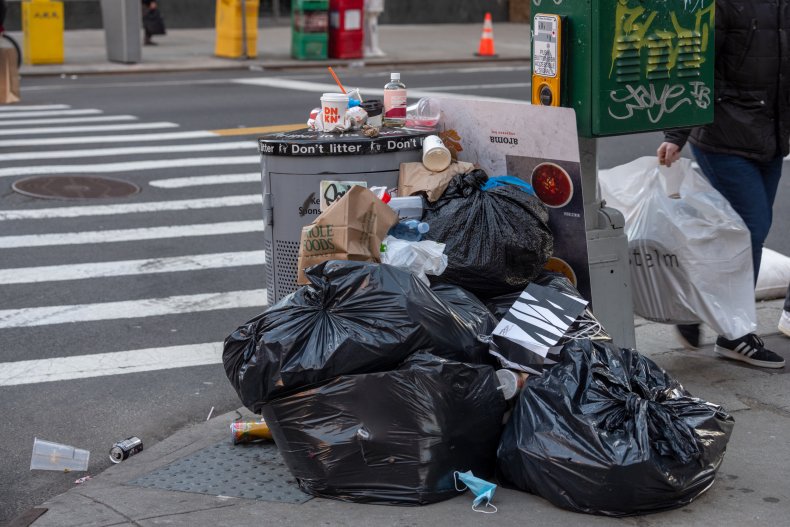 Residents throughout New York City have complained in recent days about large piles of garbage bags not being picked up in a timely fashion. Brooklyn and Staten Island have been hit particularly hard by collection delays, with the Post reporting the New York City Department of Sanitation found issues in about a dozen neighborhoods in Brooklyn alone.
In a statement to local news station NY1, Joshua Goodman, assistant commissioner at the Department of Sanitation, said, "We are aware that some residents are experiencing delays. These people may leave their material out—9,500 DSNY employees work to collect 12,000 tons of trash and recycling each day, in every part of the city, and we are coming to get this material as quickly as we can."
Teamsters Local 831 is the contracted union for the New York City Department of Sanitation and represents thousands of sanitation workers. Nespoli hinted that sanitation workers in the union could be sitting out of work or responding slower to mounting trash piles due to the city-mandate vaccine requirement, which goes into effect for city employees on Friday.
Even still, Nespoli said the vaccination rate within his union is about 65 percent.
"Our vaccinations are going up on a regular basis," he said to The New York Post. "In the last five days, we had 300 more that got vaccinated."
But Nespoli nonetheless supports union members who disagree with the mandate.
"I'll tell you straight out: I disagree with the mandate because of one reason. We have a program in place right now in the department, which is, you get the vaccination or you get tested once a week," he told the newspaper.
City residents have taken to social media to share photos of uncollected trash and voice their complaints.
City workers have until 5 p.m. Friday to get their first shot of a COVID-19 vaccine or face getting placed on leave without pay. However, enforcement of the rule won't begin until Monday.
On Wednesday, de Blasio said he anticipates many workers will wait until the last moment to get the shot.
"What I expect is a surge of activity, particularly on Friday," he said.
A spokesperson from the New York City Department of Sanitation told Newsweek that the department is "aware that there are collection delays. Residents may leave their material out—9,500 DSNY employees work to collect 12,000 tons of trash and recycling each day, in every part of the city, and we continue our work."
"Residents experiencing this issue may contact 311 and report a missed collection so that we can track the situation," the spokesperson added.
Newsweek contacted Teamsters Local 831 for comment but did not hear back in time for publication.
Update 10/28/21 3:20 p.m. ET: This story has been updated with a statement from the NYC Department of Sanitation.