We've got the complete guide to NYCC 2018. Even if you're not attending this year, there's plenty of big news to watch out for, including a possible Daredevil Season 3 trailer, some Titans footage from DC Universe and a bunch of comic book announcements.
What time does NYCC open?
New York Comic Con 2018 runs from Thursday, Oct. 4 through Sunday, Oct. 7. The Javits Center show floor hours are 10 a.m. to 7 p.m. Thursday through Saturday, with Sunday closing at 5:00 p.m. Here are some of the con's most exciting panels, with descriptions for each. And if you're not there IRL, keep your eyes peeled for trailers, teasers and other big reveals.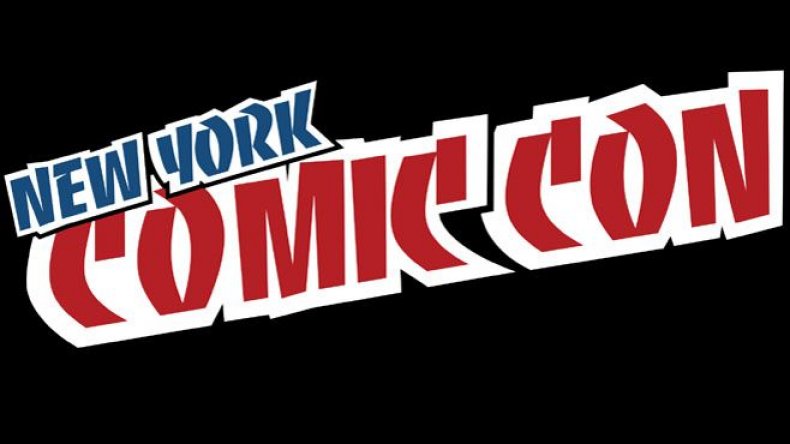 NYCC Schedule: Thursday, Oct. 4
Webtoon's Caster Panel, 12:30 - 1:30 p.m.
Common will be there, because he's doing the score with Robert Glasper.
Please join us for the launch of Caster, an all-new original digital comic series premiering on Webtoon from Noble Transmission and Freedom Road Productions and featuring original music and score by Common and Robert Glasper. Join Academy Award, Golden Globe, Emmy and 3x Grammy Award winner Common, Freedom Road Productions Managing Partner Derek Dudley, co-creator Austin Harrison, artist Jason Masters, writer Mike Raicht, and Webtoon Head of Content Tom Akel for a special look at the series and discussion of this unique series.
DC Universe Panel, 5:15 - 6:15 p.m.
Probably some Titans footage, and a look at all the original content coming to DC's new subscription service in 2019.
DC fans - this is your Universe! Get an in-depth look at the brand new and groundbreaking digital subscription service designed just for fans – DC Universe. Plus, get the latest updates on DC Universe original live-action and animated series like Titans and Young Justice: Outsiders, and a deep dive on the incredible line-up of legendary DC films and series, epic animated movies, comic books, exclusive merchandise and much more.
We Believe in Horror Panel, 6:30 - 7:30 p.m.
Horror junkie? Image Comics has you covered.
Image Comics has ushered in a new era of horror with cerebral writers and visceral artists elevating sequential-art dread to claustrophobic heights. From W. Maxwell Prince's suburban doom in Ice Cream Man to Pornsak Pichetshote's reflective haunted house boiler, Infidel, comics are evolving terror to new personal, socially minded levels. Join a roster of the most sinister storytellers including David F. Walker (Bitter Root), Matthew Rosenberg (What's the Furthest Place From Here?), Dennis Culver (Burnouts), and Will Dennis (the editor of Moonshine, Wytches, Gideon Falls) to discover how they're altering an entire genre.
Junta-Position the Politics of Modern Speculative Fiction, 11 a.m. - noon
Frankly, we have no idea what this is, but it's intriguing.
Why are we so comfortable watching power-hungry oligarchs wreak havoc in SFF…and find it so disturbing in the real world? Let's be honest: whether it's science fiction or fantasy, it's not magic and crazy technology that raise the stakes in a book—that sort of thing comes from world-ending coups gone awry.
NYCC Schedule: Friday, Oct. 5
Geoff Johns Spotlight Panel, 1:30-2:30 p.m.
Get the scoop on Johns' insane number of ongoing projects.
The superstar DC writer returns to New York for an all-access and in-depth discussion. Be here for this exclusive panel that will give you insight into how the world of DC is entertaining fans across all platforms.
Marvel's Runaways Panel, 2-3:30 p.m.
Season 2 isn't exactly premiering anytime soon, so this is your shot.
Marvel's Runaways is headed to Madison Square Garden, for the very first time, with an action-packed panel, Q&A and never-before-seen-footage. Join Jeph Loeb, Head of Marvel Television, along with the cast and executive producer, as they let you in on what's to come for the highly-anticipated Season 2 of the Hulu Original Series, Marvel's Runaways. You won't want to miss this fun-filled event! And don't forget all 13 episodes of Marvel's Runaways Season 2 will drop on Dec. 21, 2018, only on Hulu.
Marvel's Cup O' Joe, 4:15 - 5:15 p.m.
The one, and only Joe Quesada leads this comic con mainstay.
Join Joe Quesada, Jimmy Palmiotti, and other comics legends as they reflect on the industry-redefining Marvel Knights imprint as it celebrates its 20th anniversary. What was it like to pioneer this bold new storytelling style for Marvel's heroes, and how has it impacted Marvel comics, movies, and television series over the last two decades? Learn about all this and more at this must-attend retrospective – and bring your own burning questions! NOT to be missed by any fan of the Mighty Marvel Manner!
Ronald D. Moore Spotlight, 3:30 - 5 p.m.
Yep, Battlestar Galactica. Let some of this genius rub off on you.
Get up-close-and-personal with one of the greatest and most influential stars of our current "peak TV" era. Join Ronald D. Moore, one of the most talented, passionate and fascinating figures working in television today, as he shares insights, secrets and advice you would never hear in an average convention setting. Moore, a legendary television writer/producer/creator/showrunner, will reveal details of his incredible career in film and television ranging from his early work on Star Trek: The Next Generation and Deep Space Nine, the creation and genius of the 2004 Battlestar Galactica re-imagining for SyFy, Starz's groundbreaking adaptation of the beloved book series, Outlander , to his newest space series for Apple, shrouded in secrecy. This NYCC Master Class will be steered by Sony Pictures Television Co-President Chris Parnell and Mark A. Altman, Trekspert and author of So Say We All and The Fifty-Year Mission.
Dreamworks' Tales of Arcadia Panel, 4 - 5 p.m.
Trollhunters fans….anyone? Guillermo del Toro has three new shows on the way.
Guillermo del Toro offers a first look inside his upcoming Netflix original series DreamWorks Tales of Arcadia: 3 Below, the second chapter in the Tales of Arcadia trilogy. The panel will also include executive producers Rodrigo Blaas, Marc Guggenheim and Chad Hammes, and actor Diego Luna (Rogue One: A Star Wars Story). The series follows two royal teenage aliens,and their bodyguard who flee a surprise takeover of their home planet by an evil dictator and crash land in Arcadia. Now on the run from intergalactic bounty hunters, they struggle to blend in and adapt to the bizarre world of high school all the while attempting to repair their ship so they can return and defend their home planet.
Dave Gibbons Spotlight, 4:00-5 p.m.
See what the co-creator of Watchmen is up to. If we're lucky, we'll get a few details about the upcoming HBO series...
The Harvey Awards is pleased to present the 2018 Harvey Hall of Fame award to comic artist Dave Gibbons. Ahead of the award reception, the acclaimed co-creator of Watchmen and The Secret Service (adapted into the Kingsman films) sits down for a can't-miss conversation about his life, his collaborators and his wide-ranging career.
Nightflyers Panel, 4:30 - 6 p.m.
It's SyFy's next big show, based on George R. R. Martin's novella and short stories.
Experience the terror with an exclusive world premiere screening of the highly-anticipated SyFy series, Nightflyers, based on the novella by George R.R. Martin. Set in the year 2093, the series follows a group of maverick scientists and a powerful telepath as they embark on an expedition aboard The Nightflyer – the most advanced ship ever built. As they race towards first contact, terrifying and violent events begin to occur, causing the once tight-knit crew to mistrust each other. It's not long before their main mission becomes survival. Unlike anything you've seen before, Nightflyers combines horror and science fiction in a way that Martin himself has described as "Psycho in space." Following the screening, enjoy an exclusive Q&A session with cast members Eoin Macken, Gretchen Mol and David Ajala, and executive producers Jeff Buhler (showrunner), David Bartis and Gene Klein. Moderated by Laura Prudom (IGN).
Marvel's Spider-Man Panel, 5:30 - 6:30 p.m.
Spidey is in. There's the new Insomniac game, two upcoming films, but what's happening in the comic books?
Look out, here comes the Spider-Man panel! Editor Nick Lowe does whatever a moderator can along with Spider-Writers Saladin Ahmed (Miles Morales: Spider-Man) and Nick Spencer (Amazing Spider-Man). Listen buds, as we'll tell you all about the Amazing Spider-Man's next adventure! Action will be your reward as you learn the latest about the multiversal mega-crossover Spider-Geddon! Plus – like a streak of light, Miles Morales news will arrive just in time!
Netflix & Chills Panel, 7:30 - 10 p.m.
Let Netflix scare the shit out of you before Halloween. Sneak peaks at a bunch of upcoming spooky content.
The midnight hour is close at hand with Netflix's Mega Block of chills, thrills, and everything else of the other-worldly variety. Join the casts of Umbrella Academy, The Haunting of Hill House and Chilling Adventures of Sabrina as they descend upon New York Comic Con to discuss these highly anticipated new series. Plus, get a first look at The Dark Crystal: Age of Resistance before anyone else. The conversations will leave you sleeping with the lights on and texting your friends about the surprises along the way!
Saturday, Oct. 6
Tom King Spotlight Panel, 11:15 a.m. - 12:15 p.m.
Mister Miracle, Batman, Heroes in Crisis ...King is on a streak at DC Comics.
As his Eisner-winning run on Mister Miracle reaches its climax and Heroes in Crisis series explores the toll that saving the world can have on superheroes, don't miss this chance to hear fan-favorite writer Tom King speak about how his former life as a CIA operative inspires his intense, personal and creative stories!
Spider-Man: Into The Spider-verse Panel, 11:30 a.m. - 1 p.m.
Featuring both Miles Morales and Peter Parker, this upcoming animated film is nothing like you've ever seen before.
Cast and filmmakers from Sony Pictures Entertainment's highly anticipated Spider-Man: Into the Spider-Verse, from the creative minds of Phil Lord and Christopher Miller, will give audiences an inside look at the limitless possibilities of the Spider-Verse – where more than one can wear the mask – on Saturday, October 6 at 11:30 a.m. The film is presented in association with Marvel.
The Dragon Prince Panel, 12:15 - 1:15 p.m.
Humans, elves...To say this breakout series is great would be an understatement.
The creators and members of The Dragon Prince voice cast are coming together to bring you a special post-launch panel. They'll be discussing everything from show concepts to finished product and all things in between! They'll be highlighting cosplay, showing off fan-works, holding The Dragon Prince trivia, and more. Join us for a fun, magic-filled panel!
Deadly Class Panel, 1 - 2:30 p.m.
Based on a comic of the same name from Image, this SyFy adaptation stars Benedict Wong and Lana Condor.
Be the first to see the premiere episode of the highly anticipated new SyFy series, Deadly Class , based on the hit graphic novel by Rick Remender and Wes Craig. Executive produced by the Russo Brothers (Avengers: Infinity War), Deadly Class follows the story of Marcus, a teen living on the streets who is recruited into Kings Dominion, an elite private academy where the world's top crime families send their next generations to learn the deadly arts. After the screening, join the cast and creators for an exclusive Q&A. Panelists and moderator to be announced.
Daredevil Panel, 1:30 - 2:45 p.m.
Looks like Matt Murdock isn't dead.
Witness New York Comic Con's highly anticipated return of Daredevil, Marvel's first superhero on Netflix! Join the series' stars Charlie Cox, Elden Henson, Deborah Ann Woll, Vincent D'Onofrio, Joanne Whalley, Wilson Bethel, Jay Ali, series showrunner, Erik Oleson and Executive Producer and Marvel's Head of Television, Jeph Loeb for what promises to be an epic panel full of surprise reveals.
Umbrella Academy Panel, 1:45 - 2:45 p.m.
Based on a comic from Dark Horse, the upcoming live action series will follow a family of superheroes.
After ten years, The Umbrella Academy is back in action! With the new comics series, The Umbrella Academy: Hotel Oblivion kicking off and a live-action series arriving on Netflix in early 2019, Dark Horse Comics is thrilled to invite fans to a conversation with series creators Gerard Way and Gabriel Bá as we explore the weird, wonderful world of The Umbrella Academy.
Brian Michael Bendis Spotlight, 5:15 - 6:15 p.m.
He's was at Marvel, now he's at DC. Attend to hear about his journey.
Since his DC Comics debut on Action Comics and Superman, award-winning writer Brian Michael Bendis has been the talk of comic book fans everywhere! Join him for this special spotlight panel to hear his upcoming plans of the Man of Steel, his creator-owned Jinxworld characters and more.
Sunday, Oct. 7
Riverdale, 10 - 11 a.m.
If you don't want to know how Archie is surviving prison after the Season 2 finale, you're living under a rock.
Following yet another drama-filled season and shocking Season 2 finale, don't miss Riverdale when it makes its debut at New York Comic Con this year! Join Archie and the gang as they continue to dive into the secrets that loom and keep emerging from the shadows in a town that once seemed like a quiet, ordinary place. The circumstances surrounding Archie's arrest kick off the drama of season three as the gang tries to #FreeArchie, while Hiram Lodge continues to flesh out his plans to control not only Riverdale, but also the ever growing SoDale. Based on the characters from Archie Comics and produced by Berlanti Productions (The Flash, Supergirl, Blindspot, Arrow, DC's Legends of Tomorrow) in association with Warner Bros. Television, this one-hour drama is a bold, subversive take on the surreality of small-town life. Join us for an exclusive sneak peek at season three followed by a Q&A with series stars and producers.
Cobra Kai, 11 a.m. - noon
YouTube really did the thing for once.
The Karate Kid saga continues this year at NYCC! Fans will get an inside look from those who made this iconic series the most watched YouTube Original Series. Join stars Ralph Macchio, William Zabka and creators Josh Heald, Jon Hurwitz and Hayden Schlossberg for a screening, panel and special sneak peek of season 2.
The Voices of Comixology Originals, 2:30 - 3:30 p.m.
Because creator-owned comics are cool.
Join a star-studded panel of beloved comic creators and rising-star talent including Tim Seeley (Grave Danger), Elsa Charretier (Superfreaks) and Kel McDonald (The Stone King), as they discuss in detail their latest comiXology Originals series and graphic novels! They'll also wow the crowd with stories on the process of bringing creator-owned comics to life and what it's like pushing the envelope with digital comics, and beyond.
RWBY, 4 -5 p.m.
Rooster Teeth wants more RWBY, and we do too.
Rooster Teeth is bringing exclusive sneak peeks of RWBY Volume 6 and gen:LOCK to New York Comic Con. Join RWBY cast and crew Lindsay Jones (Ruby), Kara Eberle (Weiss), Arryn Zech (Blake), Barbara Dunkelman (Yang), Miles Luna and Kerry Shawcross for exciting RWBY news, hilarious behind-the-scenes stories and more! gen:LOCK writer/director Gray G. Haddock will show the most that's ever been seen of gen:LOCK. You don't want to miss it!
Danai Gurira Spotlight, 4 - 5 p.m.
What better way to end the con than see the Dora Milaje IRL?
Danai Gurira has portrayed some of the fiercest and most-beloved characters of our time. Now hear her chat about what it's like playing katana-wielding Michonne on AMC's The Walking Dead and learn about how her life has changed since joining the Marvel Cinematic Universe as Okoye in Black Panther and Avengers: Infinity War. This is one panel not to be missed!