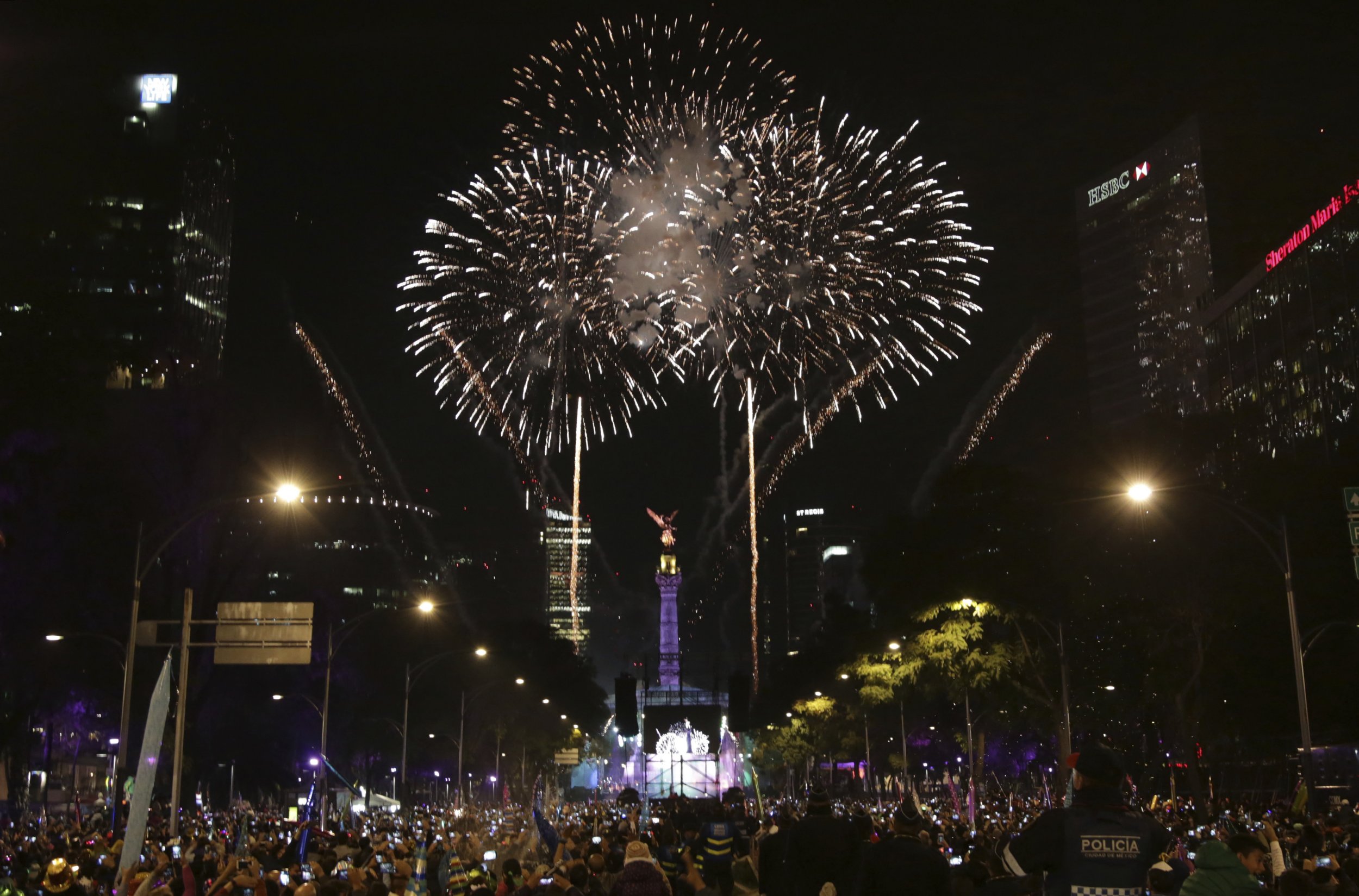 Phew, what a year, am I right? Every day a new nightmare.
Anyway.
So you're ringing in 2018 with a party. That's awesome! Have you got the champagne? The chips and dip? The soda? Cool, cool.
Oh, no! You forgot the music!
Don't fret. Newsweek has your back. We've collected 30 prime party songs. Most are from 2017, to honor the year gone by. Some are not because I wanted to include them.
Find your groove in 2018, beginning now. Embedded below is the playlist on Spotify, but we've also embedded a YouTube video for each song, in case you're stream-phobic. Enjoy!
"Unforgettable" -French Montana
Sure the lyrics are actually "I've had enough convo, for 24" but I hear "I've had enough gumbo, for 24" and I prefer it that way.
"HUMBLE" - Kendrick Lamar
One of the best, if not the best song of the year.
"Slide" - Calvin Harris ft. Frank Ocean and Migos
I MIGHT.
"Passionfruit" -Drake
For one reason or another there aren't any videos for "Passionfruit" on YouTube that aren't weird covers, but I had to put it on the list because the song is great.
"Oh Baby" -LCD Soundsystem
A hell of a fun song off their new album.
"Africa" -Toto
Yeah, I don't really know why this song is on here either, but it'll be a weird change of pace at your party and a conversation starter.
"Bad Liar" -Selena Gomez
This song rules, man.
"Bodak Yellow" -Cardi B
Imagine making a 2017 playlist without "Bodak Yellow." I can't either.
"Despacito" -Luis Fonsi ft. Daddy Yankee and Justin Bieber
Imagine making a 2017 playlist without "Despacito." I can't either.
"Bad and Boujee" -Migos ft. Lil Uzi Vert
Imagine making a 2017 playlist without "Bad and Boujee." I can't either. (Last time I use that description, I promise.)
"Die Young" -Sylvan Esso
A bit of a change of pace, but I love the beat on this cheeky love song.
"XO Tour Llif3" -Lil Uzi Vert
Lil Uzi Vert's most popular song gave us the darkest hook of the year.
"Dance Yrself Clean" -LCD Soundsystem
The beat drop is worth the build-up.
"Redbone" -Childish Gambino
Donald Glover's album was released last December, so this is technically a 2016 song, but it hit the airwaves for much of 2017.
"Something Just Like This" -Chainsmokers and Coldplay
I mean, congrats to Coldplay for still making hits, somehow, in 2017.
"Congratulations" -Post Malone ft. Quavo
The popular song is incredibly catchy.
"Mask Off" -Future
I am all the way HERE for the flute revival in rap.
"Wild Thoughts" -DJ Khaled ft. Rihanna, Bryson Tiller
Every playlist has to include Rihanna in some manner. Those are the rules.
"This Must Be the Place" -Talking Heads
Consider this throwing a bone to the older dudes at your party. Get their backs up off the wall for a minute.
"Location" -Khalid
Khalid had a breakthrough 2017. It'll be interesting to see what happens in 2018.
"Waves" -Kanye West
If you're trying to get people psyched for the new year, the "TURN ME UP" at the beginning of "Waves" is a great start.
"Slow Hands" -Niall Horan
Try as you might to ignore, this song will win you over.
"Runaway" -Kanye West
Listen, I know this song is old. But it'll also be fun as all hell to sing after you've had a couple drinks.
"Obvs" -Jamie XX
Another old song, but it's good and a bit slower than most of the other songs on the playlist.
"What's My Age Again" -Blink 182
Yes, this song is from 1999. Yes, it appears to make no sense on this playlist. But it's fun to sing with friends And TOM DELONGE PRETTY MUCH DISCOVERED ALIENS THIS YEAR.
"I'm the One" -DJ Khaled ft. Justin Bieber, Chance the Rapper, Lil Wayne, Quavo
Another one from Khaled.
"Closer" -Chainsmokers ft. Halsey
Remember when this was the only song on the radio for like a month?
"Rock Your Body" -Justin Timberlake
If this doesn't get your party dancing your friends are trash.
"Changes" -Juelz Santana ft. Razah
This is an old Dipset classic but I had to include it because it features my favorite line about New Year's Eve: "Happy New Year people, the ball done dropped, guess you could say the new year's legal / Shit, my resolution was: Do everything I been doing, better than I usually does."
"Auld Lang Syne" - Mariah Carey
No New Year's Eve is complete without the classic.