New York Fashion Week 2019: Rebecca Minkoff Talks Spring/Summer Line and Rise to Success
New York Fashion Week (NYFW) is known for kick-starting the latest trends in beauty and fashion. When it comes to designer Rebecca Minkoff, she's looking to step outside of the norm as she aims to promote a more modern approach with her namesake brand.
Minkoff debuted her brand's Spring/Summer 2019 collection at her NYFW show at New York City's Spring Studios on Sunday, where she made technology an integral part of the show. She, while no stranger to this practice, also used models that best showcased the modern-day woman—being women of various sizes and racial backgrounds. Her new collection is now available for purchase at Rebecca Minkoff stores and through the brand's respective website.
Minkoff's namesake brand debuted in 2005. Since its launch, Rebecca Minkoff has become a global brand centered around the strength of women. It's also attracted celebrity fans like Victoria Justice, Vanessa Hudgens, Jessica Alba and Lea Michele.
Minkoff spoke with Newsweek about her NYFW show, her background in fashion, and what she believes makes the biannual event relevant in 2019.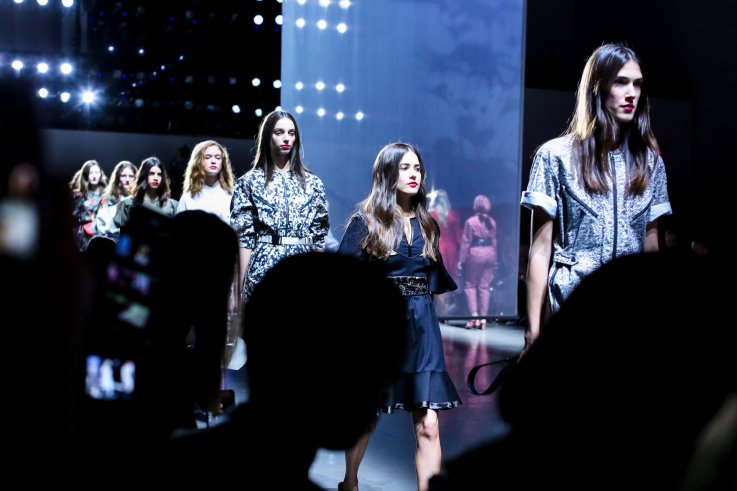 1. Minkoff said her inspiration for her Spring/Summer 2019 collection derived from her desire what a modern woman is like.
"The main inspiration was rooted in the idea of optimism and love and showcasing a modern woman. Women have been marketed to be one thing for a really long time. We want to show that women can be many things. We launched our "I Am Many" campaign back in September, so this is the next iteration of it where we're showing a lot of clothing that is exaggerated proportions...You can really see dimension within the clothing as well as mixing and combining many different fabrics and creating a lot of layers. And then showcasing, which is nothing new for us, a very diverse cast."
2. Minkoff spilled on her favorite items from her Spring/Summer 2019 collection.
"I think it's fair to say that usually I'll open and close my show with my favorite items. They're the first or the last."
3. Minkoff explained her reasoning for showcasing her line in a runway show instead of a presentation.
"We only did a presentation our first season. We just really feel that we want to showcase moving clothing—that's how it's shown in real life. I think for us, it's just a better format that you can actually see and get the environment and be swept away in maybe eight minutes of time versus a presentation, where the models are standing around and get a little bored. For us, it's just a dynamic way to do it. I think it's easier to bottle that energy and excitement into a smaller, compact time."
4. Minkoff revealed her strategic, yet genius, decision to promote her Spring/Summer 2019 collection during February's NYFW instead of a Fall/Winter 2019 show as other designers have.
"In 2016, we were actually the first brand to do a see-now-buy-now show because our consumer, and I would venture to say most consumers, want to see something on the runway and buy it immediately. We were the ones to sort of put our foot in the ground and change it...For us to do this, there was no question. All the social, all the marketing—Everything is all aligned towards this show. Then, the consumer's going to go to the site and be able to buy it. It just seems like a no brainer."
5. Minkoff shared what inspired her interest in fashion and design.
"I always had a love for fashion and design and started sewing when I was 8 after my mom refused to buy me this dress. Once I realized I could create something out of nothing, that was very exciting to me but it was also a time in my life where I was being bullied for being thin—if you can imagine being bullied for that. I really took solace in sewing and creating my garments to fit me because I couldn't fit into regular clothing. But it made me feel less terrible."
6. Minkoff explained what still makes NYFW relevant in today's social media age.
"These shows used to be for a very small group of people, notably editors and buyers. Now, these shows with social media [being introduced] has evolved. They're really for the consumer. Now they're for influencers to show to their consumer. When the lights went down yesterday, all of the sudden, the room lit up with iPhones. All these people are publishers in their own way and so I think now, it's become about that."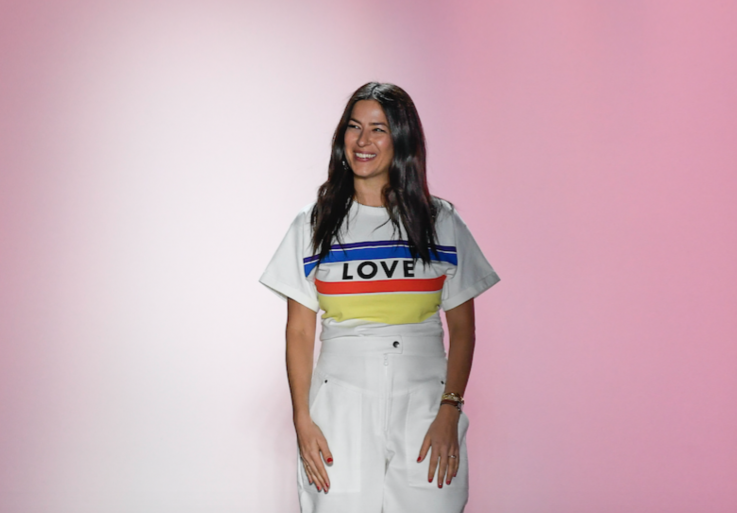 New York Fashion Week 2019: Rebecca Minkoff Talks Spring/Summer Line and Rise to Success | Culture