Nyjah Huston Age, Sponsors, Details for Olympic Skateboarder
Skateboarding will make its Olympic debut at the Tokyo Games in July and few would bet against Nyjah Huston taking home gold for the U.S.
One of the most successful skateboarders of the last decade and a half, the California-native has dominated events across the world and is one of the sport's bonafide icons.
Skateboarding may be an obscure topic for plenty of sports fans, but Huston could well be one of the household names in Tokyo over the next two weeks.
Here's all you need to know about one of the stars of the latest addition to the roster of Olympic sports.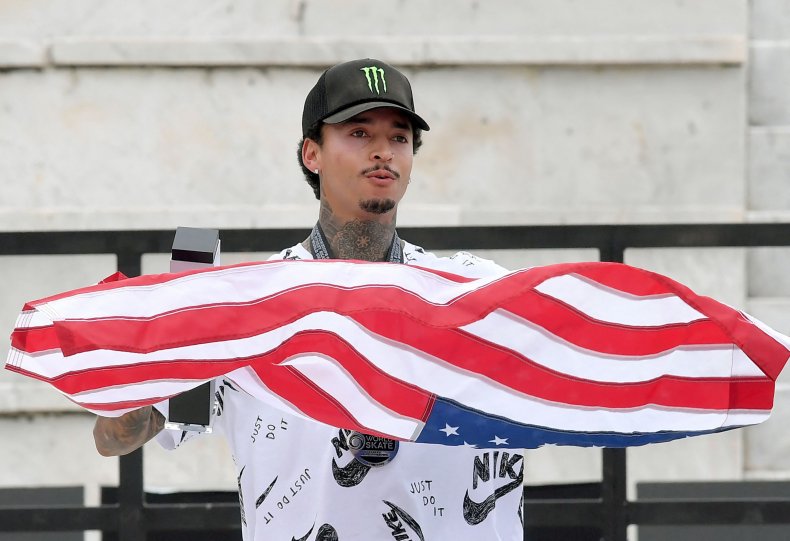 Who Is Nyjah Huston?
Since turning professional 16 years ago, Huston has developed into an icon of skateboarding. A four-time gold medalist at the World Skateboarding Championship, Huston has won 12 gold medals at the Summer X Games.
He has a combined six silver and two bronze medals between the World Skateboarding Championship and the Summer X games, winning two silvers in the former and four silvers and two bronze in the latter.
Away from skate parks, Huston is a social media sensation with over 4.5 million followers on Instagram and almost 500,000 subscribers on his official YouTube channel.
How Old Is Nyjah Huston?
Huston was born in Davis, California, on November 30, 1994, meaning he will be just over four months short of his 27th birthday by the time of the Tokyo 2020 Olympics. Huston grew up in a Rastafarian family and he was home schooled along with his sister and brothers by his mother, Kelle. His father, Adeyemi, was also a talented skater and Huston has often mentioned he grew up in a household were skateboards were never too far away.
"I literally started skating handrails when I was seven years old, with no helmet on, so I was just bred into this type of skating where you have to be kind of fearless and just go for it," Huston told GQ in June. "And he was the one pushing me to skate this stuff."
Huston signed his first contract aged just seven and turned professional aged 11, just three years before his parents separated. By then, the family had moved to Puerto Rico and while his siblings returned to the U.S. with their mother, Huston remained with his father until 2010 when he was reunited with his mother, who had filed for divorce and was granted full custody.
Speaking to the Los Angeles Times, Huston admitted turning professional came with the kind of pressure an 11-year-old could not be expected to shoulder.
"I was really shy because I didn't have much of a social life," Huston told the Los Angeles Times in June.
"The other skaters could tell. They could see I wasn't having any fun."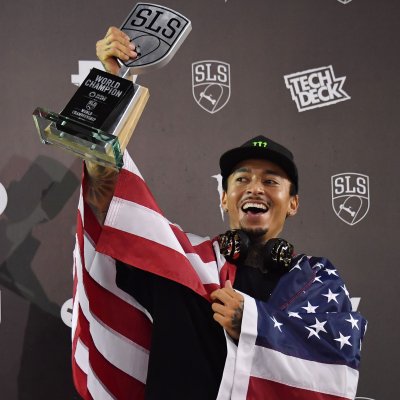 Nyjah Huston Sponsors
Athletes competing in individual events at the Olympics do not tend to be millionaires. Huston, however, is among the notable exceptions. One of the highest-paid skateboarders in the world according to Slice, Huston began building his fortune when he was still a teenager, after being signed up to the Street League Skateboarding tour at the age of 15 in 2010.
He won the opening event in Arizona and finished the season as the league champion, pocketing as much as $150,000 per event, as per the Los Angeles Times.
The Californian has since signed lucrative deals with a host of sponsors, including Nike, Doritos, soft drinks brands Mountain Dew and Monster Energy and eyewear maker Prive Revaux.
"People assume they know you but they don't," he told the Los Angeles Times in June, a month before the Tokyo Olympics. "I've made money from a young age but it's never taken away from my love of skateboarding. I don't just do this for money."