Prosecutors Say NYPD Officer Worried About Job, Not Dying Man He Shot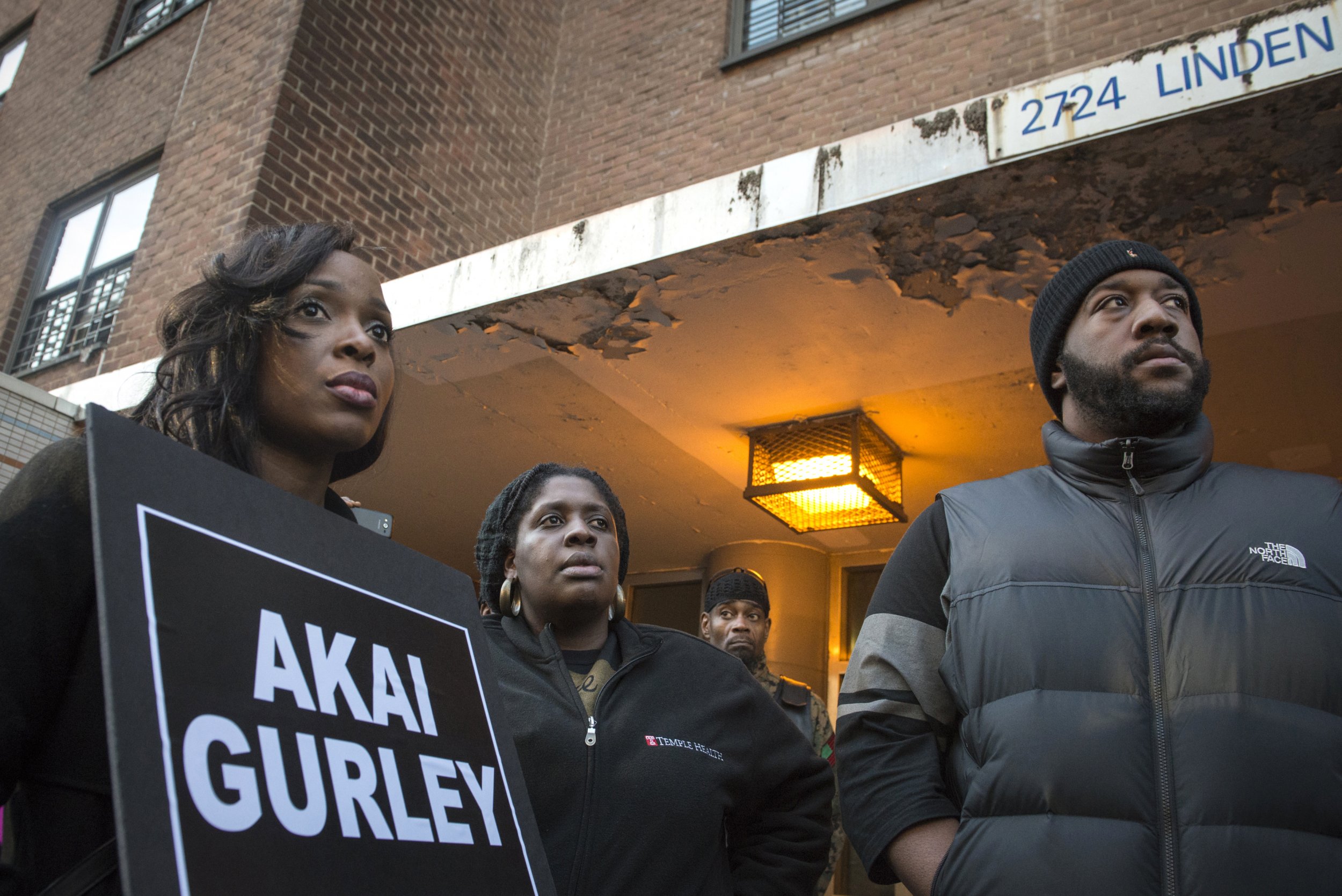 As Akai Gurley lay dying in the unlit stairwell of a Brooklyn housing project Nov. 20, of last year, the New York Police Department rookie who fired the fatal shot "just stood there" for four minutes and worried about his job instead of helping him, prosecutors argued Wednesday at the officer's arraignment in State Supreme Court.
Peter Liang said to his partner "I'm going to be fired," Marc J. Fliedner, Chief of the Brooklyn District Attorney's Civil Rights Bureau, alleged. Fliedner also alleged that Liang refused to call in the shooting and argued with his partner as Gurley bled to death several stair landings below him. Gurley, a 28-year-old father, was unarmed.
Liang, who faces charges of manslaughter in the second degree, criminally negligent homicide, assault in the second degree, reckless endangerment in the second degree, and two counts of official misconduct, pleaded not guilty.
Fliedner said that Liang doesn't pose a significant flight risk and suggested to Justice Daniel Chun that he be released on his own recognizance. Judge Chun agreed. The maximum sentence for the manslaughter charge is 15 years imprisonment, prosecutors said.
Liang walked out of the courtroom without cuffs, prompting outrage in the packed courtroom. Some of Gurley's supporters yelled: "Indict! Convict! Send Peter Liang to jail! The whole damn system is guilty as hell!" Another shouted that "we would have been in shackles!"
Stephen Worth, Liang's lawyer, slammed the charges as unfair.
"The charges of official misconduct are a reach at best, and an attempt to prejudice Officer Liang," he told Newsweek. "This was an accident, plain and simple."
"It's regrettable that the District Attorney chose to make such a brief and one-sided presentation to the grand jury," he added.
Liang was patrolling the Louis H. Pink Houses in Brooklyn's East New York neighborhood, with a Glock handgun in one hand and a flashlight in his other hand. Liang pushed open a stairwell door with his shoulder, prosecutors said, pulling the trigger by accident. The bullet ricocheted off a wall and hit Gurley's chest.
Prosecutors did say, however, that prior reports Liang texted his union rep during the incident were untrue.
After the shooting, New York Police Commisioner Bill Bratton called Gurley "total innocent" and said the incident was an "unfortunate accident," according to multiple media reports on his comments.
Gurley's death came as tens of thousands across the country protested grand jury decisions in Staten Island, New York and Ferguson, Missouri not to indict the officers who fatally shot Eric Garner and Michael Brown, respectively.
Grand juries are generally recognized―and criticized―for their willingness to indict. Sol Wachtler, former New York state chief judge told reporters in 1985 that these bodies were so easily swayed by prosecutors that they would "indict a ham sandwich." But police officers are rarely indicted in cases of alleged wrongdoing and the few who are indicted rarely face conviction or jail time.