NYPD Arrests 1, Searching for Up to 6 Others After Times Square Attack on Jewish Man
One suspect was arrested by the New York Police Department on Friday in connection with an attack of a Jewish man in New York City's Times Square on May 20.
A spokesperson for the NYPD told Newsweek via email that a 23-year-old male was taken into custody and officers are continuing to investigate the situation. According to police, Waseem Awawdeh, 23, of 5th Avenue, Brooklyn, N.Y., was arrested on charges of: assault/hate crime, gang assault, menacing, aggravated harassment/hate crime and criminal possession of a weapon.
According to the NYPD, the incident occurred on Thursday night at 6:44 p.m. when police received a 911 call regarding an assault in progress in the vicinity of 1604 Broadway.
"Upon arrival they encountered a 29-year-old male who was the victim of an assault by a group of males," the NYPD told Newsweek.
The 29-year-old male, whose name has not been released, was transported to NYC Health and Hospitals/Bellevue in stable condition.
During preliminary investigations, police determined "that the 29-year-old male was approached by a group of 5 to 6 males who knocked him to the ground and assaulted him while making anti-Semitic statements."
"The individuals punched, kicked, pepper sprayed and hit the victim with crutches during the assault," NYPD wrote to Newsweek. "A subsequent video and area canvass led to the apprehension of a 23-year-old male in the vicinity of West 47 Street and Broadway."
Prior to the arrests, the NYPD announced on Friday that they were investigating the incident as a hate crime.
"The Hate Crime Task Force is investigating a gang assault of a Jewish man in Times Square that happened this evening," NYPD Hate Crimes Twitter account said in a tweet.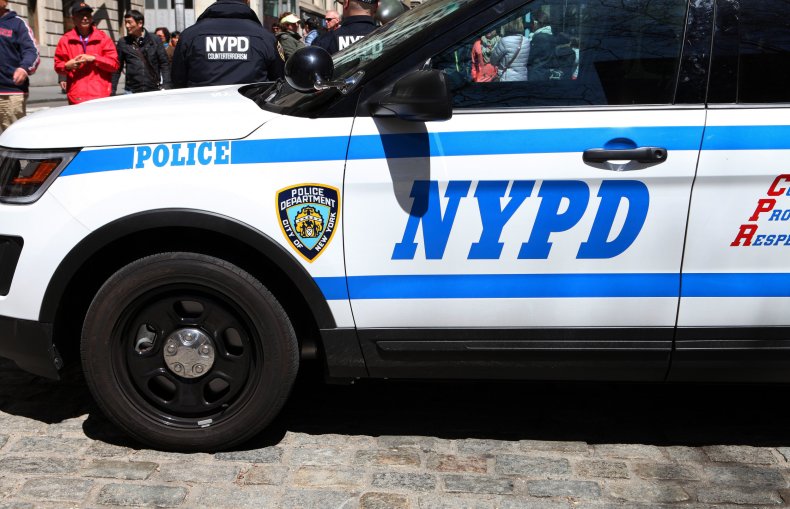 Videos of the incident posted across social media appeared to show a man being attacked by several other protesters in the middle of the street in New York City's Times Square. The incident comes shortly after Israel's security council approved a cease-fire with the Palestinian militant group known as Hamas, following weeks of violent attacks between the two.
Shortly after the videos of the alleged incident circulated across social media, New York Gov. Andrew Cuomo and New York City Mayor Bill DeBlasio condemned the attacks.
"I unequivocally condemn these brutal attacks on visibly Jewish New Yorkers and we will not tolerate anti-Semitic violent gang harassment and intimidation," Cuomo in a statement posted to Twitter.
Similarly, DeBlasio wrote in a tweet that, "Anti-semitism has NO place in our city. There's no excuse for violence against someone because of who they are. None. We will bring the perpetrators of this vicious act of hate to justice."