NYPD to Bring in 500 More Officers to Subways After 2 Fatal Stabbings in 24 Hours
The New York Police Department (NYPD) said that they will immediately deploy an additional 500 officers to monitor the city's subway stations, after a series of stabbings left two people dead in 24 hours.
"We will immediately commence a surge of officers to patrol both above and below ground," NYPD Commissioner Dermot Shea said during a press conference Saturday.
"This surge will result in an additional 500 officers, which is a significant increase to the staffing of our transit bureau," Shea added. "And they will be deployed immediately throughout New York City."
The announcement came after police discovered four separate stabbing incidents within the last 24 hours on New York City transit. Each of the stabbings appeared to have been unprovoked, and police said the victims are all thought to be homeless.
"Over the last 24 hours we have had four separate incidents of individuals being cut with a sharp object in our transit system," Shea said.
"The common denominators we see in these four incidents are the proximity of the crimes as well as all four occurring on the A line. Two of the victims have passed away from their injuries and two are recovering," he added.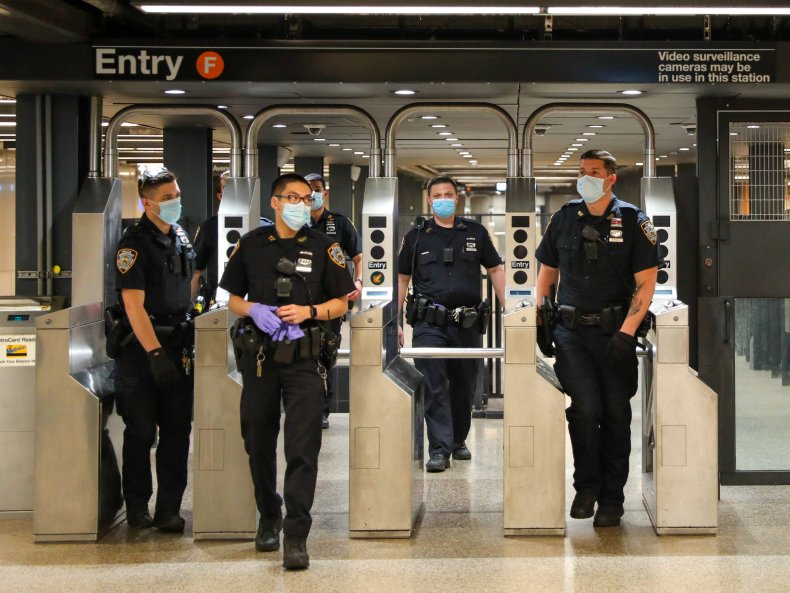 The first fatal stabbing victim was found on a train at the Mott Avenue station in Far Rockaway, Queens, around 11:20 p.m on Friday night, WCBS 880 AM reported.
The victim was a 40-year-old man, and was found with multiple stab wounds to the neck and back.
Two hours later, around 1:20 a.m., a 44-year-old woman was pronounced dead under the seat of a train at the W. 207th Street station in Inwood, Manhattan, with multiple stab wounds across her body.
Police also said that a 67-year-old man was stabbed by a man at 11:20 a.m. on Friday, and a 43-year-old man was stabbed around 1:28 a.m. Both incidents, however, were not fatal.
NYPD Chief of Transit Kathleen O'Reilly said Saturday that three of the incidents appear to be connected, and police are conducting an investigation to see if each of the stabbings were committed by one suspect.
"Three of these incidents appear to be connected and the detective bureau is looking into the possibility that all four could have been committed by one individual," O'Reilly said.
NYC Transit Interim President Sarah Feinberg and TWU Local 100 President Tony Utano called the incident "horrifying" and promoted the decision of bringing on more police to monitor the subway, WABC-TV reported.
"The recent horrifying attacks in the subway system are outrageous and unacceptable. Every customer, and each of our brave, heroic transit workers deserve a safe and secure transit system," they said in a joint statement.
Newsweek reached out the NYPD for additional comment, but did not hear back in time for publication.