NYPD Commissioner Says Officers Did 'Best We Can' During Protests Over George Floyd's Death
Improvements can always be made, but New York City Police Commissioner Dermot Shea commended officers for responding professionally to the George Floyd protests and told them to hold their heads high.
Officers have faced criticism for being overly aggressive during demonstrations, and legislators at the state and local levels are eyeing reforms to the NYPD. Shea acknowledged that there were "bad incidents" and work still needs to be done, but he defended "New York's finest" for being a police force the world admires.
"I think we did the best we can," Shea said Thursday in a live video message on Periscope. "I think you were overwhelmingly professional in how you acted, and, again, hold your head up high because you are part of the best damn police department in the country, period."
Civilians and state and local lawmakers have pushed back against the NYPD's handling of the days-long demonstrations. Activists lambasted officers for using pepper spray and physical force against protesters, and Mayor Bill de Blasio called for an immediate investigation into officer misconduct.
As was the case in other cities, daytime peaceful protests gave way to nighttime violence, and New York Governor Andrew Cuomo has called the NYPD's response to looting "a disgrace."
"The police in NYC were not effective at doing their job last night," Cuomo said at a June 2 news conference. "The NYPD and the mayor did not do their job."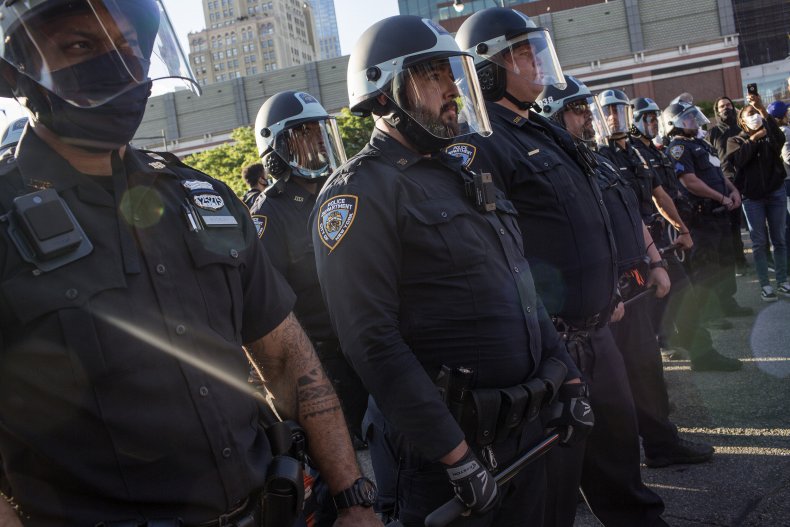 In response, Shea called it "disgraceful" to place blame for the situation on the men and women who put their lives on the line, prompting a reported private apology from Cuomo. The governor clarified that his criticism targeted management and deployment, not the officers themselves.
Newsweek reached out to the NYPD for comment but did not receive a response before publication.
Shea acknowledged on Thursday that the NYPD can always learn how to get better and that there were missteps, including members of the press being hindered from doing their job and officers engaging in "inappropriate" behaviors. Shea suspended at least two officers, one who shoved a protester and another who was filmed using pepper spray on a protester. He also placed one on modified duty, and a fourth was transferred.
These were decisions Shea said he wouldn't "look back from," and it's likely more officers will face disciplinary action. He said people were making impractical recommendations given the challenges facing officers, but noted that "right is right and wrong is wrong" and that failing to speak up against poor behavior reflects badly on the entire department.
"I am not going to allow people in this noble, noble profession to stain that shield you wear on your chest," Shea said. "I'm going to hold people accountable, period, because I think it's the right thing to do."
On Tuesday, the New York State Senate and Assembly approved the repeal of Section 50-a, which enabled the personnel records of law enforcement officials and firefighters to remain private. Cuomo said on Wednesday that he would sign the legislation this week, a move that "should have been done a long time ago."
Protesters have called for a $1 billion cut to the NYPD's $6 billion budget, but de Blasio said the cuts he's planning are not in that range. Cuts will be made, though, with funds redirected to youth and social services within the next three weeks. Other "first steps" in an 18-month period of "intense change" in New York City, the mayor said, will include shifting street vendor enforcement to a civilian agency and using community ambassadors as liaisons between police and residents.
Moving forward requires the acknowledgment that some people feel the police are harming them, according to Shea, and the sooner that realization occurs, the sooner "we get to a solution." Discussions about race and change are needed, he said, and it's "fair" that officers may feel that "everyone has lined up against you." But, he added, "I don't think it's true."
Shea also said that those who support police don't all want to "stand up in this environment." He called it "unfortunate" and wished people would speak up, because "the whole story has to be told."