From NYPD's SVU to $8 Million Burglary Gang: One Bad Cop's Nasty Fall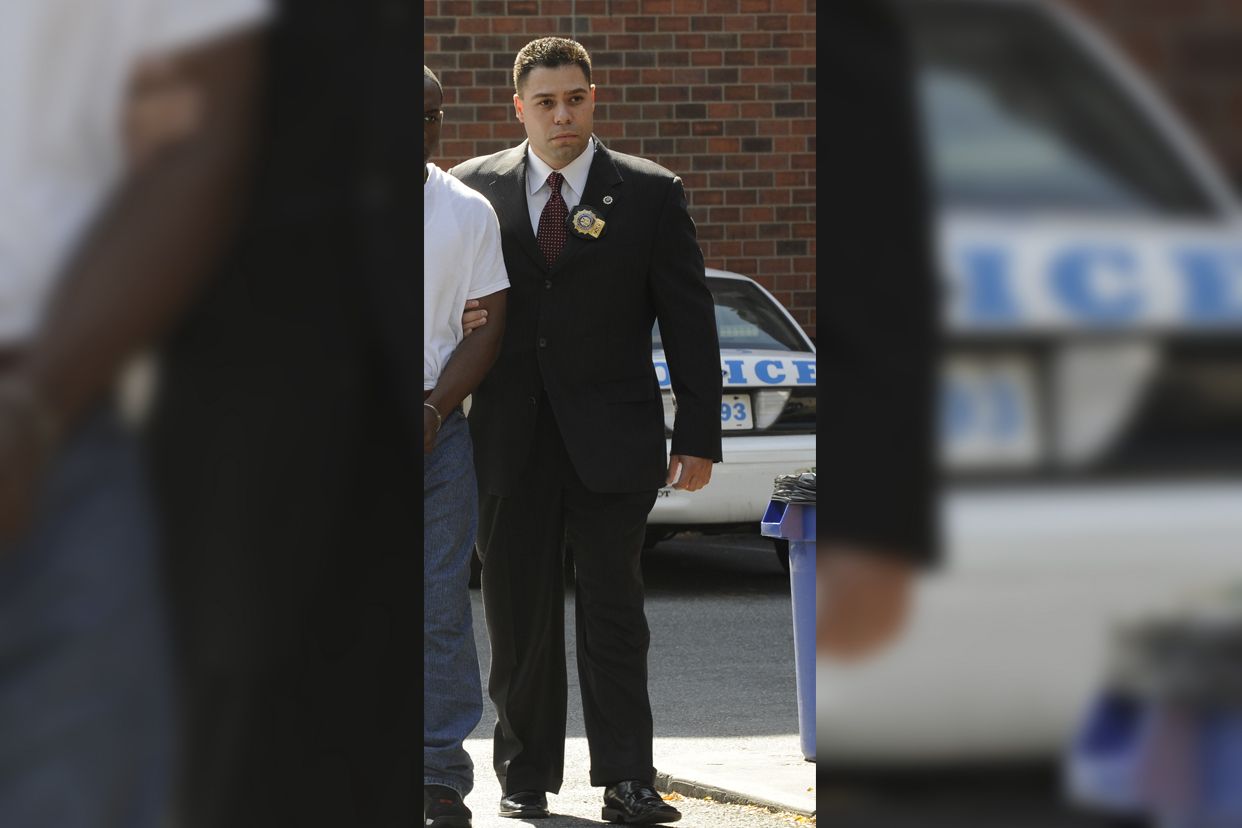 Rafael Astacio was the lookout. He was parked down the street from the two-story Queens home his crew planned to rob as an accomplice dressed as a cable repairman took a ladder off a stolen cable company truck and climbed up to cut the telephone lines. Astacio must have been nervous when plainclothes New York City police officers walked up and asked why he was there, but the Brooklyn-born father of two handled the question smoothly, according to sealed federal court papers obtained by Newsweek. He flashed his NYPD detective badge and said he was waiting for his niece to get off the bus at a nearby stop. His ploy worked. The officers weren't suspicious of Astacio, who outranked them. They merely told him to move his car.
What those cops didn't know that February 2012 day was that Astacio, a cop with almost 20 years on the job, had betrayed his badge and joined an aggressive burglary crew that stole over $8 million in cash and goods from suburban Long Island homes and businesses between 2009 and 2012. And they certainly didn't know that Astacio misused his detective position to give tips on vulnerable targets and research people the crew wanted to rob or that his gang drove forklifts through walls, cut phone lines to disable alarms, and jackhammered safes from floors.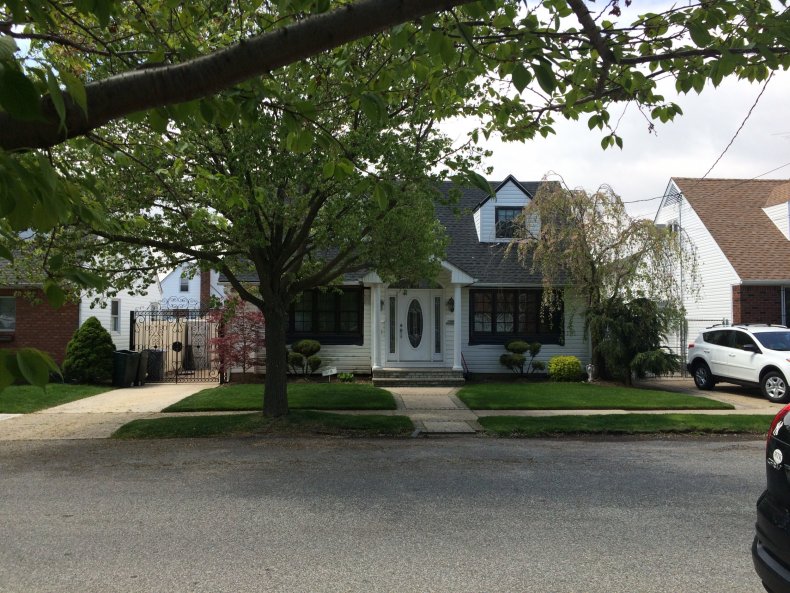 Astacio didn't start out crooked. As a boy he believed he was born to protect all walks of life and dreamed of being a New York City cop. "Reason why I felt this was because my grandmother was murdered by her second husband on October 17, 1971," the detective wrote last year in a letter to a judge seeking leniency. Astacio was born exactly one year after his grandmother was shot twice in the chest, back when New York City had almost 1,500 murders per year, four times the current rate. "I feel, Your Honor, it was fate that I become a New York City police officer.… I was very proud of my self [sic]. I felt I was able to for fill [sic] my commitment my self and my grandmother to help and protect."
Astacio graduated from the NYPD academy in 1993, moved out of his mother's home in Brooklyn, and began walking a beat in Midtown Manhattan, where his partner remembers him advising junkies to go to a hospital and asking homeless people who refused to leave a restaurant what it would take to make them go away. "He would give out of his pocket $2 or $3 to the guy and the guy would walk away," retired NYPD Det. Steve Alonso tells Newsweek. After about two years in uniform, Astacio followed Alonso into an undercover narcotics unit, buying drugs in apartment hallways at 3 a.m. in Washington Heights, and in 2000 he was promoted to detective and moved into a vice unit, where he vastly improved his card-playing during undercover gambling investigations.
Astacio was proud of his work in the specialized units. He investigated a Russian businessman who trafficked young women as prostitutes, and after transferring to Special Victims Unit in 2007, worked the case of a rapist who attacked a dozen women in Harlem, according to his letter. But the same year Astacio began work in the storied SVU, made famous by Law & Order's Mariska Hargitay and Ice-T, he began his descent into corruption. While on the clock in October 2007, Astacio uncovered $145,000 when he searched a Queens home of smugglers who trafficked untaxed cigarettes. The money gave him an illicit idea. Astacio tipped two robbers that the Queens home was likely to have a large amount of cash inside. He even prepared a bogus search warrant for them in exchange for a cut, according to sealed court papers obtained by Newsweek. About a week later, the robbers hit the door wearing law-enforcement-style jackets, flashing the phony warrant and a fake badge, and quickly bound the men inside with zip ties. When a woman they didn't tie up began to scream, they panicked and ran off empty-handed.
The same year Astacio tipped the robbers to the cigarette cash, he began bungling sex crime cases, according to disciplinary charges filed against him by the NYPD. The charges accused him of undermining sex crime cases between 2007 and 2009 by leaving rape kits at a hospital, continuing to interrogate a suspect after he asked for a lawyer, and lying about whether he canvassed a hotel after a rape, according to a confidential NYPD memo obtained by Newsweek.
Astacio was also becoming closer with known criminals back out near his Long Island home. He played cards regularly and traveled to Atlantic City, New Jersey, with Nikitas Margiellos, the ringleader of the burglary crew Astacio eventually joined, and a member of Margiellos's crew named Paul. Astacio and Margiellos bowled together Tuesday nights in a league with a $1,800 cash prize, while the detective and Paul entered Long Island poker tournaments with $50 or $100 buy-ins where the winner got a television or iPad. When the two crooks first told Astacio about their past arrests, he brushed off the news and kept hanging out with them, violating the NYPD rule against associating with criminals. Starting in 2009, Astacio began to use an ex-partner's NYPD log-in to search LexisNexis and Accurint databases for the names and home addresses of people the crew wanted to rob, like the owners of local businesses or a man who bought and sold gold coins. Astacio even ran unauthorized searches of the FBI system for criminal history reports on crooks associated with Margiellos's crew, according to sealed court papers.
Astacio defense attorney Peter Brill speculated about the detective's fall into corruption. "I think that he fell in with the wrong crowd, people he started socializing with, and the values he had for 20 years as a police officer got distorted," Brill says. "And the reason for that is probably that it was exciting."
Margiellos and the rest of the team began to pull off massive heists, sometimes based on the intel Astacio gave them. They pried open a rear door at Mathew's Prime Foods in Suffolk County in June 2009 and stole a safe with $150,000 inside. They hit it big again when they cut the telephone lines outside a Suffolk County beer distributor and made off with $100,000 after opening several safes and carrying another off with them, according to a police report. Then Astacio began to accompany the burglary crew to jobs. His first burglary was a flop. The crew wore masks as they drove an old Chevy Astro van filled with tools to milk distributor Rollin Dairy in Farmingdale, New York, in January 2010. They forced open the doors to the offices and safe room but found only two Smith & Wesson handguns, according to a police report. Another burglary in Astacio's hometown of Copiague, New York, netted an unimpressive $638.
But the crew's next strike was one of their biggest. The burglars drove to sunglass distributor Eyeking on April 29, 2010, cut the telephone lines and went inside, where they ripped alarm panels off the walls. After waiting outside to make sure no police had been alerted, the gang went back inside and spent over three hours loading a rented Penske box truck with 37,000 pairs of Hobie and Under Armor sunglasses worth $1.7 million. Some of the shades were sold online while others were sent to associates in Florida in Pennsylvania and Florida, sealed court papers state.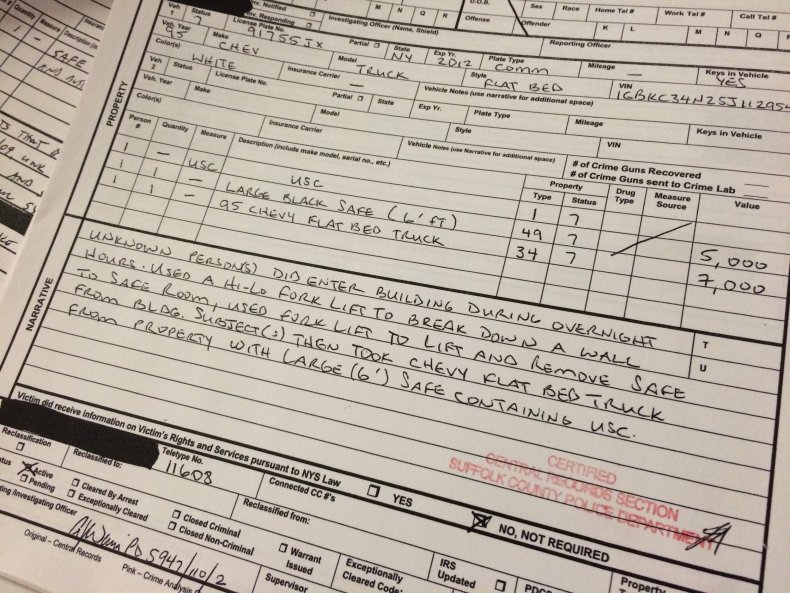 Six months later, Margiellos, Astacio and and four others broke into the Woodbury offices of Dr. Stephen Greenberg, a high-profile plastic surgeon who helps Long Island women seeking smaller noses, larger breasts or both. The take was $1.95 million in cash and Astacio's cut was $400,000, which he used to pay off a loan, buy multiple cars, and renovate his home. Margiellos then drew up a plan the crew would use again and again: After robbing a business, they targeted the home of the business owner. Margiellos had Astacio run database searches to locate the doctor's home on a tree-lined street in tony Woodbury, New York, and on New Year's Eve 2010, Margiellos and Astacio and three other men broke into Greenberg's home and loaded the doctor's safe—filled with cash and jewelry—into his Porsche Cayenne, making off with $250,000, according to sealed court papers. Why do many Long Island businesses and homes have so much cash on hand instead of inside a bank? A retired Suffolk County cop said they do it to avoid paying taxes. "They don't want to share with the IRS," says ex-Suffolk Det. Sgt. Robert Doyle, who was not familiar with the Astacio case. And the crew was smart to target the homes of owners who ran businesses that kept large amounts of cash onsite, Doyle says, as those owners were likely to also have big cash stashes at home.
By now the crew had developed their modus operandi. They conducted surveillance on the homes to see when the residents were out (they once even attached GPS devices to a homeowner's car so they could track his routine). During a job the crew would station lookouts nearby who listened to police scanners and watched for police. They cut telephone lines to kill alarm systems and used cellphone jammers so if there were people inside the targeted homes or businesses, they couldn't call for help. They cut holes in loading dock doors, dropped in through skylights, and once used a forklift to break down the wall of a safe room, then used the forklift to load the safe onto a Chevy flatbed truck they also stole, according to a police report. When the target of the burglary was bulky goods, like perfume or copper wire or Claritin instead of cash, a crew member would go to a nearby Budget Rent a Car and fish a key out of a night-drop box. "After loading and unloading the stolen merchandise, the rental truck was refueled, and returned to the location from which it was stolen," sealed court papers state—refueling decreased the chance anyone would notice the truck had been used. By the summer of 2012, the gang had burglarized 37 businesses and stolen cash and goods worth over $6.5 million and broken into eight homes to loot $1.7 million.
Astacio's criminal career ended on a dead-end street in June 2012. Unbeknownst to the crew, they had been under investigation for a year. Federal agents kept Margiellos under surveillance and once even saw him meet with Astacio. By mid-2012 investigators from the FBI and the Nassau County District Attorney's office had wiretapped the burglars' phones and detectives were assigned to watch for certain cars. On June 2, investigators spotted Astacio's white PT Cruiser in the lot of an abandoned deli in Lindenhurst, New York, "in a manner which it appeared to be doing surveillance of the area."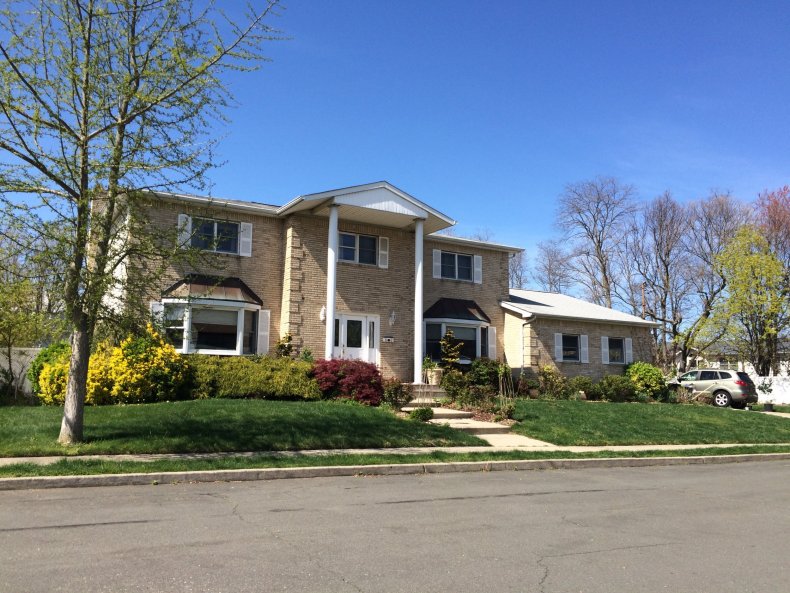 The next day, Nassau County detective James Marinucci was watching the area from the backseat of a van at the end of Oxford Street at about 9 p.m. when Astacio drove up and parked a black Buick missing its front license plate, according to the confidential NYPD order. Two men got out of the Buick and ran behind a house with tall white columns flanking the front door. Five minutes later, Marinucci saw two flashlight beams through the dark windows, bobbing around the house, downstairs and upstairs, then watched Astacio turn the Buick around and pull in front of the house. The two burglars ran down the driveway and got into the Buick, which sped away as Marinucci's sergeant radioed all units to stop the Buick. Marinucci stepped out of the van and ran down the block toward the Buick as other police vehicles arrived to halt its escape, yanking open a rear passenger door as other cops arrived to help yank out Astacio and the other two burglars.
Astacio, wearing a dark scarf and gloves, was handcuffed and laid face-down on the ground. On the floor of the car, behind Astacio's seat, were walkie-talkies, a police scanner, crowbars, a Yankees cap and a pillowcase stuffed with watches, necklaces, and bracelets. Police also noted that there was black electrical tape stuck to Astacio's rear license plate that changed the "F" to an "E" and the "1" to a "7." When Nassau cops later searched a storage locker kept by the crew, they found blowtorches, crowbars, wire cutters and sledgehammers.
After the arrest, the NYPD suspended Astacio for 30 days without pay and began proceedings to deny him his pension. He was shuffled onto the "Military and Extended Leave Desk," and had to check in twice each day with Internal Affairs. At his departmental trial in October 2013, Astacio claimed he didn't know a burglary had been planned for Oxford Street and he was there only because Margiellos offered him $200 to drive two of his friends to his aunt's house. He said he didn't notice that his license plates had been tampered with, and he said the $1,752 in cash in his pocket was winnings from a bowling tournament. The administrative judge overseeing the detective's trial didn't buy the story. He ruled Astacio guilty, and less than a week later Police Commissioner Ray Kelly fired him.
The federal indictment came down two days later, charging Astacio, Margiellos and three other members of the crew. Up until that point, Astacio had refused to squeal on his fellow crooks in exchange for a cooperation agreement with prosecutors, but his partners in crime had no such qualms. "Unfortunately, by this time, his co-conspirators were already cooperating and, because of Mr. Astacio's minor role in the overall conspiracy, he had nothing new to offer: the government already knew about everything Mr. Astacio told them," his lawyer Peter Brill wrote in court papers last year.
Astacio pleaded guilty in 2014 to conspiracy to commit interstate transportation of stolen property and filing a fraudulent tax return, and as he prepared for prison, he cashed in the last of his retirement savings and spent $94,000 to open a bagel store in Massapequa, New York, that same year. His wife Elizabeth, who wrote that his arrest "has strained the marriage," quit her job as an underwriter so she could learn the business and support their two children and her mother while he was behind bars. A federal judge in January ordered the former detective, now 43 years old, to serve six years in prison. At the bagel shop last week, two days before Astacio traveled to North Carolina to surrender to a federal prison there, he unloaded soda and loaves of bread from a truck alongside his teenage son. He declined to speak about his case.
When the man who used to go by "Detective Astacio" graduated from the police academy 23 years ago, he made a pilgrimage to the person who once drove his desire to become police. "Although my son had never met his grandmother," Nancy Astacio wrote in a letter last year that begged for mercy for the man now known as Inmate #83062-053. "He took time from his graduation celebration from the Police Academy to go to the cemetery to visit her grave. He wanted to know, as he stood in his police uniform, if she was proud of what he had become, and the man he had grown up to be."