NYPD Disciplinary Records, Trial Documents Going Online, De Blasio Says
The disciplinary records of New York City's police officers will be published online, Mayor Bill de Blasio announced Wednesday.
Records involving local law enforcement officer misconduct, and subsequent investigations, disciplinary actions or trials, also will be accessible to the public beginning this summer, the mayor said.
New York City's new policies for NYPD records come as local and state officials enact reforms to increase transparency about police practices. New York state lawmakers passed reforms last week that require police departments to make law enforcement personnel records public.
The city's latest directives also include requiring NYPD to publish all trial decisions, settlements and information about pending cases that involve police officers online. De Blasio said details about roughly 1,100 cases currently in progress also will be released online by mid-July. The names of individuals involved in those cases and charges against them will be published alongside relevant hearing dates and resolutions when they become available.
Disciplinary records for all acting NYPD officers will be released, as well. Although De Blasio did not provide a timeline for completion of the online database, records related to officers involved in pending cases "will be prioritized for release" his office said in a Wednesday statement.
The guidelines for online publication of disciplinary records follow the New York state legislature's passage of several reforms during the past week. One of those reforms repealed a long-established state civil rights law, known as Section 50-A, that kept law enforcement personnel records confidential without express consent from the officers they concerned.
The statute prevented members of the public from accessing information about complaints filed against police officers for possible misconduct and any disciplinary action that followed. It also created significant challenges for journalists and court authorities to do the same. As multiple outlets have reported, Delaware is the only remaining U.S. state with a similar law protecting law enforcement records.
In addition to repealing 50-A, the state legislature's reform initiative explicitly called for public disclosure of disciplinary records, which it classified as "any record created in furtherance of a law enforcement disciplinary proceeding," including complaints, allegations and charges against an officer.
The Legal Aid Society, a non-profit legal assistance provider based in New York City, issued a letter to De Blasio and Council Speaker Corey Johnson on Monday requesting that NYPD publish disciplinary records via an online data portal. Their letter noted the alternative to online release—requiring individuals to submit records requests under the Freedom of Information Law (FOIL)—would force those seeking information to wait extended periods of time before obtaining documents.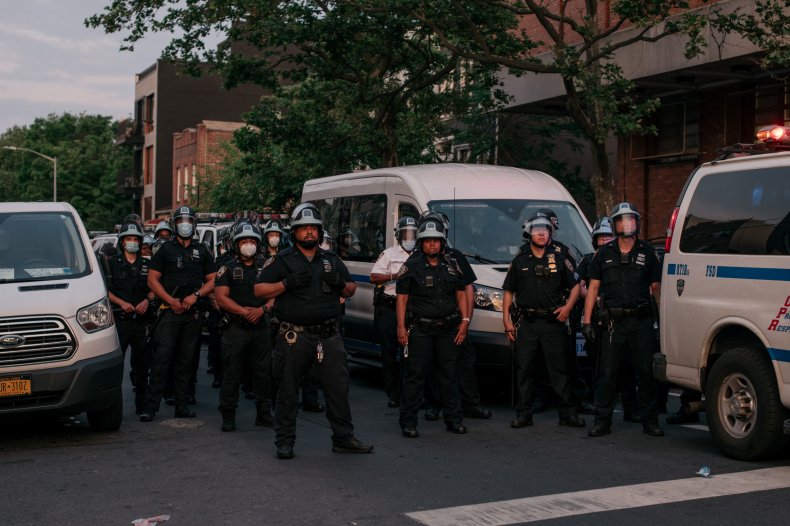 "A failure to take this step would be a step backward for police accountability, ensuring months and even years will be lost in the case-by-case processing of Freedom of Information [Law] (FOIL) requests filed by the many journalists, academics, advocates, and people directly impacted by police misconduct who will seek access to these records," wrote Tina Luongo, Attorney-in-Charge of The Legal Aid Society's Criminal Defense Practice, in a statement to Politico on Monday regarding the release of records online.
Responding to the guidelines for records disclosure, an NYPD spokesperson told Newsweek Wednesday that the agency acknowledged increased transparency between law enforcement and the community is necessary and planned to implement the policies with that objective in mind.
"The NYPD has long-advocated for the reform of 50-a and the need for greater transparency while also balancing officer safety," the spokesperson said, echoing previous comments regarding the repeal of 50-A. "We will review the final version of the legislation and utilize it in a manner that ensures greater transparency and fairness."