NYPD Disputes Bystanders Account They Called for Help During Attack on Asian Woman
New York City police said on Wednesday officers received no 9-1-1 calls in connection with an attack on an Asian woman in midtown Manhattan earlier this week.
One suspect, identified as 38-year-old Brandon Elliot, was arrested in connection with the incident, which police said occurred just before noon on Monday outside 360 West 43rd Street. The victim was identified as a 65-year-old woman who was on her way to church at the time of the attack, police said.
Speaking at a Wednesday news conference, New York City Police Commissioner Dermot Shea condemned the attack, which he described as "completely unprovoked" and "violent."
Manhattan District Attorney Cy Vance reiterated Shea's rebuke of the attack at the news conference.
"The defendant, Mr. Elliot, is accused of brutally shoving, kicking and stomping a 65-year-old mother to the ground after telling her she didn't belong here," Vance said. "Let me join the commissioner in being clear: this brave woman belongs here. Asian-American New Yorkers belong here. Everyone belongs here."
In video footage of the incident that the New York City Police Department (NYPD) shared on social media, individuals inside the building can be seen closing the building's doors after the woman was kicked to the ground. The Brodsky Organization, which manages luxury apartments inside the building, said the building employees who were present at the time of the incident were suspended pending an investigation.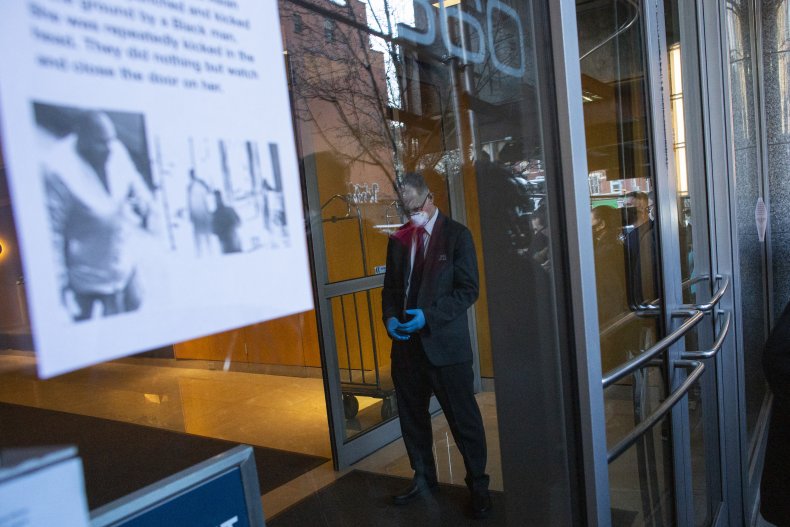 A union representing the employees, 32BJ SEIU, said in a statement its members "called for help immediately."
A representative for the union clarified to Newsweek that its members who were in the building at the time of the incident feared the assailant had a knife and waited until he left before going outside to assist the victim. The union members shortly thereafter flagged down NYPD officers who were driving by for help, the representative said.
Authorities began searching for the assailant—whom police said made anti-Asian statements during the attack—and posted video of the incident on social media. Police requested that anyone with knowledge of the attack or the attacker's identity share their information with law enforcement.
Deputy Inspector Jessica Corey said during the Wednesday news conference that police officers who were near the scene at the time of the attack "got involved quickly."
Elliot was arrested at his residence on Tuesday "without incident," Corey said. Law enforcement officials were able to make the arrest due to the tips that came in as a result of the video's spread on social media and through media outlets, she added.
"Multiple tips came in to the Crime Stoppers hotline from the community. The suspect's identity was learned through further investigative work," Corey said.
Updated 5:10 PM ET, with additional information and background.