New York City Halloween Parade Still On Despite Terror Attack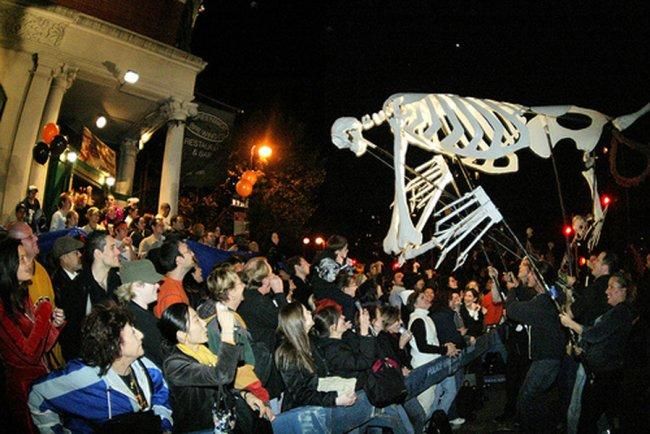 The New York City Village Halloween Parade will take place as planned despite an earlier terror attack on the city's west side, the New York Police Department said at a press conference Tuesday afternoon, hours before the annual event.
Eric Phillips, press secretary for Mayor Bill de Blasio, tweeted earlier Tuesday that the NYPD would be "dramatically increasing" its presence and resources to secure the hundreds of thousands of attendees.
The parade, which travels north on Sixth Avenue from Spring Street to W. 16th Street, is set to begin at 7 p.m. and end around 11 p.m. tonight.
In the attack, eight people were killed and others were injured after a 29-year-old driver in a rented Home Depot truck deliberately targeted pedestrians and cyclists using a popular bike path along the scenic Hudson River, police said. Officials confirmed reports that the driver exited the vehicle and screamed "Allahu akbar," before he was shot in the abdomen and taken into custody.
A pellet gun and a paintball gun were recovered at the scene. The suspect was taken to an area hospital, but police did not say which one. Roads were closed during the investigation.
Police also said they do not suspect a wider terror plot that would force the cancellation of the popular Halloween tradition.
New York Governor Andrew Cuomo urged people to continue "being New Yorkers" and living their lives.
Dubbed "the nation's most wildly creative public participatory event in the greatest city in the world," this year's parade lineup includes hundreds of puppets, 53 marching bands, dancers, artists, and, of course, tens of thousands of New Yorkers dressed in their Halloween garb.
This year's parade theme is a Barnum-esque "Cabinet of Curiosities: An Imaginary Menagerie."
DETAILS
Street closures
According to Metro, the following streets will be closed by the New York Police Department and the Department of Transportation during the entire length of the parade:
— 6th Avenue between Spring Street and Canal Street
— Dominick Street between Varick Street and 6th Avenue
— Sullivan Street between 6th Avenue and Spring Street
— Broome Street between Sullivan Street and Varick Street
— Spring Street between Varick Street and 6th Avenue
— 6th Avenue between Spring Street and West 16th Street (Parade Route)
— West 16th Street between 5th Avenue and 7th Avenue
— West 17th Street between 5th Avenue and 7th Avenue
— West 18th Street between 5th Avenue and 7th Avenue
— West 10th Street between 6th Avenue and Greenwich Avenue
— Vandam Street between Varick Street and 6th Avenue
Getting to the parade
Festival organizers suggest using public transportation to get to the parade.
By Subway: Sixth Avenue (B,D,F,Q) to 23rd, 14th or West 4th Street Stations; Seventh Avenue (1,2,3,9) to 23rd, 18th, 14th, Sheridan Square or Houston Street; Eighth Avenue (A,C,E) to West 4th Street, Spring (this station is closest to the Line Up area) or Canal Street Stations.
By PATH from New Jersey: Take the 33rd Street Train to one of the Sixth Avenue Stations at 9th, 14th or 23rd Streets.
By Bus: Buses along Sixth Avenue will be re-routed from just after 6:00 p.m. until the parade is over; other routes are suggested.
For up-to-date travel information, visit MTA's Special Event page.
TV listings
The Village Halloween Parade will be broadcast live on NY1 from 8 p.m. to 9:30 p.m.