Video of NYPD Officers Handcuffing Churro Vendor in Subway Station Goes Viral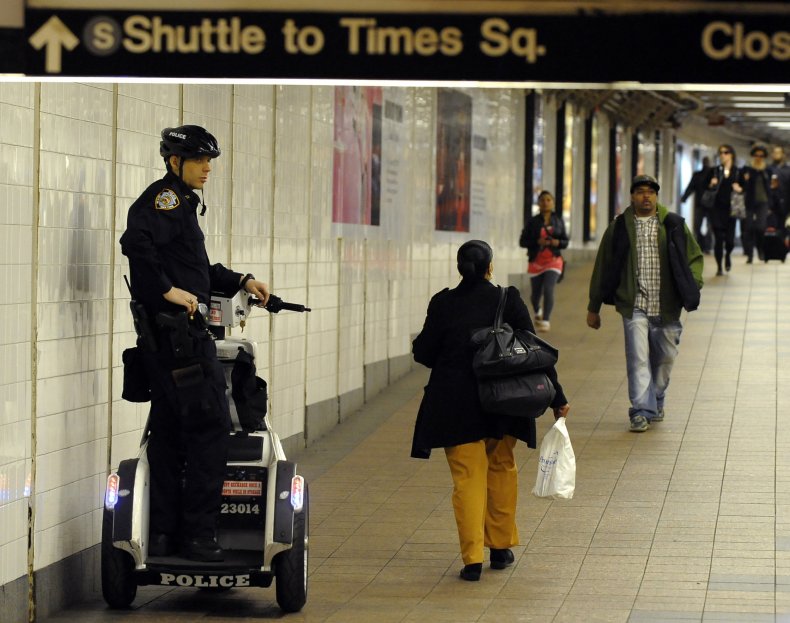 A passerby captured a confrontation between a woman selling churros in a Brooklyn, New York subway station and several officers of the New York City Police Department (NYPD) on Friday evening in a video that has since gone viral on social media.
Sofia B. Newman, a woman whose Twitter bio says she is an "actor, musician, singer, [and] writer" living in New York, posted the original video of the incident at 12:30 a.m. on Saturday morning. It was followed by one other video. As of 9 a.m. EST on Sunday, the first video in Newman's thread had accrued 1.7 million views, almost 8,000 retweets and over 17,000 likes.
"Tonight as I was leaving Broadway Junction, I saw three or four police officers (one of them was either a plainclothes cop or someone who worked at the station) gathered around a crying woman and her churro cart," Newman wrote in the tweet. "Apparently, it's illegal to sell food inside train stations."
In the video, the woman can be seen surrounded by four men, three of whom were NYPD officers. The fourth, Newman wrote, was either a subway station employee or a plainclothes officer.
Newman repeatedly asked what the woman was doing wrong that warranted the officers' attempt to wrench away her cart, and notes that the woman appeared to be crying. At one point, the woman turned to Newman and spoke something to her in Spanish.
"It's illegal to sell food inside the subway stations, and we warned her multiple times, and she doesn't want to give it up," one of the officers replied. "That's it."
When Newman asked the officer if the woman could merely be forced to leave the subway while being allowed to keep her churros, the officer replied, "No."
Ed. note: the following video footage contains expletives.
Newman told Gothamist that the officers said they had already told the woman it was unlawful for her to sell her goods in the subway. Because the vendor had consistently not abided by the law, they would either arrest her or "confiscate her churro cart and give her a fine."
Newman followed up her initial video with another. In the second video, the three uniformed NYPD officers are seen escorting the woman, handcuffed, out of the station, while the man in civilian attire drags her cart up the stairs and out the door.
Ed. note: the following video footage contains expletives.
After the woman was escorted out, there was an outraged outcry from other commuters for the apparent mistreatment the woman had endured, Newman told Gothamist. "People were calling out angrily, there was this huge outburst," she said.
The vendor had already been issued several summons over the last few months for illegally selling food on the subway, detective Sophia Mason of the NYPD said in a statement about the incident, which was originally published in Gothamist.
Mason said that the woman selling the churros "was instructed in English and Spanish that she would be issued a summons and her property taken as evidence in accordance with procedure.
"She refused to cooperate and was briefly handcuffed; officers escorted her into the command where she was uncuffed," Mason continued. "Her property was vouchered as arrest evidence and she was released within minutes. This individual has been issued ten summonses in the last five months for unlicensed vending at the same station."
Gothamist reported that this incident was only the latest in a recent string of incidents between the NYPD and citizens, which may have increased in frequency in part due to New York Governor Andrew Cuomo's initiative to hire 500 additional new officers in order to "crack down" on homelessness and other issues.
The incident has ignited responses on social media, including from local politicians as well as actress Cynthia Nixon:
On Saturday, Newman tweeted that she had been in contact with a journalist from Gothamist as well as "an NYC Council Member [and] a Brooklyn public defender." At around 7 p.m. Saturday night, she published a tweet in which she updated her followers about the status of the vendor.
"The woman from the video has been released and given a civil summons," she wrote. "We have a lot more work to do, but she's safe."