Police Slammed for Old 'Hunting Of Man' Quote Painted on Precinct Wall
A Brooklyn precinct of the New York Police Department (NYPD) is under scrutiny for a literary quote painted on the wall of one of its rooms that describes the "hunting of man," as local officials argue the quote celebrates violence.
The quote reads: "There is no hunting like the hunting of man, and those who have hunted armed men long enough and liked it, never care for anything else thereafter."
New York news source Gothamist reported that local officials and criminal justice advocates have recently called to remove the quote from the precinct wall, and Councilmember Crystal Hudson said that the quote glorifies police violence. Hudson represents the mostly Black neighborhood where the precinct is located.
The passage written on the wall of the 71st precinct in Crown Heights is from Ernest Hemingway, and NYPD Deputy Commissioner John Miller told Newsweek, "The Hemingway quote is one of his best known. It comes from his story, On The Blue Water, published in 1936."
The quote, Miller said, "has been on the wall of that room in the 71st Precinct since February 1998," and t-shirts with the passage written on it were reportedly worn by NYPD's Warrant Squad in 2013, causing an uproar then. According to reports, the shirts were allegedly worn by officers while they were on duty.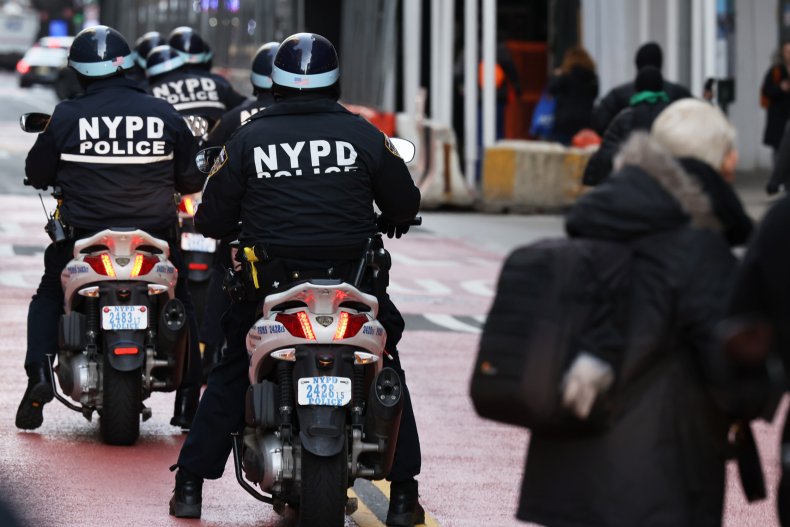 "The history of policing started as an intentional attempt to violently 'hunt' Black people while quelling opposition and rebellion," Hudson said in a statement to Gothamist. "We cannot in good conscience divorce this history from the policing we see in our communities today."
The call for the Hemingway quote's removal came shortly after NYC Mayor Eric Adams announced that a specialized unit focused on reducing gun violence is in training and will soon be deployed on the streets as the city battles rising crime rates.
Miller said that it would be a "disservice" to both Hemingway and the NYPD officers "to insinuate any meaning to the Hemingway quote other than the fact that tracking and arresting violent, armed criminals can be exhilarating, rewarding, and often dangerous".
"The NYPD officers who have worked out of that room, over that near quarter-century, have shared the responsibility of tracking down and arresting violent felons whose victims are members of that community. Many police officers and detectives have been injured, wounded, or killed in the course of tracking down and attempting to take violent fugitives into custody," said Miller.
Newsweek reached out to Hudson for additional comment but did not hear back in time for publication.