NYPD Looking for Man Who Threw Milk at Cops During a Fire
Earlier this week, the NYPD were called to evacuate a building in the Bronx that was on fire. Tensions between police and citizens flared — one woman tore off an officer's bodycam, and a man is being sought by the NYPD for allegedly throwing a half-gallon of milk at an officer.
Shortly before 5 p.m. on Tuesday, the NYPD evacuated an apartment building in the Bronx that had caught on fire. As police tried to clear the scene so the firefighters could get in and out of the building, citizens on the street became argumentative, demanding to be let back into the building, according to the New York Daily News.
One man, Angelo Rodriguez, 18, tried to re-enter the building, and got into a shoving match with police. Cops arrested him and charged him with criminal mischief and disorderly conduct. Rodriguez' arrest angered his mother, Raquel De Jesus, 38, who grabbed the body camera off of an officer and threw it on the ground. De Jesus was also arrested and charged with grand larceny, harassment and criminal mischief.
Another man, as yet unidentified, walked out of a bodega with an open container of milk. He threw it an an officer, who dodged most of the milk. The man then ran away; though officers chased him, they were unable to catch the suspect. According to The New York Post, a 20-second video was posted to Instagram showing the incident. The video was captioned "F*ck the [Police Emoji]."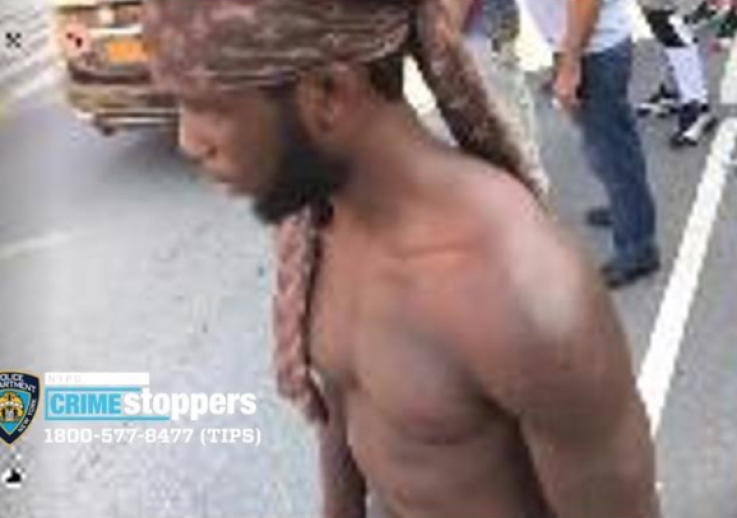 Police released a photo of the suspected milk-tosser in hopes that someone would recognize him. The suspect is described as black, between the ages of 25 and 30 and about 140 pounds.
This summer has seen a number of incidents where New Yorkers have thrown things at police. In late June, people in Brooklyn and Harlem threw buckets of water over police. And in early August, police officers had bottles thrown at them. On August 4, one officer said someone threw a "fist-size piece of concrete" at him, though no one was injured, and no arrests were made.
The New York police union, the Police Benevolent Association (PBA) told the Post that incidents like these were the result of a "cop-hating" environment.
"It is becoming impossible for police officers to do our job, even in emergency situations," PBA president Patrick J. Lynch told the paper. "At a fire scene, our role is to clear the area so that firefighters can contain the fire and prevent loss of life. This crowd didn't care: they wanted to fight the cops who were there to help."
NYPD Looking for Man Who Threw Milk at Cops During a Fire | News