NYPD Officer Adopting Kitten He Found Floating on Gatorade Bottle in Sewer
An officer with the New York Police Department is adopting a kitten he rescued from a sewer.
Two officers in the Brooklyn borough of New York City responded after receiving a call about a cat that was stuck in a sewer on Monday, the NYPDs's 70th Precinct wrote on Twitter on Saturday.
When they got to the scene, the officers removed a manhole cover on the street and spotted a kitten floating on a Gatorade bottle. One of the officers then jumped into the manhole to rescue the kitten.
"Officer Blomquist & Officer Frevola, removed the manhole cover and saw it was a kitten floating on a Gatorade bottle," the tweet said.
"Officer Blomquist didn't hesitate and climbed down to rescue the kitten," it added, alongside a picture of the officer holding the kitten moments after the rescue.
In a follow-up tweet, the NYPD said the kitten, who the officers named "Splinter," was taken to Animal Care Centers of New York and placed in foster care. But Officer Blomquist is currently in the process of adopting the kitten.
The NYPD's 70th Precinct has been contacted for additional comment.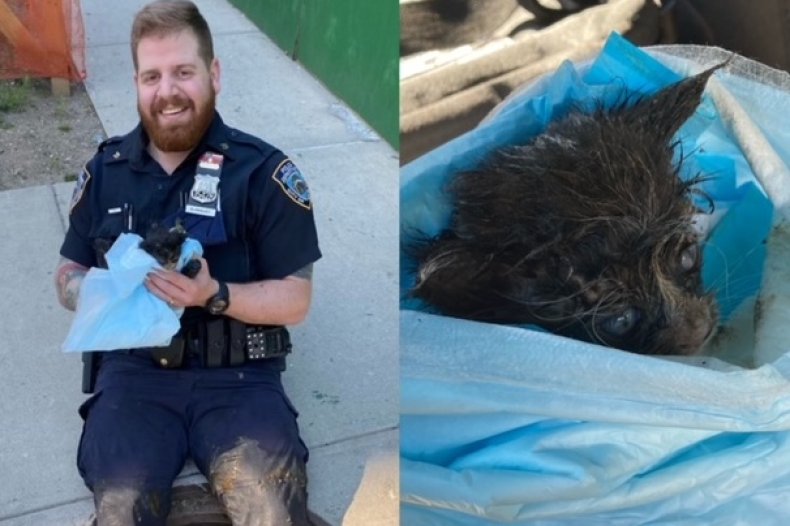 Officer Blomquist isn't the first New York City officer to adopt a kitten that he rescued on the job.
An officer with the department's 46th Precinct in the Bronx borough was reportedly planning to adopt a kitten that he and his partner rescued from a garbage can in February last year.
"When Officers May and Massey of the @NYPD46Pct received 911 calls of an injured kitten in a garbage can, the officers sprung into action and rushed the kitten to the @nycacc where the kitten is recovering," the NYPD wrote in a caption on its Instagram page alongside a picture of the officers with the kitten.
"Officer May plans on adopting the kitten, a pur-fect end to this story!" the caption added.
A few years prior, another NYPD officer adopted one of several grey kittens she helped rescue in Brooklyn.
The kittens were found discarded in a suitcase in a parking lot near the Williamsburg Bridge in March 2016. Weeks later, Nicole Piridis, an officer with the NYPD's 90th Precinct, took home one of the kittens and named him "Apollo."
Piridis told the New York Daily News at the time that she initially took the rescued kittens to the apartment of the woman who called 911, but Apollo kept coming up to her.
"I picked him up, and he fell asleep," Piridis told the paper. "We locked eyes... I'm like, 'I'm taking him. He's mine.'"