NYPD Officer Aimed Stun Gun at Daughter While Breaking up Community Gathering, Bronx Father Says
A father says his 7-year-old daughter has been left "terrified" after a New York Police Department (NYPD) officer aimed a stun gun at the father and child when dozens of police officers broke up a peaceful neighborhood gathering in the South Bronx neighborhood.
Edgar Alvarez told Newsweek that he had attended a block party on 164th Street and Sheridan Avenue in the South Bronx area with his family when officers "pulled up in a patrol car" at around 10:30 p.m. and "said 'party's over' and told everyone 'you have to leave.'"
Alvarez said that within minutes, what appeared to be as many as "100 cops" came and immediately became "real aggressive, pushing, shoving and arresting people left and right."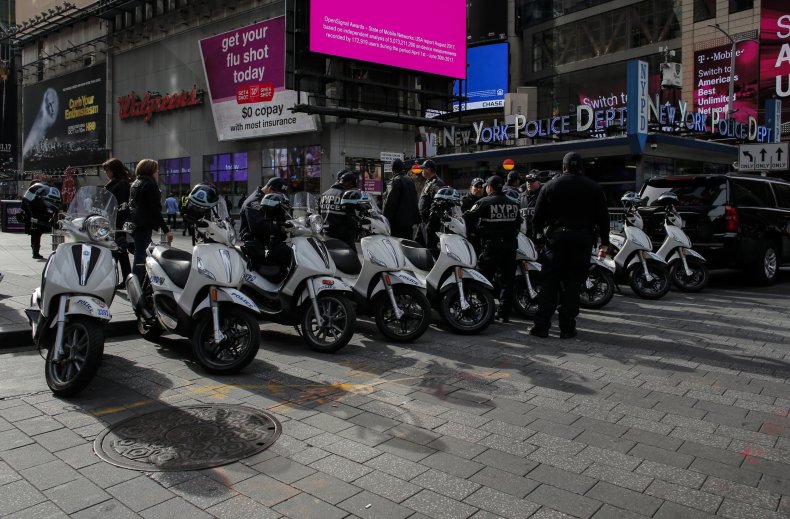 The father said he had been looking for his daughter and when he found her, he picked her up.
"I turned around and this cop was just screaming in our faces for everybody to 'get out of here,'" Alvarez said.
"Then, one of the cops standing next to him pulled out a Taser like he was about to fire it," he said.
"If he had shot that Taser, he would have hit me or my daughter, or both of us."
Video shot by Alvarez and shared with Newsweek shows one officer screaming at community members to "leave," as people can be heard shouting frantically.
The father says that the officer, who has not been identified, was not the one who aimed the taser at him, but said the officer acted as if he was "having a mental breakdown."
"They need better training and that officer who was screaming in my face, they need to do something about him," Alvarez said. "He needs to get checked out."
Alvarez said his 7-year-old daughter was "hysterical" over the incident.
"She was screaming, crying," he said. "Later that night, an officer walked by her and asked if she was okay and she just broke down crying right there."
"I said, this is because of y'all," he said, adding that his daughter has not been able to sleep properly since the Saturday incident.
NYPD Lieutenant John Grimpel told Newsweek that police officers responded to the area after being made aware that "the entire sidewalk on all four sides of the street were blocked."
"The individuals were blocking the sidewalk, the street and impeding both vehicular and pedestrian traffic," he said.
Grimpel said the "large group refused a lawful order to disperse" and "surrounded the officers."
He said that no Tasers were "used on anyone," but did not make clear whether that meant that no Tasers were drawn.
He did say that two arrests were made in the incident, with six criminal court summons issued.
Local civil rights organizer Hawk Newsome, who grew up in the South Bronx area and was made aware of the incident by community members, said he was disturbed by it.
"This was a peaceful gathering and they were not breaking any laws," Newsome told Newsweek.
He said that community members told him officers "became enraged, called for back-up and started yelling at everyone" when community members started to record the interaction on their mobile phones.
"Within minutes, what appeared to be 100 police officers appeared. That was when the chaos ensued," Newsome, who leads Black Lives Matter of Greater New York (an unofficial chapter of the movement), said.
"Children were afraid, screaming parents were running trying to gather their children, while asking, 'why are you doing this with children here?'" Newsome said.
The civil rights activist said he was aware that police arrested several people for disorderly conduct.
"This is a regular occurrence in the Bronx," he said. He added that "Politicians [and] the police department, they're taking steps in this type of hostility toward unarmed and otherwise innocent civilians."
"The city of New York's Mayor's Office in conjunction with the NYPD have a launched a series of commercials to promote neighborhood for policing that show peaceful interactions," Newsome said. "But, this video from Saturday night shows what neighborhood policing really looks like in Black and Brown communities. These are working tax paying citizens whose children are being threatened with tasers."
"This is what America needs to see to know that what we are claiming is legitimate," he continued. "Psycho cops in the streets screaming and foaming at the mouth when no threats have been made. People being arrested for asking why they cannot peacefully gather in their community. This happens often in my neighborhood."
Newsome said that he and fellow civil rights organizers had organized a similar event under the banner of "Stop the Violence" several blocks away from where Saturday's incident took place and said "police responded in the same way."
"Street festivals in white neighborhoods are broken out peacefully and given time to disassemble," he said, adding that, on Saturday, eventgoers had "no time to disperse orderly."
"I just want New Yorkers and Americans to see the difference in the treatment and do something about it," Newsome said.
This article has been updated with statements from the NYPD.