NYPD Officer Anastasios Tsakos Killed on Duty in Hit-and-Run by Drunken Driver
A New York Police Department officer was struck and killed by a motorist early Tuesday while diverting traffic on the Long Island Expressway.
The officer has been identified as Anastasios Tsakos, a 14-year veteran of the force. Tsakos, 43, leaves behind a wife and two young children, a 6-year-old daughter and a 3-year-old son.
Police Commissioner Dermot Shea wrote on Twitter Tuesday morning that Tsakos was "tragically killed while protecting NYers. The entire NYPD hurts tonight as we reconcile the loss of our brother. A loss not only for our NYPD family, but all of NYC."
Shea said during an early-morning press conference Tuesday that the incident could only be described as a "senseless and completely avoidable chain of events."
Tsakos was on the expressway to help investigate a fatal crash and divert traffic away from the scene. Just before 2 a.m. Eastern time, Tsakos was hit head-on by a 2013 Volkswagen heading east.
Shea identified the driver of the car as Jessica Beauvais, a 32-year-old woman from Hempstead, New York. She was allegedly intoxicated and driving with a suspended license at the time of the accident.
Beauvais was apprehended and is facing two counts of vehicular manslaughter. According to a local ABC News affiliate, she initially drove away from the scene but was arrested shortly afterward. She faces additional charges of reckless endangerment, fleeing an officer in a motor vehicle, leaving the scene of an accident resulting in death, aggravated unlicensed operator, DWI and more.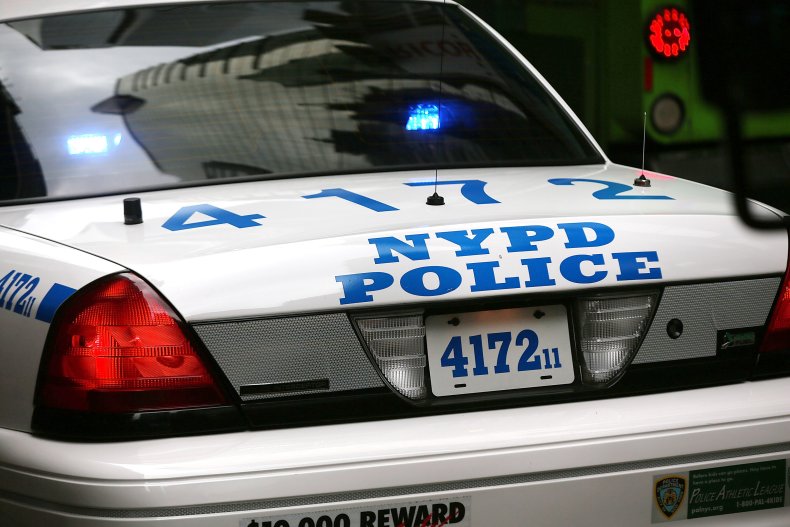 Shea described Tsakos as a "highly regarded member" of the city's police force. He was assigned to Highway 3 in Queens, New York.
Mayor Bill de Blasio, also present at the press conference Tuesday morning, said both the driver who hit Tsakos and those involved in the fatal accident he was responding to were driving with suspended licenses.
In the earlier crash, Shea said, officers arrived to find the vehicle on fire after crashing into a utility pole. They broke the window and pulled people out, but a rear passenger did not survive.
"We see here a horrendous pattern. People doing the wrong thing and other people dead because of it, and one of them a hero officer who did everything right in his life for us, and he is dead because of other people's negligence," de Blasio said.
The mayor pledged, "We will do everything we can to support these children, to support this widow—but it won't be enough."
Newsweek reached out to the NYPD for additional comment but did not receive a response before publication.