NYPD Officer Who Killed Akai Gurley in Brooklyn Indicted: Report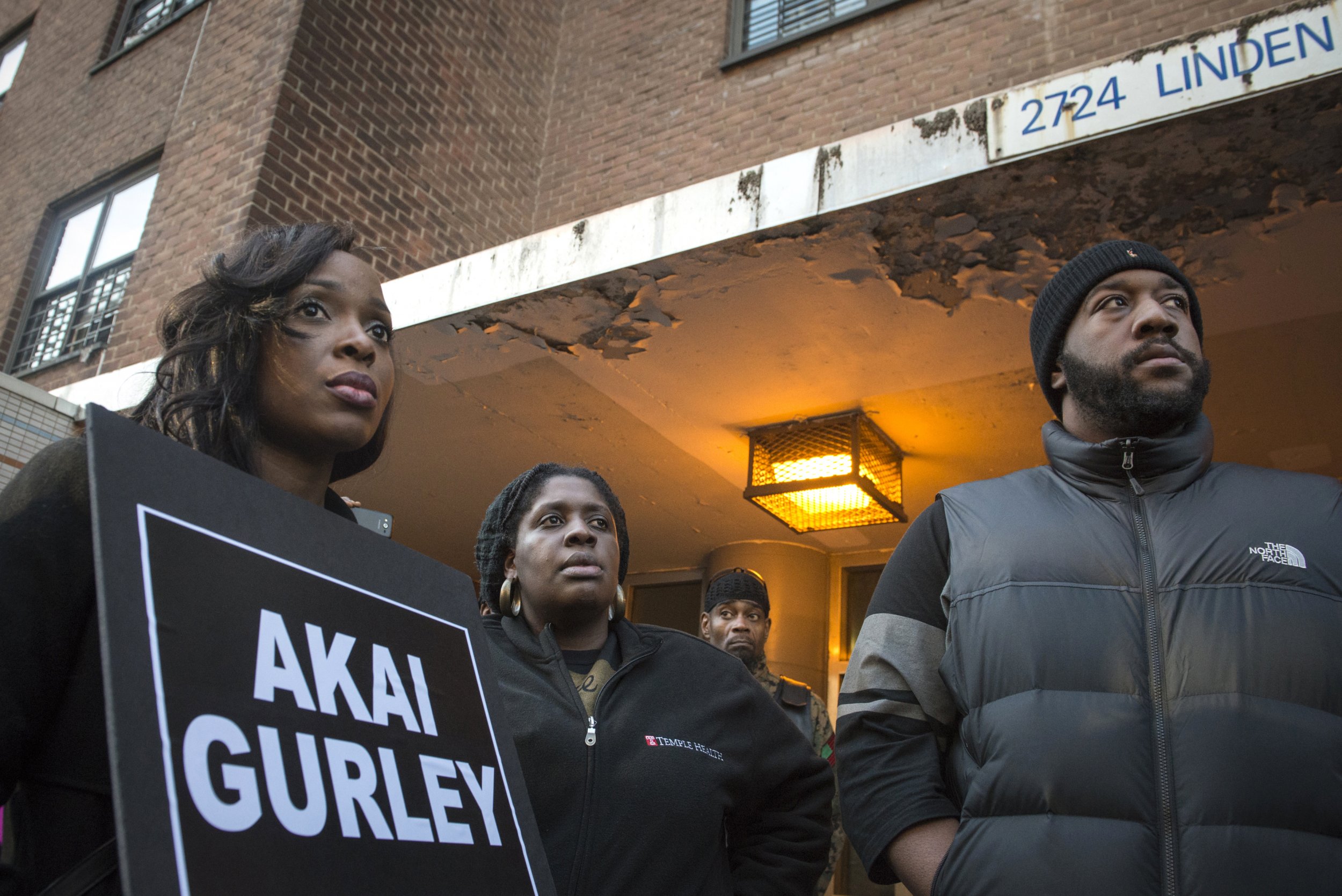 Peter Liang, the New York rookie police officer who fatally shot 28-year-old Akai Gurley in the stairwell of a public housing building in Brooklyn in November last year, has been indicted, The Associated Press reported Tuesday.
Liang, 27, a NYPD officer since July 2013, killed Gurley during a so-called "vertical patrol," a policing practice common in New York City housing developments, in which officers patrol a building from roof to ground floor. Liang was indicted on charges including second-degree manslaughter, according to the New York Daily News, which first broke the news of Gurley's death.
Liang and his partner, officer Shaun Landau, encountered Gurley and his girlfriend, Melissa Butler, in an unlit stairwell in the Pink Houses development in Brooklyn's East New York neighborhood, where Butler lived. Gurley and Butler entered the stairwell one flight below the officers. Liang, whose gun was drawn, fired one shot, which either hit Gurley directly or ricocheted into his chest, killing him, according to police. The NYPD maintains Gurley's death was accidental.
The New York Daily News later reported that it is believed both Liang and Landau texted their union representatives about the shooting before they called for help for the dying Gurley.
Gurley's death became another flashpoint in the ongoing protests over the deaths of black men at the hands of white police officers, which began last summer after a white officer shot and killed 18-year-old Darren Wilson in Ferguson, Missouri, and a NYPD officer put 43-year-old Eric Garner in a fatal choke-hold on Staten Island. Fresh protests erupted after grand juries chose not to indict the police officers in both cases.
The incident also amplified a debate over how well public housing developments in New York City are maintained. The stairwell where the shooting occurred was unlit because the lights were out and had not been replaced, a frequent occurrence in such developments.
New York City Police Commissioner William Bratton, who called the shooting "an unfortunate incident," said Gurley was "a total innocent" and promised a full investigation. The Brooklyn district attorney's office announced in December a grand jury would be called to consider charges against Liang. Gurley's family called for an indictment.
The Brooklyn district attorney's office told Newsweek it has no comment at this time. The grand jury's deliberations remain sealed as a matter of law, a representative told Newsweek. WNYC reports that they will be unsealed at Liang's arraignment Wednesday.
If found guilty, Liang will likely face time in prison and will almost certainly be ousted from the NYPD.