Officials Urge Investigation After NYPD Officer Filmed Striking Teens in Subway Station: 'A Situation That Clearly Spun Out of Control'
A number of officials in New York are calling for a full investigation into a video which shows an NYPD officer punching teenagers during an altercation on a subway platform.
The clip, which has been widely shared on social media, shows a group of uniformed officers struggling to restrain a number of young people in the Jay Street-Metrotech station in the Brooklyn area of the city on the afternoon of Friday, October 25.
During the tussle, an officer can be seen running up to one of the youths and punching him to the ground.
What appears to be the same officer then walks up to another teen on the platform and punches him in the head. A full fight between the pair ensues after the teenage suspect starts throwing punches back at the officer.
A voice in the clip can be heard repeatedly yelling "he didn't even do nothing" as officers place the second teen in handcuffs on the ground.
In a series of tweets, Brooklyn Borough President Eric Adams demanded a full investigation be launched into the officer's actions and how the violence erupted.
"I've watched this video footage several times. The one officer who punched the two teens should immediately be placed on modified assignment until a complete investigation is carried out. At best, his actions were off base and reflect poorly on [the NYPD]," Adams wrote.
"As a former police officer, I know one of the most difficult parts of policing is interacting with young people amid a dispute. This is another clear example of why deescalation training matters. I will be speaking with @NYPDChiefofDept on my observations regarding this incident.
"I am also concerned about what led up to this melee," Adams added. "Reports indicate a group of teens were assaulting a young lady, which led to a teen spraying mace throughout the Jay Street-Metrotech station. We can't have innocent people placed in harm's way from police or civilians."
NYC Council Speaker Corey Johnson added: "This video shows a situation that clearly spun out of control, and the public has a right to know how this happened. We need a full investigation, and discipline against any and all officers that acted inappropriately or used excessive force."
Public Advocate Jumaane Williams also called for an investigation while criticizing the recent reports that all new police officers deployed by New York governor Andrew Cuomo to patrol the city's subway systems to deter fare dodgers and homeless people sleeping there will not be required to wear body cams.
"Some ask what preceded this. As an elected that's a legit question," Williams said. "Moreso, WHY is a presumably trained NYPD officer punching young men (plural) in the face. W/o video there'd be no discussion & @nygovcuomo wants to add police w/ no cameras @ all. The public needs answers."
In a statement to Newsweek, police confirmed that officers responded to a fight between two large groups on Jay Street within the confines of the 84th Precinct at around 2:20 p.m. on Friday which spilled into the nearby transit station.
Several youths continued to fight and resist arrest, including one who allegedly assaulted an officer. Three 18-year-olds were arrested and charged with resisting arrest, obstructing governmental administration and disorderly conduct in connection with the incident on the platform.
A 15-year-old was charged with assault on a police officer, resisting arrest, obstructing governmental administration and disorderly conduct. A 16-year-old girl was also charged with reckless endangerment.
"Officers responded to a fight between two large groups, during which individuals began to interfere with police action and the situation escalated. Publicly available video does not show the entirety of the incident, and the department is conducting a review," an NYPD spokesperson added.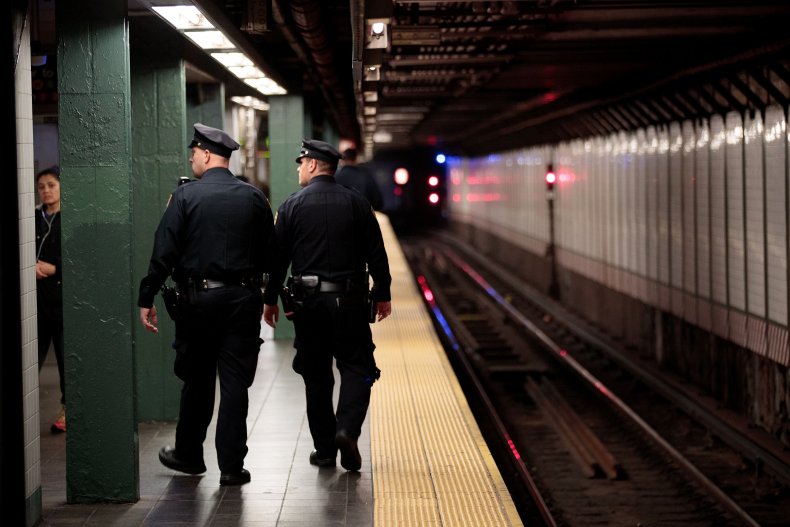 This article was updated with a statement from NYPD.