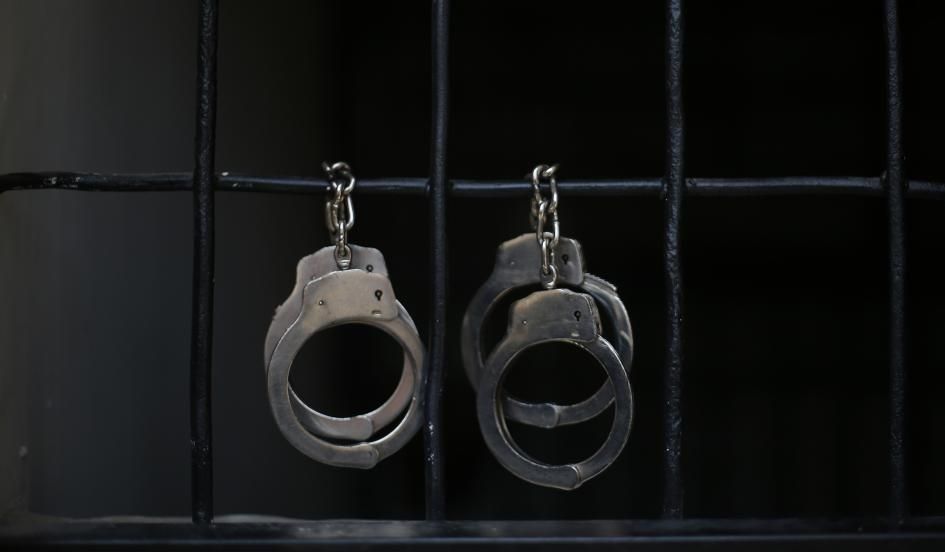 After a tumultuous year for police-minority relations in New York City, especially regarding enforcement of low-level offenses, data obtained by Newsweek indicate there were fewer misdemeanor arrests in 2014 than 2013, but that minorities comprise up to some 86 percent of them.
New York City cops made 221,851 misdemeanor arrests in 2014, down from 227,378 in 2013, according to New York State Division of Criminal Justice Services data. Arrests for the lowest-level pot charges dropped to 26,385 in 2014 from 28,954 in 2013.
Arrestees not listed as "white" accounted for 85.7 percent of total 2014 misdemeanor arrests, a decline from 87 percent in 2013. Blacks and Hispanics accounted for some 80 percent of total misdemeanor arrests in 2014 and 81.1 percent in 2013. (Some notes on the numbers: The division's race/ethnicity categories include white, black, Hispanic and Asian/Indian. In this article, minority refers to black, Hispanic and Asian/Indian. The division notes that race/ethnicity data are missing in 5,733 cases, which are included in the arrest totals "but are not shown separately.")
When you look at misdemeanor drug charges--which legal reformers claim have a disproportionate impact on communities of color--the year-over-year difference is slimmer.
In 2014, blacks and Latinos accounted for some of 86 percent of misdemeanor marijuana possession charges. In 2013, they also accounted for about 86 percent.
New York City Mayor Bill de Blasio and NYPD Commissioner Bill Bratton announced last year that effective November 19, police would give summonses rather than arrest people caught with 25 grams or less of pot, "so long as there is no warrant for the individual's arrest and the person has identification." Cops can still collar individuals "if the marijuana is burning, if the type of possession indicates intent to sell, if the individual has an outstanding warrant, or if the individual is in a location with special consideration, like a school."
The Associated Press recently reported these pot arrests were down 75 percent in December 2014 compared to the same month of 2013, to 460 from some 1,820. In November, the AP points out, said arrests tumbled 42 percent, to 1,280 from 2,200.
One caveat, though: There was also a dramatic drop in many non-marijuana arrests and summonses in December following the slayings of two NYPD officers. Also, many rank-and-file officers were deployed to the mass protests following a Staten Island grand jury decision not to indict the officer in Eric Garner's chokehold death, meaning they weren't making arrests, observers say.
Robert Gangi, director of the Police Reform Organizing Project ​(PROP), thinks the some 5,500 fewer misdemeanor arrests in 2014 stem from a police work slowdown and demonstrations. The NYPD hasn't changed since Mayor Michael Bloomberg's administration and Ray Kelly's time at the helm of the department, Gangi tells Newsweek.
"The truer reality is that policing in New York City, regarding arrest practices, followed a remarkably similar pattern to the arrest practices under Bloomberg and Kelly both in terms of what people are being arrested for, and who is being arrested," he said. "The who is important because it reflects a blatant racial disparity in policing. Also, the charges are a significant point, because the NYPD in 2014 continued to focus on low level infractions."
Asked why minorities still comprise most misdemeanor arrests, especially drug charges, an NYPD spokesperson said: "Arrests are based on officers' observation and criminal complaints.
Last year, PROP released a report estimating that misdemeanor arrests cost New York City $1.13 million per day.​ The frequency of low-level arrests--attributed to the "broken windows" approach to policing favored by Bratton--has fostered ongoing tensions between the NYPD and communities of color, the group says. The discord came to a head after Garner's death. Garner was accused of selling loose cigarettes before his fatal interaction with police.