NYPD Reportedly Says Car Being Escorted by Police 'Missed the Turn,' Causing It to Ram Into Protesters
A spokesperson for the New York Police Department (NYPD) reportedly said Friday that the car that plowed through protesters on Thursday night was filled with counter-protesters who were being ushered away from Times Square by police officers.
The counter-protesters, who were told to leave the area shortly after 8 p.m., were being escorted by officers through the parking lot of a nearby hotel when they "missed the turn," the spokesperson told Gothamist reporter Gwynne Hogan.
When contacted by Newsweek, the NYPD would only confirm that the investigation is ongoing and would not give any additional information.
Video taken at the scene showed an NYPD officer helping the individuals into the vehicle before they rammed into crowds of Black Lives Matter protesters gathered to demand justice for the death of Daniel Prude.
Police footage of Prude's arrest in March was released earlier this week. Video showed a naked Prude, who was allegedly suffering a mental health incident, having a 'spit hood' placed over his head by police in Rochester, New York. After losing consciousness, Prude was taken to the hospital where he was put on life support before dying a week later.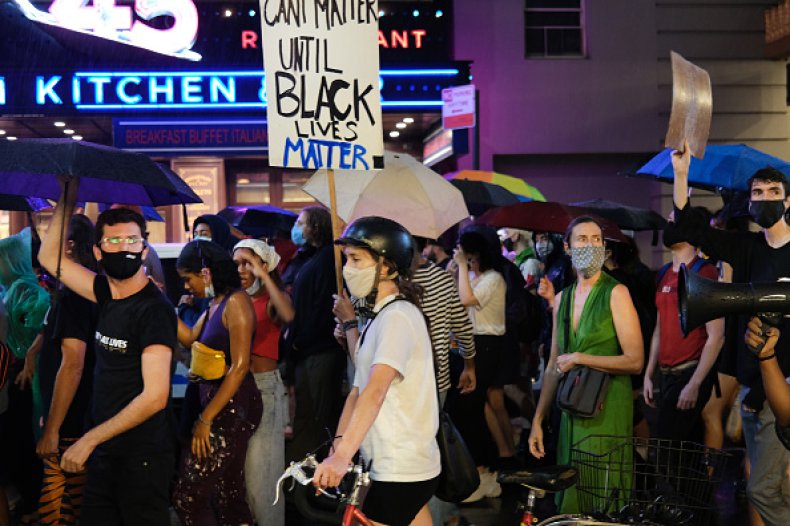 The NYPD made a statement late Thursday night specifying that the black Taurus sedan was not a patrol vehicle.
Speaking with WCBS 880 News on Friday morning, NYPD Police Chief Fausto Pichardo said: "There was some interaction between some folks that were protesting and the occupants of this car, that again, is not an NYPD-owned car."
Pichardo's comments follow an earlier incident in May, in which the department faced backlash after footage circulated online of NYPD vehicles driving into demonstrators protesting the death of George Floyd in Brooklyn.
In the video, dozens of protesters are seen gathering in front of a small barricade, in what looks like an attempt to stop an NYPD SUV from continuing down the road. Moments later, a second NYPD car approaches and drives through part of the crowd. As the second vehicle hits a number of people, the first vehicle rammed through the protesters that gathered in front of the car.
As of Friday morning, Pichardo said that no complaints of injuries have been made to the police department and that officials have "a pretty good idea" of who the vehicle belongs to. He added the NYPD has a license plate of the car, but the department is looking for witnesses to come forward. The investigation is currently ongoing.