NYPD Search for Man Who Allegedly Punched an 8-Year-Old with Autism On The Subway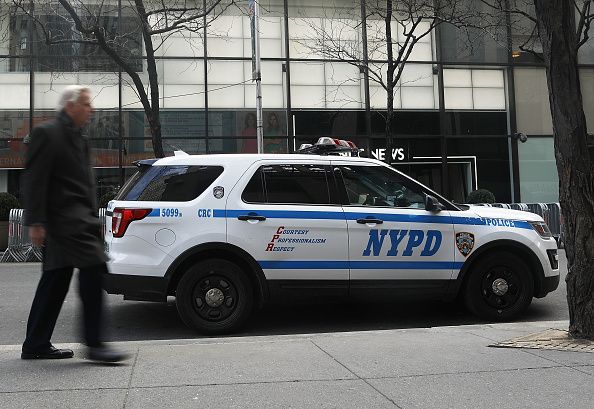 The New York Police Department are searching for a man who allegedly punched an 8-year-old boy with autism.
Authorities told WCBS-TV the attacked occurred at 8:40 p.m. on Monday at the Fulton Street station in Lower Manhattan. Police said the boy and his mother were on the 3 train when a man walked up to the child and punched him in the back of the head, according to the news station.
There was no exchange of words during the alleged attack, police said, and believed it was unprovoked. The suspect had fled the scene following the alleged attack, WABC-TV reported. The boy was taken to a nearby hospital and later released after he was treated for pain and swelling, according to WCBS-TV.
The NYPD told Newsweek that they are searching for a black man who is 50-years-old, 6 feet 2 inches tall and 200 pounds. The suspect has a blotchy complexion, salt and pepper beard and hair, and reportedly has an injured right eye. The man was last seen wearing a black jacket, a black knit cap, red hooded sweatshirt, blue jeans, and black boots, according to police. Authorities told WCBS-TV they believe the suspect is emotionally disturbed.
On Tuesday morning, Crime Stoppers tweeted two pictures of the suspect and asked for the public's assistance to help them in their search.
"WANTED for An Assault of an 8-year-old inside the Fulton St station. #Manhattan @NYPD1Pct @NYPDTransit . On 3/4/19 @ 8:40pm. Reward up to $250 Seen them? Know who they are? Call 1-800-577-TIPS or DM us! Calls are ANONYMOUS! #YourCityYourCall @NYPDDetectives @ABC7NY," Crime Stoppers tweeted.
Anyone with information about the alleged attack is encouraged to call NYPD's Crime Stoppers hotline at 1-800-577-TIPS (8477) or 1-888-57-PISTA (74782) for Spanish. To submit a tip online, tweet Crime Stoppers @NYPDTips or texting tips to 274637 (CRIMES) and then entering TIP577.
In October, three juveniles in Missouri were arrested for pointing a gun at the head of a 13-year-old, who reportedly had autism, in an online video. The video, which was posted to social media, shows the teen on his knees while he is being bullied by a group of youths demanding the teen to kiss another teen's foot. One of the youths then points a gun at the teen's head. The teen is told to stand up when the group begins punching him.
One 17-year-old turned himself in and two other teens were also taken into custody, the Independence Police Department said.