NYPD Sergeants Union Tweets Private Details of Mayor de Blasio's Daughter from 'Arrest Report'
A tweet published on Sunday by a New York City Police Department (NYPD) sergeants union has been deleted from the social network after appearing to contain the private information of Mayor Bill de Blasio's daughter.
The post, shared by the Sergeants Benevolent Association (SBA), appeared to show the arrest records of Chiara de Blasio, 25, who the New York Post reported was arrested by officers on Saturday night while taking part in a Manhattan protest.
According to the Post, she was held after blocking traffic on Broadway and refusing to move after officials deemed protesters to be an "unlawful assembly."
The SBA, led by sergeant Ed Mullins, has a well-documented history of criticizing the elected official and recently "declared war" on him via the Twitter account, prompting an investigation by the NYPD's Internal Affairs Bureau, Gothamist reported.
The now-removed post contained an image of an arrest report that included details of de Blasio, including home address, date of birth and state ID number.
"How can the NYPD protect the city of NY from rioting anarchist when the Mayors object throwing daughter is one of them. Now we know why he is forbidding mounted units to be mobilized and keeping NYPD from doing their jobs," a caption said.
Twitter's own private information policy forbids the sharing of personal details without permission, which is often referred to as "doxxing."
The website states: "You may not publish or post other people's private information without their express authorization and permission. We also prohibit threatening to expose private information or incentivizing others to do so.
"Sharing private information can pose serious safety and security risks for those affected and can lead to physical, emotional, and financial hardship."
According to Gizmodo, the union's tweet was online for approximately an hour before being deleted. Twitter has been contacted for additional comment.
The SBA tweet came after the city mayor said in a Sunday media briefing that some of the ways police had been seen handling some situations were "disturbing," specifically referencing footage of cruisers driving into a group of citizens.
"I didn't like what I saw one bit, I did not want to ever see something like that, I don't ever want to see it again. Clearly, we need to do a full investigation," he said.
The mayor said the incident was "created" by protesters blocking and surrounding a police vehicle, linking some disturbances to the "anarchist movement."
Demonstrations have been sparked across the country in the past week after the death of an unarmed black man, George Floyd, on May 25. A white Minneapolis police officer, Derek Chauvin, has now been charged with third degree murder in the case.
Over the weekend—facing a heavy police presence—some protests turned violent and looting was reported. Videos on social media showed clashes between activists and law enforcement, and journalists were detained while reporting live.
Unlike some other regions, Mayor de Blasio said he was not yet considering putting a curfew in place for the city, saying the NYPD was "addressing the situation."
He said Sunday: "We believe in peaceful protest. We believe in civil disobedience. We believe in people exercising their democratic rights, but not attacking police officers, not attacking communities." His office has been contacted for comment.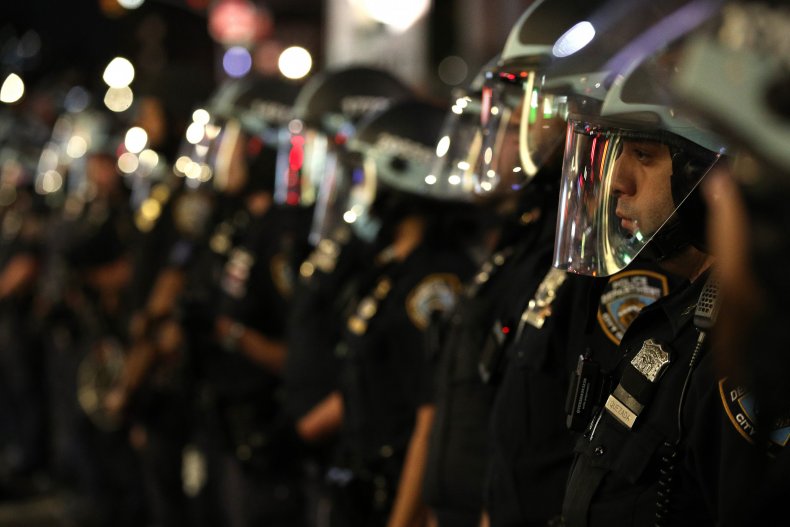 In a statement yesterday, the SBA urged members to use "extreme caution" while on the streets. On Twitter, it launched into more verbal attacks on the mayor.
"I urge each and every one of you to report for duty with your helmet and baton and to not hesitate to utilize that equipment in securing your personal safety," the statement said, posted to Facebook. "I have sent notice to the Police Commissioner's Office that we must not play politics with the lives' of the men and women of the NYPD."
The SBA continued: "We are not to be used as political pawns for Mayor de Blasio, who could care less about the NYPD. I urge you to protect yourself and your officers."